If you cannot view this BAP E-Blast correctly CLICK HERE and click on
CHEF KEVIN'S FEATURED ENTREE MARINATED AND GRILLED PORK CHOPS, SAVOY JAZZ TONIGHT AND TOYS AT SAVOY - WELCOME TO THE GOOD LIFE!
Chef Kevin's Featured Entrée - Marinated and Grilled Pork Chops
Savoy Jazz TONIGHT feat. The Roger Humphries Trio & Guest
Toys at SAVOY
WELCOME TO THE GOOD LIFE AT SAVOY RESTAURANT!
Come to SAVOY this week and try Chef Kevin Watson's Featured Entree of the week!

This week's feature is the Marinated and Grilled Pork Chop served with Greens, Herbed Polenta and Melted Leeks and a Honey Thyme Glaze for $28. This dish tastes best when paired with a glass of Andre Brunel Cotes du Rhone. This red wine is fruity, luscious, juicy, spicy and a little exotic while giving off a beautiful nose of lavender, strawberry jam, white pepper and jasmine.

SAVOY Restaurant
2623 Penn Ave
Pittsburgh, PA. 15222

Sunday Brunch
11am-3pm
Monday
5pm-10pm
Wednesday-Saturday
Dining Room: 5pm-11pm
Lounge & Patio: 5pm-2am

Visit us on the web
www.savoypgh.com

Dress is Business Casual.
412-281-0660
TONIGHT AT SAVOY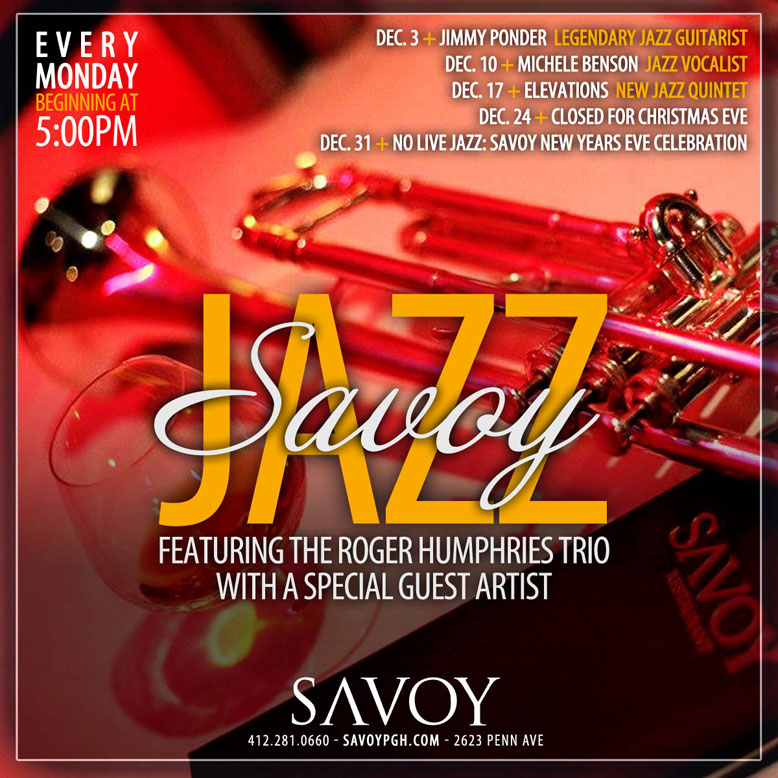 Come enjoy the best HAPPY HOUR in the city every Thursday & Friday Night!
Join us tonight for SAVOY JAZZ!! There will be live music by the Roger Humphries Trio beginning at 5pm, and the featured artist will be Jazz Vocalist, Michele Benson!
For more information visit http://savoypgh.com/event/jazz-monday.
---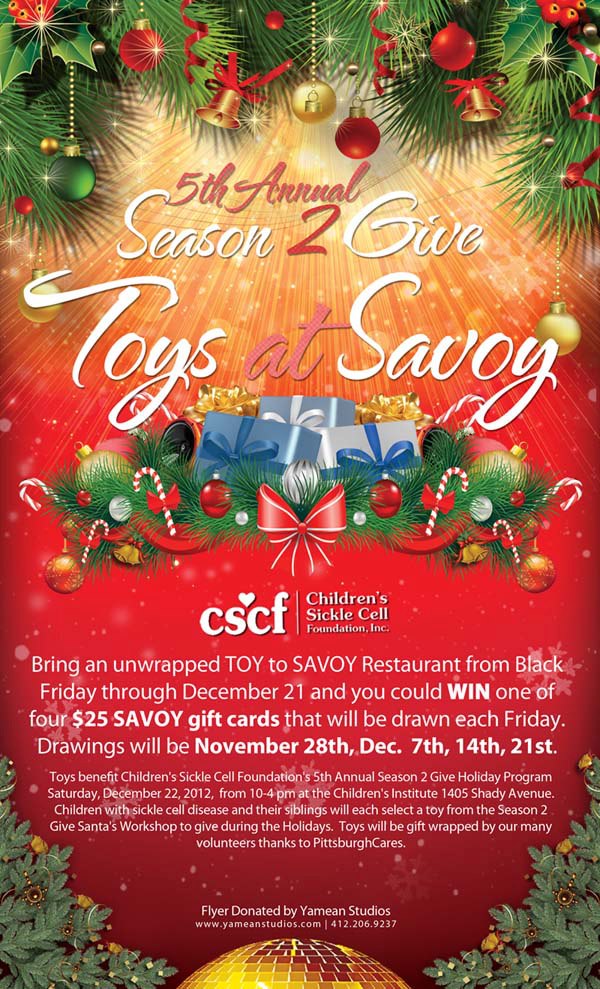 Help us celebrate the holiday season with the Children's Sickle Cell Foundation's 5th Annual Season 2 Give!
Bring a new, unwrapped toy to SAVOY from now until December 21st and you could WIN one of four $25 Savoy Gift Cards that will be drawn each Friday! Toys benefit Children's Sickle Cell Foundation's 5th Annual Season 2 Give Program on Saturday, December 22nd at the Children's Institute!