---


Big Kindy thanks!

A newly painted, de-cluttered and gleaming Scotland Island kindy has opened for term 1 2016. Lots of people to thank, so here goes:
Adriana Labate
Aggy Ager
Anna Piazza
Anthony Bush
Barbara Duhig
Boyd Attewell
Bronte Dakers
Clea Sherman
Georgina Orr
Hubert van Mierlo
Ian Laughton-Smith
Jon Maxim
Julian Muir
Kirsty Bush
Libby Ciok
Louisa Maxim
Penny Gleen
Robin Laughton-Smith
Ryan Stilwell
Sheridan Mitternacht
Skye Fields
Sophie Blackband
Talya Alon
Tristan at Taubman's Mona Vale
Vince Wray
And...

Roy Baker and Petra Godfrey for random acts of help!

---
Artist of the Month January 2016 Antonia Hoddle
Profile of the Week - Issue 246, published January 10, 2016
Antonia Hoddle

---



Pittwater Council is urging all residents affected by the NSW Government's proposed merger of Pittwater and the northern suburbs of Warringah to review the Government's plans and have their say, either by speaking at the public hearing or making a submission.



The NSW Government has announced that an expanded Council for Pittwater servicing the northern suburbs of Warringah would receive $20 million to cover the costs of merging and community infrastructure projects.

General Manager Mark Ferguson encourages residents to visit the Council Boundary Review website and review the merger proposal and accompanying maps, and then voice their opinion to the NSW Government.

"This is the final step in the NSW Government's merger process and the last chance for affected residents to formally express their views to the State Government," Mr Ferguson said.

"Pittwater Council urges all affected residents to take the time to consider the proposal and financial benefits and identify the issues that are most important to them and speak out," he added.

The Office of Local Government will hold two public inquiry meetings on Tuesday 2 February from 1-5pm and 7-10pm at Mona Vale Golf Club.

Those wishing to address the public hearing must register to speak by 12 noon on 29 January 2016 by contacting 1300 813 020 or visiting www.councilboundaryreview.nsw.gov.au/proposals/pittwater-and-warringah-councils/#meetings

You can also make a submission online or via post before the Sunday 28 February 2016, 5pm deadline:



www.councilboundaryreview.nsw.gov.au/proposals/pittwater-and-warringah-councils/#submission



C/- Council Boundary Review Submissions , GPO Box 5341, Sydney NSW 2001

An independent delegate has been appointed by the Minister for Local Government to review the Pittwater and North Warringah merger proposal.

"The delegate assigned will examine submissions, hold the public inquiry and report those outcomes to the Minister for Local Government and Boundaries Commission.

"It is certainly valuable for residents to express their views as the minister will consider all submissions when forming his final recommendation," Mr Ferguson added.

The NSW Government has indicated that all new councils will be proclaimed by mid-2016. It also announced that Local Government elections will be delayed until March 2017.

For details on the NSW Government merger proposals with accompanying boundary maps visit www.councilboundaryreview.nsw.gov.au

For reform updates, please visit our website, subscribe to our e-newsletter aboutPittwater and follow us on Twitter and Facebook.

Contact: Media contact: Community Relations
Phone: 9970 1119 or 9970 1172



---
Scotland Island Players Needs You!
Calling ALL actors, singers, dancers,writers, directors, musicians, comedians, and any other talents suitable for public spectacle!

THE SCOTLAND ISLAND PLAYERS NEEDS YOU FOR 2016!

Proposed for this year is:


At least one comedy-farce, already in rehearsal, but in need of two male actors to replace two who can no longer participate.
At least one revue-style show, which allows flexibility with rehearsals and commitment.
At least one talent or open-mike night, something like the amazing 'ladies sing the blues' event.



If you would like to be involved or are interested in contributing in any way, please come to the meeting at the

Community Hall, Sunday 14th February from 2pm to 6pm

.

An alternate date may be arranged if Valentine's day is just too special for too many!

Please respond to lizziebrand@outlook.com or 99972026 (evenings) or 0424341458 or just come to the meeting!



---
Rental Wanted
Hi! We're a young professional couple who recently gained employment in the area and are looking for a small/studio rental property for long term lease.

We love the natural beauty of the area and are keen to commit to a water lifestyle.

We have perfect rental records and some of our friends in the area can provide excellent references if required.

If there are any private home owners looking for a tenant please contact

Lachy on 0437 988 113
Jessie on 0402 648 082



---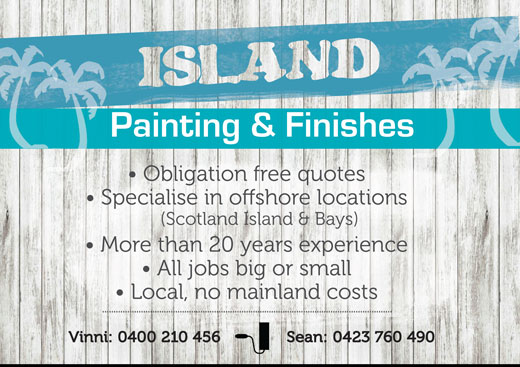 ---
For Sale
Yes…. Sadly, another island move.
PC & DC Sale List (prices negotiable, make us an offer!).

Contact Peter on 0428 644 976 Or Debbie on 0499 999 221 if interested in any item…



Contact Peter on 0428 644 976 Or Debbie on 0499 999 221 if interested in any item…





---
---
---
A complete set of past electronic newsletters since May 2000 can be found and read at https://ymlp.com/archive_gesgjgm.php or by clicking here or by visiting the Mona Vale Library.

The Island website is at www.scotlandisland.org.au


---
To Contribute
If you would like to contribute to this newsletter it's easy!. Send an e-mail to the editor (editor@scotlandisland.org.au) or by clicking here. Type your contribution (100 words or so would be fine) and assuming it is of general interest to the community, does not include matter of a political nature and is not offensive, it will appear next month.
Subscription Information
To get on and off this newsletter,

click here

or got to:

http://www.scotlandisland.org.au/signup .


To change your address, click the 'modify' link at the bottom of this newsletter or send an email to the

editor@scotlandisland.org.au


---
Follow the PON
---
The Online Local Contacts Guide
Click HERE to load
---
---
The views expressed in this newsletter are not necessarily the views of the Scotland Island Residents Association (SIRA), or the Western Pittwater Community Association (WPCA)
---
---