Very gently, the gallery is preparing its return.

I will continue to share with you the story of
'On That Day', when ​a photograph has been entrusted to me by its author.




Esther Woerdehoff          

 

La galerie prépare son retour en douceur.
Je continue à partager avec vous l'histoire de ce jour particulier, où une photographie m'a été confiée par son auteur.

 

Esther Woerdehoff
 

Albarrán Cabrera, The Mouth
of Krishna #808, 2020, Pigments, Japanese paper and gold leaf, Editions of 20

Albarrán Cabrera, 

The Mouth
of Krishna #808

, 2020, Pigments, papier japonais et feuille d'or, Editions de 20







lbarrán Cabrera, 


The Mouth of Krishna #4064, 

2020,
Pigments, Japanese paper and gold leaf,
Editions of 20

Albarrán Cabrera, 
T

he Mouth of Krishna #4064

, 2020,
Pigments, papier japonais et feuille d'or,
Editions de 20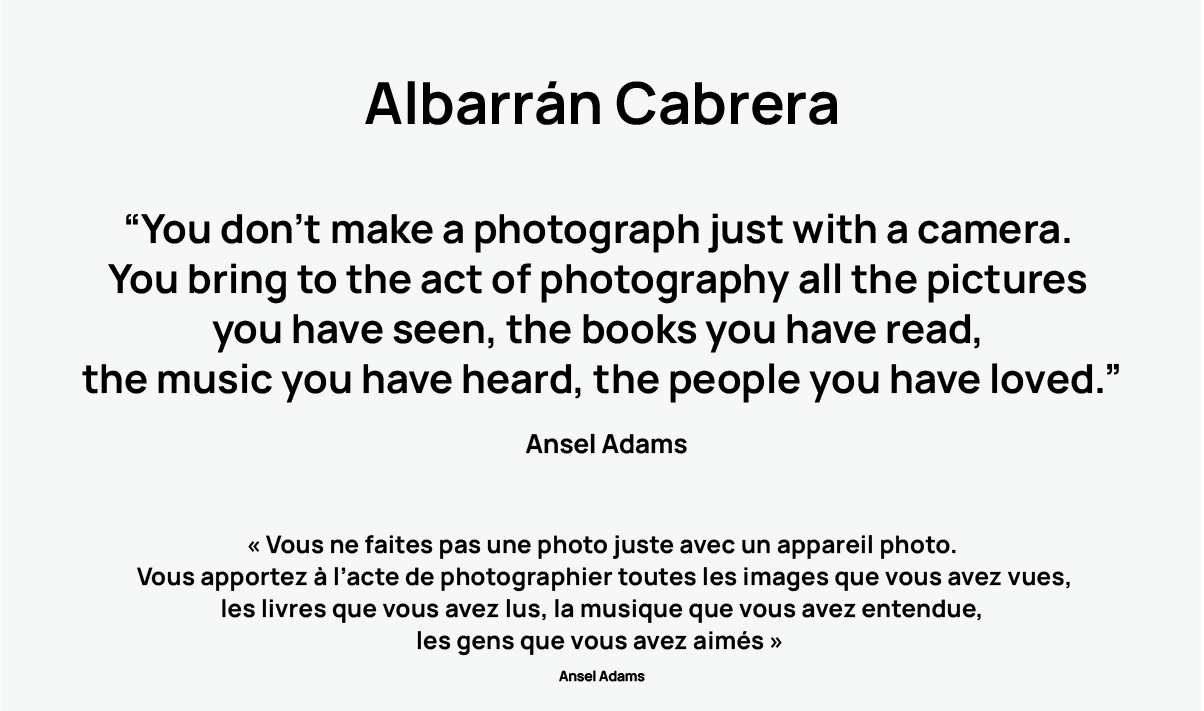 Spanish artists Anna Cabrera and Angel Albarrán,
both born in 1969, have been working as a
couple since 1996. Their love for photography was passed down to them by their families: Angel's grandfather, a carpenter, made cameras; Anna's father lent her, when she was 16, a Voigtländer for
a school trip to Paris.
Unclassifiable in the world of photography,
the two artists experiment, like alchemists, with all kinds of powders, leaves, minerals and gold to create their own emulsion, to develop and color their images.
Their research goes as far as the creation of their
own paper.

 

 

 

Les artistes espagnols Anna Cabrera et Angel Albarrán, tous deux nés en 1969, travaillent en binôme depuis 1996. L'amour de la photographie leur a été transmis par leur famille : le grand-père d'Angel, menuisier, fabriquait des appareils-photos ; le père d'Anna lui a confié, à l'âge de 16 ans, un appareil Voigländer lors d'un voyage scolaire à Paris. Inclassable dans le monde de la photographie, les deux artistes expérimentent, tels des alchimistes, avec toutes sortes de poudres, feuilles, minéraux pour créer leur propre émulsion, pour développer et colorer leurs images. Leur recherche va jusqu'à la création de leurs propres papiers.