BHAF Newsletter


Next Meeting Patcham
16th Sept 2015


Across the cities allotments we are lucky enough to have hundreds of apple trees. Some of the trees are in better condition than others.. Apple trees need to be taken care of and pruning correctly is essential for a good crop and also in maintaining a healthy tree of a manageable size. Autumn and Winter is the best time for pruning, which is quite an art! so we've joined up with the apple experts from the Sussex Permaculture Trust to offer plot holders a free hour long workshop on their allotments.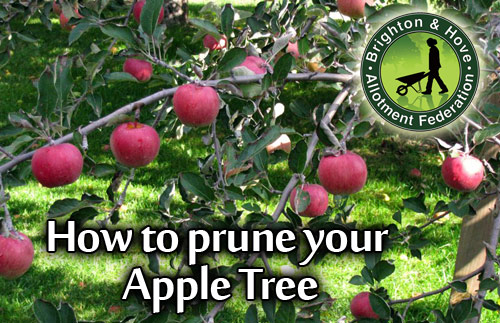 Interested plot holders should contact their Site Reps, who in turn should contact us. All we need is a proposed date and time for the workshop, preferably a weekend, a group of around 10 interested plot holders and an apple tree on a plot (which is need of a prune).

If a Site Rep is unable to get involved a plot holder can organise the event.
Plot holders on small sites who are interested, should let us know, and they would be able to attend a workshop at a larger site. You will be able to ask questions regarding pruning, grafting, pests and diseases and local varieties of apples.



All plot holders and co workers are invited to our Allotment Forum Meeting;
Wednesday 16th September 2015
6.30pm 'Surgery'
7.00pm Meeting Start

at Patcham Community Centre, Ladies Mile Road, BN1 8TA
All allotment holders and co workers are invited to attend.
Site Reps are expected to attend as part of their role.
---
---
NEWS

Development Grant

Dont forget to apply for a development grant for your local site! If the money isnt used it goes back to the Council so please get creative with your ideas and get together with your site reps and get us those grant applications!
We are particularly interested in funding projects that will benefit Allotment Associations or encourage Associations to form.

Last year we paid for;

A new roof for the store hut at Lower Roedale

A new community shed for the new Associationat Whitehawk and Craven Vale

Raised beds at Peacock Lane

A Community shed at St Louie Home

An Apple Press for Roedale Valley


Please get in touch with us regarding ideas for your site.
http://www.bhaf.org.uk/page/development_fund_details
Horse manure

Does anyone want a load of well-rotted horse manure for free? I have contacts with stables only 4 miles from Whitehawk Hill/Craven Vale allotments -

we can now deliver trailer loads of this magic stuff within a 5 mile radius of Woodingdean.


https://www.facebook.com/BHAFpage/
Green Manure

Green manures are fast-growing plants sown to cover bare soil. Often used in the vegetable garden, their foliage smothers weeds and their roots prevent soil erosion. When dug into the ground while still green, they return valuable nutrients to the soil and improve soil structure. They are also useful for keeping the ground covered over winter.
https://www.rhs.org.uk/advice/profile?pid=373
The Allotment Land Grab

The current threat to allotments amounts to the largest seizure of common land since the 18th century.
http://www.independent.co.uk/voices/commentators/

Roundup Weedkiller banned in France and Netherlands

The French Ecology Minister said: 'France must be on the offensive with regards to the banning of pesticides' THe World Health Organisation recently stated that 'glyphosate is probably carcinogenic in humans'

Glyphosate is sprayed onto wheat prior to harvest.

Glyphosate is the most widely sold weedkiller in the world, you might know it as the active ingredient in Roundup. The big chemical companies advise farmers to spray their wheat crops with glyphosate a few weeks before harvest - to kill the crop and remove weeds to make it easier for them to harvest. Government figures show its use in UK farming has increased by a shocking 400% in the last 20 years. Nearly a third of UK cereal crops (over 1 million hectares) were sprayed with glyphosate in 2013.
Reminder : Recording Wildlife to help protect allotments

Some important advice courtesy of Jamie Burston.
To help save your allotments - Roedale,Craven Vale and Whitehawk Hill, this is the way forward regarding your wildlife sightings! By submitting your sightings of wildlife, it can be anything such as birds, butterflies, bees, bats, wildflowers e.c.t. to the following website below it could serious help protect your allotment. iRecord is a very important recording tool! It's very easy to use and sign up to, the main thing about the sightings you submit, are they are verified by local experts. Ideally try and get a photo of any unsure species as you can attach this to your sightings. These sightings will be transferred to the Sussex Biodiversity Record Centre database. Developers before taking any further step should request to see this database to assist in a environmental impact assessment, if any red listed or important sightings of wildlife come up then they have a real problem, great thing for us! My friend says bat roosts or badger sets or rare protected species on the site are the ideal things to look out for and send into iRecord.

Jamie has set up a Flikr page for Roedale Valley Allotments to record pictures of species
Interesting Books

Here is a list of useful books from Maureen Winder which may be of interest to Site Reps and Plot Holders.


Lesley Acton, Growing space : A history of the allotment movement.
Nottingham : Five Leaves Publications, 2015

Steven Bradley, Whats wrong with my plant?
London : Hamlyn, 2007

Andi Clevely, The Allotment Book
Collins : 2008

Ian Cooke, Waterwise Gardening
London : New Holland Publishers, 2008
Charlotte Green, Gardening without water
Henry Doubleday Research Association 1999
John Harrison, The complete vegetable grower
Right Way, 2011
Margaret Willies, The gardens of the British working class
London : Yale University Press, 2015

Follow us on Facebook for Regular updates
and please post your pictures and local news

Allotment Forum Details
The meeting is in 2 parts; the first half hour, beginning at 6.30pm, is an informal surgery where people have an opportunity to speak to BHAF members or the Council Allotment Officer on a one-to-one basis over a cup of tea. This allows individual and personal issues to be dealt with more quickly and efficiently.
The second part of the meeting begins at 7pm and relates to more general and city-wide allotment issues. If you have a problem/question or an item for the agenda, come and talk to us during the surgery and we will do our best to help.
There is free parking at Patcham Community Centre and on surrounding streets.
For those travelling by bus, the 5 and 5A buses stop within 2 minutes walk of the centre (The Ladies Mile bus stop).
Timetable details can be found here:
The BHAF Committee is always in need of volunteers to help us run the Federation effectively, if you can spare some time to join the Committee, please get in touch!
We look forward to seeing you.
Best Regards,
Mark Carroll for
BHAF Committee.