---
Contents
---
---
Melbourne  Cup at the Fireshed
Tuesday 7 November from 1:30

---
Be mindful of where we live..
Poison kills more than you may think !
We live in a wonderful place where the night creatures hoot and holler and hunt and eat the the small scurrying creatures in the evening.  In the daytime Eagles, Kites and Hawks drift across the skies looking for food and sleepy and harmless snakes slither across our paths during the day, scaring the willies out of us, but a little adrenalin pumped into our system is the only impact they have on us.

One morning we woke up to the sight of 2 spread-eagled dead owls in our front yard. They had died a cruel and horrible death from blood poisoning causing internal bleeding, seizures and kidney failure. Someone in our neighbourhood was concerned with an invasion of rats, which are an important food source for the owls and snake, and put out poison. The poison remains in the system of the sick or dead creatures and is passed on to the native species that prey on them.

We have done a bit of research and there is no such thing as a safe poison. If you have a problem with rats there are many other ways of dealing with this. Secure your homes against their invasion, trap them and feed them to the owls and kookaburras or dispose of them carefully 

BUT PLEASE DO NOT USE POISON



Paul & Tracey



---
WPYC CCC Party
11 November, 6pm to 11pm
There is a Reliance Ferry pick up & drop off to Bayview Scout Hall for the Woody Point upcoming event on November 11th.
Pick up will be from Newport Wharf at 5.45 then 6pm Church Point, Bells Wharf Etc thereafter.
Mark would like to get EOI for ferry trip.
Call Mark 0420 931 or myself on 0431732733 .
The cost will be $10 return including drinks .

---
PITTWATER PADDLE 2017
Sunday 12 November
The NBI Pittwater Paddle is on again this year, and we'd love you to join in the fun!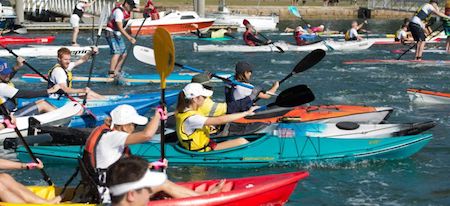 The Pittwater Paddle is Northern Beaches Interchange (NBI) main fundraiser, with entry fees and funds raised going to NBI so that they can continue to support children with additional needs, and their families living in the Northern Beaches.

The Pittwater Paddle is an 8.4km paddling event that challenges you to circumnavigate Scotland Island on the paddlecraft of your choosing.

So that more people can be involved this year, NBI have included a shorter 3.6km paddle to the line-up, so that families and less experienced paddlers can join in the fun!

You can register as an individual or compete as a team in a multi-seated craft.

Registrations - essential
Entry fees and conditions apply
Details HERE

BYO paddle craft



---
Nettie Lodge Exhibition
November 3 - December 3. Manly Art Gallery & Museum
Opening Friday Nov. 3rd  6 - 8pm

---
McCarrs Creek Road Update

---
Pittwater YHA 50th Anniversary
Sunday 19 November 2-5pm
Pittwater YHA Hall via Halls Wharf, Morning Bay


---
Peninsula Music Club
Friday 3 November 8pm
Our last Concert for 2017 is on Friday 3rd November at 8pm performing is Ensemble Aspherical.
A new and exciting chamber group formed by four leading Sydney classical musicians who enjoy performing elegant and engaging music.
The vibrancy and warmth of the violin and viola strings combine with the ethereal qualities of the flute and harp to create sounds and evoke images for the listener both congenial and colourful.
Featuring sisters Marina and Justine Marsden (violin and viola) harpist, Louise Johnson and Flautist, Janet Web.

---
Open Mic Night
Saturday 25 November from 7.30pm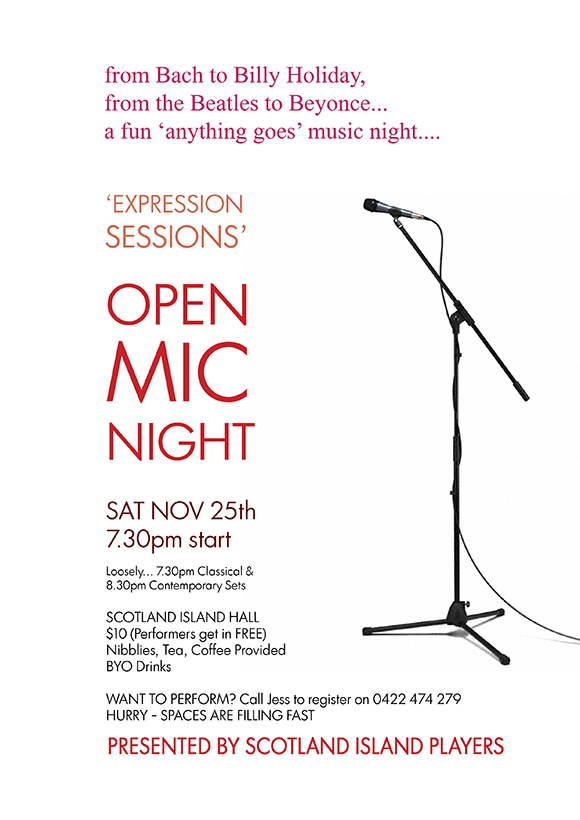 ---
Scotland Island Fire Brigade Goodwill XMAS Lunch
December 25th from Midday
Booking essential - RSVP by 18th December at the latest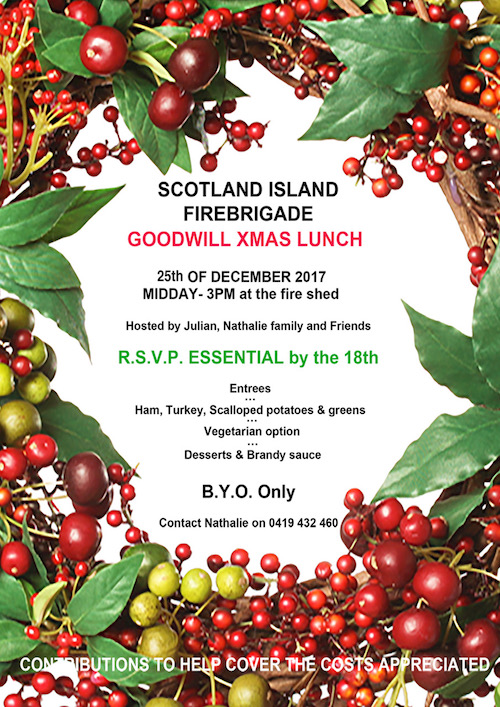 ---
The Co-Op Club Presents
November-December 2017 Bookings
Church Point Cafe -  Artists play between 3:30 - 6:30pm

---
Vinyasa Yoga on Scotland Island
Saturdays 8:30- 9:45

---

---
Looking to Rent a House 

We are looking for a beautiful new home to rent on the Island. I have been an Island resident for 18 years and we (2 boys: 7 and 11) are looking for a new view.
I am an English high school teacher
Late January to February would be perfect.

My phone just got a little wet kayaking yesterday so please email me to contact.


Shona Forsyth
sleighforsyth@gmail.com







---
Missing western red cedar cladding
We recently moved into our new home on Scotland Island. I'm told it'll probably be known as Bob & Kerry's house for a while yet.

Included in the purchase agreements of the house was a large bundle of spare western red cedar cladding.

Different people came and went in the last few days towards B & K's moving out day, helping them clear things off the property by taking things away.

Someone mistakenly removed the cladding/planks from under the west side of the house. Probably wasn't clarified to those helping that the cedar cladding was part of the contract of the purchase/sale, most likely a simple misunderstanding.

Please return it to the house as we have plans for it.

Kevin & Hazel Malloy
malloyks@gmail.com



---
Help at home required
Good pay / conditions - accommodation offered
We are an elderly couple living offshore in Little Lovett Bay. I am 79 years young, still play golf twice a week and bush walk any time that I get a chance, which is almost daily. My husband is 85 and is in need of help getting out of bed, showered and dressed in the mornings. It is getting quite difficult for me to do as he is quite tall and heavy set. He is an easy going person, good humoured without any illness, just hasn't strength nor much energy, He has just come home from a month in rehab in Mona Vale where he was doing quite a lot of physiotherapy, and he is trying to continue with this at home in whatever way he can. He is quite incontinent.

Our house has a small two story self contained apartment on the side, cosy and tranquil, with all the mod cons and a spiral staircase between the levels.

Little Lovett Bay is in Pittwater, on the western foreshores, and is only accessible by ferry or boat, unless you like bushwalking as much as I do - then you can park on West Head Road and walk down to our place - about a half hour beautiful bush walk.

Ideally you would stay over here, or even live here full time, negotiating which days you would like to be available to help Rick and me in the mornings.

Please call me - Gill - on 9999 4632



---
For Sale
Vailima
Classic Day Boat
18 foot fibreglass sheathed hull resprayed 2 years ago
20HP Volvo MD2 engine
Internal v berth
Lovely eye catching boat for a day out.
Currently moored in Pittwater

Price $16,000

Contact Stevo 0414090683



---
Labourer Wanted
If interested in earning some pocket money and willing to do hard labour.
Please call Karmel on 0403 792 140 to arrange a time and day to go over and clear vegetation, cleaning house  and / or rubbish removal from her property in order to help her sell it.

Pay for each job to be discussed on a per job basis with Karmel.

Contact Karmel Patterson on 0403 792 140.
It may take 3-5 calls before you make contact.


Electrician Wanted Urgently
Due to last power surge / outage many power outlets no longer working but more importantly my home phone line is not working and I'm fairly certain there's nothing wrong with handsets as I have tried new handsets an they didn't work either.

Will pay whatever you charge to fix house wiring. I have minimal lighting and have limited ways to cook food because many kitchen power outlets are not working.

Contact Karmel Patterson on 0403 792 140 to discuss costs and payments arrangements.
(It may take 3-5 calls before you make contact)


Plumber urgently required
Toilet and shower need fixing and kitchen sink. Toilet is difficult to flush because tank water no longer filling the cistern, has to be done by hand. Shower not worked in years, as I have been using a shower hose attached to bathroom sink tap with a big tub to stand in.

Contact Karmel Patterson on 0403 792 140 to discuss costs and payments arrangements.  
(It may take 3-5 calls before you make contact)
 

Cleaner urgently required.
Please help me declutter and bag rubbish.
Will need you to take rubbish down to wharf for me, nearest wharf to me is Eastern wharf.

Will pay $15-$20 per hour.

Contact Karmel Patterson on 0403 792 140 to discuss costs and payments arrangements.  
(It may take 3-5 calls before you make contact)
 



---
Boat for Sale
3.5m tinny, in good condition.
Carpet floor and comes with oars.

$400 ono

Contact Amanda on 0406 654 466





---
Furniture to give away
Hi we are moving off the island soon and have a few items to give away if anyone is interested.
Need to be picked up ASAP.



The cupboard is from IKEA and just needs a new rail
All items are used but functional and would love to stay on the island.


Call Julie 0416188492



---
Fridge, 'free to good home'
2 door  Samsung 10 year old. Model no: SRS536NP
Freezer door opens  to the left and fridge door opens to the right
Stainless steel finish
Width: 850 mm
Depth  724 mm
Height   1722 mm
Good working order just needs new light globe in fridge side.
 
It will be available for pick up from Richard Rd S.I. late November.
 
Call Tim 0417 215783



---
---
The Local Guide
Community Information
Scotland Island Web Site

 www.scotlandisland.org.au
click to go to the Calendar

Scotland Island Residents Facebook Page

click to go to Page

Scotland Island Community Vehicle -

0404 103 700
Number, Usage & Charges

Scotland Island Rural Fire Brigade

- 9999 4404
http://www.sirfb.org.au

West Pittwater Rural Fire Brigade

- 9997-3795
www.westpittwater.rfsa.org.au
Offshore Photo Gallery
offshore gallery
Scotland Island Residents Association (SIRA) Membership details - click here for details
West Pittwater Community Association (WPCA)

- www.westpittwater.com.au
Scotland Island Emergency Non-potable Water
Agreement for Sale of Non-potable Water
SIRA Membership Application
Emergency Non-potable Water Guidelines
General Information, Map & Contacts
http://www.scotlandisland.org.au/community/emergency-water/
Scotland Island & Offshore Children's Services (SIOCS)


Long Day Care at The Island Kindy in Catherine Park
Days of operation: Monday, Tuesday, Wednesday & Thursday
Times: 8.00am - 6.00pm
Before & After School Care
8.00am until walked to school ferry - collected from school ferry until 6.00pm
Vacation Care, Casual Care and Playgroup on Fridays
Hire the Kindy for Birthday Parties
Please call

02 9979 7856

or email SIOCSdirector@gmail.com
Facebook: https://www.facebook.com/theislandkindy
Website: http://scotlandislandkindy.business.site/
Scotland Island Community Hall Bookings:  Barbara Labram M: 0473008339  or hall@sira.org.au
Pittwater Online News

-  http://www.pittwateronlinenews.com
Tick Fact Sheet
TUG Waitlist   (Tennis User Group) - Application Form
---
Transport
---
Real Estate
---
Services, Clubs & Accommodation
Scotland Island Traders

- On-line shopping from your computer through www.g2u.com.au -delivered to your door Scotland Island by Scotland Island Traders -  Graeme Richmond - Mobile: 0419 460 331
email scotlandislandtraders@gmail.com
Justice of the Peace

- Bob Mitchell (Mackerel Beach) - 0419 745 628
Justice o

f the Peace

- Tony Hendel - 0419 242723
Justice of the Peace

- Andy Derijk - Elvina Bay 0418 613 890
 

Justice of the Peace  - 

Lexie Le Blang 0418399674 or 99992574
Pittwater Community Arts Inc.

 - Enquiries Lorrie Morgan 9997 8079  lorriemay@bigpond.com
Peninsula Music Club

- enquiries Janice Tuynman - 99991937 - jt@swift dsl.com.au
Woody Point Yacht Club

-  http://www.wpyc.com.au   commodore@wpyc.com.au
Royal Prince Alfred Yacht Club

-

02 9997 1022

  http://www.rpayc.com.au/  
Royal Motor Yacht Club

- http://www.royalmotor.com.au/ 02 9997 5511
Scotland Island Lodge

- Bed & Breakfast - 02 9979 3301 or  http://www.scotlandislandlodge.com.au 
Pittwater Youth Hostel

 - (02) 9999 5748 (8-11 am and 5-8 pm)
http://www.yha.com.au/hostels/nsw/sydney-surrounds/pittwater/ 
Handy Service

- "No job too small"  - Call Alan 0447 775 541
Electrician Wayne

on Scotland Island 0418 229 277 - offshore community sparky - www.sparky.com.au
David Walsh

-

Graphic Design

-

Custom Made Sculpture

- 0404 239 212 - ital2@optusnet.com.au
Dog Wash & Grooming

- Call Jenni: 0450 444 100 or Email: jena50@hotmail.com
Free Pump Outs for Boats

- Council with RMS installed a pump out at Careel Bay wharf
Island Based Domestic Cleaner

 - Annie Hurn - 0410 688 008 - annie.hurn8@gmail.com
Solicitor - Rachel Carter - Carter O'Neill Legal - 0406 239 946
Blue Toro Mobile Mechanics Northern Beaches - Ben (owner operator) on 0420 851 706
Vehicle servicing and repairs by coming to you...

---
Island Classes (Fitness, Dance, Art etc)
Pilates, Meditation and Group Fitness

with Patrice -  0406 483 036 patrice.corrie@gmail.com
Art Classes

- drawing and painting in oils, acrylics and mixed media- Marion 0431 457 431
Dru Yoga

- Tuesday 9.00 to 10.30 Tuesday morning - Phone Katya on 0414 187 916
---
Groups
Green Group For Catherine Park

- Run by SIOCS - Emmie Collins on 0405 330 781
Parents & Kids Groups Playgroup

- Run by SIOCS - email Emma trysemz@tpg.com.au
Scotland Island Players

- contact Bob 0414 994 092 or Kez on 0414 994 094
Catherine Park Bush Care Group

, 2nd Sunday @ 9.30am, Sharon Kinnison @ 9997 6017
Elizabeth Park Bush Care Group

, 1st Saturday @ 9 am, Bob Bolton @ 0414 994 092
Island Thinking Group

-

Roy Baker, 9999 6891, roybaker99@yahoo.com
---
Government Organisations
---
Airlines, Buses and Railways
---
Weather
Pittwater Weather
Scotland Island Tides, Moon phases, Sun rise & set
Local Weather Forecast
Radar weather for Sydney (128k circle)

---
Emergency Contact Numbers   
ALL EMERGENCIES (Police - Fire - Ambulance)
000
Police Assistance Line & Information
13 1444 or 9281 0000
Broken Bay Water Police
9910 7899 or 0412 162 093
Marine Rescue Broken Bay - Weekend
(02) 9999 3554 - (02) 8411 1121
Marine Rescue Broken Bay - VHF Radio channel
VHF Radio Channel: VHF 16
27MHz Radio Channel: 86 or 88
Scotland Island Rural Fire Service 
9999 4404
Elvina Bay Rural Fire Service
9997 3795
Lovett Bay Rural Fire Service
9979 1612
Mackerl Beach Rural Fire Service
9974 1162
Rural Fire Service Headquarters Terrey Hills
9450 3000
NSW Fire Service General Information 9265 2999
9265 2999
Rural Fire Service General information
9450 3000
State Emergency Service, Warringah/Pittwater SES
13 25 00 9486 3399
National Parks & Wildlife Service: 000, general information
9457 9322
Dept of Community Services: general information
9977 6011
Sydney Water
132 090
Energy Australia
131 388, (ah) 131 909

---
---
A complete set of past electronic newsletters since May 2000 can be found and read at https://ymlp.com/archive_gesgjgm.php  or by clicking here or by visiting the Mona Vale Library.

The Island website is at www.scotlandisland.org.au




---
To Contribute
If you would like to contribute to this newsletter it's easy!. Send an e-mail to the editor (editor@scotlandisland.org.au) or by clicking here. Type your contribution (100 words or so would be fine) and assuming it is of general interest to the community, does not include matter of a political nature and is not offensive, it will appear next month.
Subscription Information
To get on and off this newsletter,

click here

or got to:

http://www.scotlandisland.org.au/signup .


To change your address, click the 'modify' link at the bottom of this newsletter or send an email to the

editor@scotlandisland.org.au


---
Follow the PON
---
The Online Local Contacts Guide
Click HERE to load
---
The views expressed in this newsletter are not necessarily the views of the Scotland Island Residents Association (SIRA), or the Western Pittwater Community Association (WPCA)

---