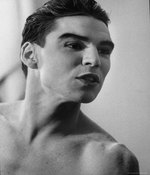 "Dance is your pulse, your heartbeat, your breathing.
It's the rhythm of your life.
It's the expression in time and movement, in happiness, joy, sadness and envy."

- Jacques D'Amboise
HELP RAISE THE HEAT ON OUR DONATION THERMOMETER!
A FEW BUCKS WILL HELP US BRING NYC:

Planning The 6th Annual Dance Parade and Festival has already begun but as the event gets bigger and bigger, more and more help is needed to make it a success.
Click here to find out ways in which you can help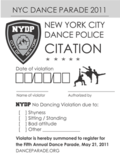 Dance Parade is looking for a few good men and women to join the force...the New York Dance Police!

Members of the NYDP peruse the crowd and issue out summonses to those not enjoying themselves, standing still and looking like they're simply not having a good time! Enforcing positive energy and sheer fun is the mantra of the NYDP and local dance companies and schools have offered discount passes and coupons for free classes in which we disguise as 'citations' promoting our annual parade and festival.

To join the New York Dance Police please email DJ@danceparade.org for more information.
Check out the brand new "United We Dance Parade" Theme Song and PSA created by Jamie Marie Hannigan of Stage Stars & Taylor Ryan of AM Studios. Carol Ann Suddeath & Stage Stars on vocals and voice over by Jamie!
Don't see the video? Click
here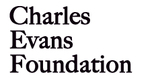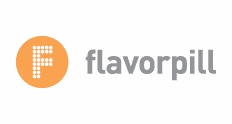 We appreciate our sponsors so much
--
Click
here
to inquire about becoming a sponsor for street banners along parade route, booths at DanceFest or a float in the parade.

Check out two of the newest episodes of
Audio Dance Parade by
on Podomatic as well as iTunes!
Interested in submitting a mix of your own? Contact curator
Chauncey
for submission guidelines!
GRANDSTAND SEATS ON SALE NOW!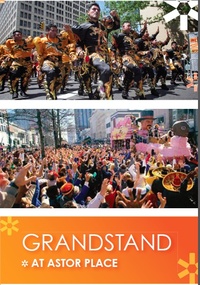 Click image above to get a front row seat to one of the most culturally diverse celebrations of dance in the world!
5,092 Dancers,
137 Organizations and 52 Unique Styles
have registered so far!
5 Rhythms
Aerial
Aerobic
African
Algerian
Argentine Tango
Asian Indian
Ballet
Ballroom
Belly Dance
Bolivian Tinkus
Bollywood
Bomba y Plena
Brazilian Zouk
Bulgarian
Caporales
Cheerleading
Chicago Steppin
Clown Dance
Contemporary
Cumbia
Drum and Dance Improv
Ecuadorian
Flamenco
Hip-Hop
House
Hustle
Indian Bhangra
Jamaican Dancehall
Japanese
Jazz
Korean
Liturgical
Mambo
Michael Jackson
Modern
Modern Folkloric
Reggae
Roller Disco
Sacred
Sacred & Soulful
Salsa
Salsa-Belly Dance
Samba
Skateboard Roller Disco
Stilt Dance
Street Dance
Tango
Theater Dance
Tinikling
Yoga Contortion
Zumba
Come see Trapeze, Hawaiian, Japanese,
Korean, Bolivian Tinku, Chicago Style Steppin, Contemporary, Hip-Hop and a short film on
how the Dance Parade started!
Performances by:
- Kaina Quenga (hula)
- freedom2dance extended trailer by Ina Sotirova

Each year Dance Parade hosts a FUN-raiser on International Dance Day that both raises the awareness of dance in general, and the necessary funds for its education program, the annual Parade down Broadway in May, and its culminating Festival at Tompkins Square Park. Dixon Place will host this year's event on Sunday, April 29, 2012, from 6PM to 9PM.
Reception will begin at 6:00pm.
Performances will begin promptly at 7:00pm.
Dance Parade

is pleased to announce world-renowned New York dance institutions – The Ailey Extension and Lori Belilove and The Isadora Duncan Dance Company – are among this year's participants at Dance Festival. Dance Parade New York is the only dance organization in the world to exclusively celebrate and showcase the diversity of dance, and marks its Sixth year on Saturday, May 19, 2012 at 1pm Eastern.
Dance Parade, Inc., in partnership with the New York City Department of Parks and Recreation, is pleased to announce the inaugural season of its Educational Residency Program entitled "Community Kinect" that focuses on movement and fitness. Three of Dance Parade's performance groups will participate in five-week residencies at four community-based recreation centers in Manhattan and Queens. Experienced teaching artists from each group will work with youth aged 5-18, offering free lessons in their specific dance style and culture and preparing them to participate in the 2012 Dance Parade on May 19, 2012.
On Saturday, May 19, 2012 get the best seat on the parade route as 10,000 dancers stop and perform in front of this year's Grandstand! Watch over 200 dance organizations be announced by our MC as they dance their way to Tompkins Square Park for a DanceFest. Bring your camera--there's no other event quite like this one!
Genre Buzz : KOREAN DANCE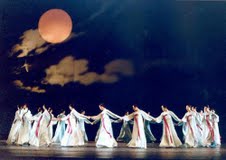 Korean traditional dance originated in ancient shamanistic rituals thousands of years ago. By the time of the later Korean kingdoms, Goryeo and Joseon, in the 2nd millenium CE, Korean traditional dance benefited from regular support of the royal court, numerous academies, and even an official ministry of the government. This beautiful dance form is both ancient and very new. Like many dance forms its origins begin in pre-agricultural societies on the Korean peninsula.
Elizabeth Zaklama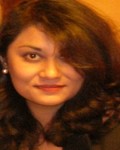 "…from different parts of the world, with different life experiences, in one room united by the love of dance."
Dance Parade, Inc. is a volunteer supported non-profit organization! It is the dedication, expertise and rhythm of these brave few that are solely responsible for the success of the event and all the background work that goes on all year long leading up to the parade and festival. Every month, we choose a different volunteer to spotlight. We ask them a few questions to let you know who they are, where they've come from and where they see themselves in the future.
How did you first stumble upon Dance Parade?
I had some free time and looked at volunteer opportunities and Dance Parade struck me as a great institution to volunteer for.

What is your favorite style of dance to watch? to participate in?
The Tango. I love to watch it, as it is not only passionate, but, beautiful, too. I would love to learn.
If you could share the stage with anyone in history famous or not, living or deceased, a trained dancer or not, performing a routine choreographed by yourself…who would it be?
Vincent Simone, two time Argentine Tango Champion, of course, in a dream as I do not even know the basic steps…
.
Dance Parade is less than a month away!
Register today to join the party on Saturday May 19th!
Are you ready and registered for the world's largest celebration of diversity and culture?—Want to dance ballet, ballroom, breakdance or to breakbeats? Sign up on our website here. Scholarships to waive fees available until April 11th.

Choose from any one of over 80 styles of dance and join us Saturday, May 19th for the Sixth Annual Dance Parade! Starting on 21st Street and Broadway, the Parade will kick off at 1pm.
We will boogie our way down Broadway in History of Dance order! We will drum up some African beats, shine like only the Korean, Bolivians and myriad ethnic cultures can and Samba our way past Union Square and onto University Place.
At Eighth Street we will Salsa, Tango and Waltz East into Saint Marks Place. Pause to Hula, Stilt and Break Dance in front of Our VIP Grandstand in Astor Place–then our House, Techno and Disco floats will have afternoon shoppers wigglin' as they watch us get down in the heart of the East Village. A straight shot from there brings us to DanceFest in Tompkins Square Park.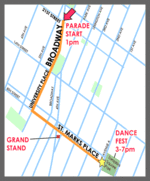 Attention Parade Group Coordinators: Our last meeting is planned for 2pm on Saturday, April 28th:

39 West 19th Street 4th Fl
(or 5th floor and walk down)
Between 5th & 6th Avenues
Our production team will answer all your questions about the do's and don'ts to participate in Dance Parade 2012. Upon registration you will receive meeting details!
*Vehicle registration deadline has also been extended until Monday, April 30th!
NEXT TEAM MEETUP SUNDAY, APRIL 29TH 1PM AT "THE CUBE" AT ASTOR PLACE (pictured below)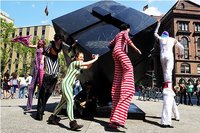 Facebook, Twitter and all the other hundreds of Social Media Sites out there are wonderful for sharing ideas and more but there's nothing like actual old fashioned on-foot promotion to help spread the word of Dance Parade.
Every year, we assemble a group of people to visit prominent and popular businesses, community centers, dance studios and community centers along the parade route and all across New York City and see if they will support our event by letting us put up a flyer and some postcards in their establishment. The DP Street Team meets up on the weekends and takes the city by storm to spread new of the magic we create on Dance Parade Day.

Interested in joining?
Please email

Chauncey@danceparade.org



We are also always open to suggestions and ideas on how to promote and where to go to do it and do it right. Also, please visit our "Spread The Word" page to download press packets and graphics to display on your blog, website, Facebook wall and anywhere else you want!

.
With over 9000 dancers moving to the rhythm of over 70 different kinds of dance, this is one street party you don't want to miss! Hope this little video gives you a taste of the party we're in for this year! We hope to see you all on Saturday, May 19th in New York City for Dance Parade 2012!

Please share this video on Facebook, Twitter and by email. The more people we tell about Dance Parade, the bigger and better it's going to be!