Having trouble reading this newsletter? Visit https://ymlp.com/archive_gesgjgm.php
---
Road Maintenance Works



Pittwater Council are carrying out road maintenance between Cargo and Bell Wharf this week and there may be periodic closure of this section of roadway.

Further roadworks will continue for the next 2-3 weeks in other locations and residents are asked to be supportive of the Council team whilst they are here.

Any queries contact Alan Gaines 9979 2070 or Cass Gye 0418 220 107



---
Scotland Island Rego Check Day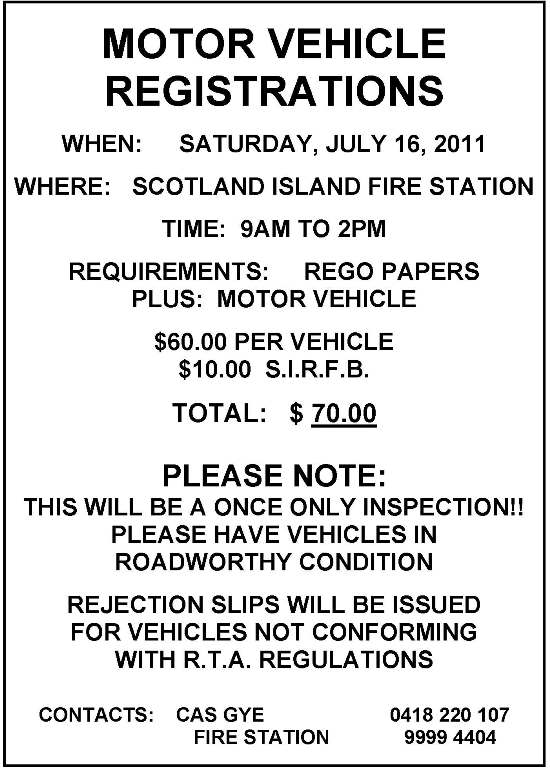 ---







Local Council Notices




Fun Winter Holiday Activities for Kids



The Coastal Environment Centre (CEC) has an exciting program planned for its Kids on the Coast holiday activities in July.

Kids on the Coast runs from Monday 4 July to Friday 15 July.

Activities such as Art Rocks by the Sea, The Not So Scary World of Sharks, Bush Creature Creations, Coastal Capers will complement newer activities such as Flying High With Kites, Groovy Gardener and Something Fishy.

In an expansion of the Kids on the Coast program, the CEC is partnering the Australian Tourist Park Management and Sydney Lakeside Holiday Park to provide a wide range of accommodation, education and fun activities during the July school holidays.

"Experienced community educators take care of your children, leaving you free to explore our coastal, wetland and rainforest regions", said Gary Jackson from the CEC.

"Kids on the Coast is a great opportunity to stay, play and learn about the amazing natural environment at North Narrabeen."

"We can host couples or the whole family and make these school holidays a fun filled and rewarding experience for our guests'.

Kids on the Coast activities are suitable for children aged 5 to 12. All-day events run from 10am to 3pm at $55. You can also choose morning sessions from 10am to 12 noon or afternoon sessions from 1pm to 3pm, at $22 per session.

The CEC is located on Pelican Path, in the foreshore grounds of Sydney Lakeside Holiday Park, off Lake Park Road, North Narrabeen. It is 300m from North Narrabeen beach. For more information or to book a place visit www.pittwater.nsw.gov.au/ceckids; email cec@pittwater.nsw.gov.au or call the CEC on 1300 000 CEC (232) or (02) 9970 1675.


Media Contact: Bianca Smith, Senior Community Educator (02) 9970 1313 or bianca_smith@pittwater.nsw.gov.au



---
For Sale




Tinnies & Outboard Motor


Quintrex 3.85 metres traveller, with rego all accessories included with 15 hp Mariner. $3,500.00
2007 model 8 hp Mercury with boat registered. $1500.00
Also 25 Yamaha short shaft electric start $1700.00 ono

Please Ph: 0415 515 133



---
Lost




Pink Zebra-Stripe Skateboard (Cruiser)


Has anyone seen a pink zebra-stripe skateboard?
It was left at Bell's Wharf or by the post boxes at the Point by mistake at 3pm
on Monday night.

Did anyone pick it up. Someone on the ferry at 4.10 might have noticed it
at Bell's wharf or noticed who may have scored it.
Be great to get it back, it belongs to James Cudmore.

Please call 0425 212 849. Thanks.



---
Wanted




Washing machine


If anyone has a washing machine that they want to sell or get rid of.

Please contact Janet on 0417 002 568 or call Evan on 0402 362 280



---
The Online Local Contact Guide

Click HERE to load
The views expressed in this newsletter are not necessarily the views of the Scotland Island Residents Association (SIRA), or the Western Pittwater Community Association (WPCA)
---