Dear readers,

 

Speeding up the implementation of the latest world experience and technologies, 'Save the Planet' has become one of the leading B2B events in Bulgaria, that deals specifically with problems and solutions  across the entire spectrum of the field of waste management  in South-East Europe. 




The 

 

intensively

 

recycling EU 's aim for 

a

 

zero-waste economy and the urgent necessity for the improving the urban and industrial landscape through sustainable innovations drive the countries from the Region to develop the sector. 

 

The present newsletter is dedicated to Ecorec Bulgaria - one of exhibitors of 'Save the Planet

' 2015.

 It is a member of the international Ecorec group. The company is a subsidiary of Holcim (Bulgaria)

 

 

– one of the leading cement manufacturers in the country. 

Ecorec has established itself as the main producer of alternative fuels from sorted municipal and industrial waste materials. In addition it also offers solutions for out of use tires. The waste flow is utilized by co-processing.

 

 

 

Have a nice reading, 

Via Expo Team




 

   

+359 32/512 900    office@viaexpo.com    www.viaexpo.com 

  

 


 

  

 
What is co-processing?
Utilization by co-processing in cement kilns is a sure way to manage waste that fully extracts the energy and mineral components of the materials, so that waste can be reused as fuel in energy production and as additives in the manufacturing process.
Many materials, which you would not presume to be suitable for energy utilization, are in fact perfect for this purpose. Objects like wood waste from construction sites, old mattresses, carpets, plastics and tires, are mixed in precise proportions in order to obtain a fuel source with a constant composition, which manufacturers and energy generators can use instead of fossil fuels. Even liquid waste like paint sludge, pharmaceuticals, shampoos and detergents – either scrapped or past their expiration dates – can also be included in the process.
How does co-processing work?
Each shipment of waste, delivered in the co-processing installations, is analyzed a second time in a laboratory and, if necessary, is pre-treated. Solid wastes are shredded, so as to maximize the energy created from them during incineration. They are sometimes mixed with liquid refuse in order to create a relatively dry material that stabilizes the liquids and allows them to be utilized more easily.
After this process waste is co-processed in a safe and secure way by being used as an energy source (fuel) in the cement kilns or by manufacturers and energy generation facilities. A complete thermal destruction of the treated waste is carried out in the kilns, with temperatures over 1370 Cº that fully recover the energy and mineral content. Another big advantage is the fact that this technology is entirely waste-free, i.e. no additional waste is produced during the process.
Why is co-processing safe?
There are three main reasons why co-processing is a safe and effective way to manage waste:
The very high temperatures of the kiln break the long-chain hydrocarbons in the waste, reducing it back to its basic elements.
The wastes experience long residence times inside the kiln, allowing adequate time to break down even the most complex chemical compounds.
When co-processing in cement kilns, fine limestone dust captures heavy metals; those materials are kept out of the atmosphere and safely, fully incorporated into the product.
Why is co-processing better than using landfills?
If they are not constructed and maintained properly, landfills can potentially pollute the soil and water. They also require large areas of land, which could be used for other purposes.

A complete thermal destruction is created through co-processing, and in the case of the cement industry 

it also recovers the mineral components, which are integrated into the end product.  

Co-processing is beneficial because it does not require building waste storehouses on your work ground, reduces the liability of managing waste and enhances your regulatory compliance efforts.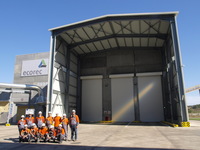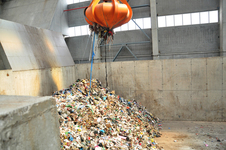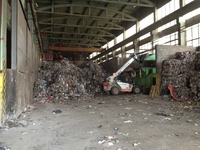 We are happy to announce the Via Expo participation at Pollutec (2-5 December, Lyon, France). At this 4-day environment platform we will promote 'Save the Planet' 2015 among a great number of companies from around the world.

We welcome you at our stand 170, Hall 3, Alley G.




If you wish to book a meeting at the exhibition in advance please contact:

Ms. Anelia Karanova, Communication Manager, 

via email: nelly@viaexpo.com.

      
Find us on social networks: