Hello CSA members,
This is just a reminder that today, Wednesday July 19th is a CSA share pick-up. Your share will be ready for you to pick up at your chosen pick-up location between 4-7 pm.  We are excited about this week's harvest.

We are looking forward to seeing you on the farm!
The heat was hot in both the kitchen and the field this week. Over the weekend, Denver played host to Slow Foods Nation, an organization committed to bringing together small scale food producers who encourage and support producing quality food that is both sustainable and responsible. The conference in Denver, a local version of Terra Madre held in Italy, focused on food sovereignty and wasted produce that can be repurposed by chefs. Delicious food tastings and lively debates during lectures brought together producers, chefs, and foodies from all over the country. Our farm participated as a delegate for the conference and, as usual, we were at the Saturday's Union Station Farmer's Market (a featured event of the conference). However, it isn't everyday that Alice Waters, "Restauratrice" of Chez Pannise and all around super woman, stops by our booth to compliment our "stunning" rainbow beet bunches. Needless to say we felt the excitement of the event! In fact, it was such a success that next year's gathering is already in the planning stages and we are just as excited to embrace the conversation and passion expanding around local food. It would be amiss not to mention that our CSA members are themselves revolutionizing the way we consume food, so way to go CSA'ers!!!!
 (Alice Waters @ Cure's Union Station Tent!!!)
As for the heat in the field… Shall we state the obvious? It is H-O-T!!! While the plants reach for the bright sun in effort to continue growing, their roots reach deep into the soil to find the water that will keep them from wilting. It wouldn't be completely inaccurate to say the crew is doing the same. Just when the heat feels like too much and we all contemplate laying down in between the rows of beets and letting the sun beat us, we are enlivened and inspired by the constant wave of beautiful new produce that awaits our very first harvest. This week we have been reinvigorated by the sensational smell of basil as we harvest the tiny plants so that they will continue to grow into large ones that provide a copious summer harvest. Very important considering the tomatoes often beg their companionship on a plate. The summer squash is also making its debut in the field and that's our cue to either fire up the grill or dust off the spiralizer for a take on veggie noodles! The new isn't stopping there either, summer head lettuce is almost ready for cutting, new beds of our salanova lettuce mix is nearing its first and most tender round of harvest, and the tomatoes, which have bore just a teaser of their sweet fruit, are about ready burst into action providing that seemingly endless stream of CSA tomato share. Even the strawberries decided to surprise us with a few pints of peak summer berries.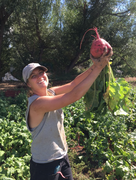 Where the produce is abundant in the field and plants are thriving, we are also bidding goodbyes to our early summer crops as well. This past week "Cure Landscaping, Inc." has been busy with the mowers and weed trimmers around the field, returning to the soil what is no longer harvestable. This can be as equally as exhilarating as meeting the new crops. While it can be sad to say goodbye, it feels rewarding to know that we have managed to utilize each crop to its full extent and feed so many people. And what a valuable lesson this has provided us during this time of year. Just when the heat is too much and the days feel endless, like the old crops, we go back to the soil where our hands find new gifts that remind us how lucky we are to work in agriculture and in a community that embraces our craft. If there was no you, we wouldn't be nearly as enthusiastic about our harvest because there is nothing more thrilling than sharing our love of food with our equally as passionate CSA members! Without friends like you we wouldn't know who to call and say, "aren't these beets amazing, I can't wait to cook…" You truly are the sunlight to our seed!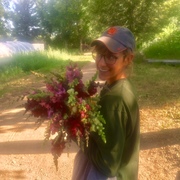 approx. 1/2 bunch kale leaves

1/2 tablespoon extra virgin olive oil or melted coconut oil

1.5 tablespoons nutritional yeast

1 teaspoon garlic powder

3/4 teaspoon chili powder

1/2 teaspoon onion powder

1/2 teaspoon smoked paprika

1/4 teaspoon fine grain sea salt or pink Himalayan sea salt

1/8 teaspoon cayenne pepper (optional)
Preheat oven to 300F. Line a large rimmed baking sheet with parchment paper.

Remove leaves from the stems of the kale and roughly tear it up into large pieces. Compost the stems (or freeze for smoothies). Wash and spin the leaves until thoroughly dry.

Add kale leaves into a large bowl. Massage in the oil until all the nooks and crannies are coated in oil. Now sprinkle on the spices/seasonings and toss to combine.

Spread out the kale onto the prepared baking sheet into a single layer, being sure not to overcrowd the kale.

Bake for 10 minutes, rotate the pan, and bake for another 12-15 minutes more until the kale begins to firm up. The kale will look shrunken, but this is normal. I bake for 25 mins. total in my oven.

Cool the kale on the sheet for 3 minutes before digging in! This really makes all the difference! Enjoy immediately as they lose their crispiness with time.

Repeat this process for the other half of the bunch.
2 lbs heirloom or summer tomatoes

1 ½ lb beets, cooked, skins removed

2 balls of Burrata cheese

1-2 cups arugula or mizuna

pinch flaked salt

¼ teaspoon cracked pepper

1-2 teaspoon olive oil

1-2 teaspoon balsamic vinegar

½ cup basil ribbons

Drizzle balsamic syrup- optional

4 cups Basil, Packed ( or sub 1 Cup Italian Parsley) small stems OK

1 cup olive oil  Coupons

pinch salt
To make the salad- slice the burrata cheese, in to ½ inch this slices, and carefully place on a platter. Drizzle with a little olive oil. Cut the beets into slices or wedges, place in a bowl and toss with a little olive oil, balsamic, salt and pepper. Arrange on the platter.

Slice the tomatoes or cut into wedges, arrange on the platter with a pinch of flaked salt. Toss the greens in a little basil oil (or sub olive oil and balsamic) and scatter overtop.

Drizzle the whole platter with olive oil, balsamic glaze, and garnish with 1/2 cup of chopped basil ribbons

Serve with crusty bread to really impress the taste buds!
Hint on simple beet prep:
Preheat oven to 375 degrees F.

Coat beets lightly with oil.

Wrap beets in aluminum foil, place on a baking sheet, and roast in the oven until cooked through, approximately 45 to 60 minutes. (Poke with fork to see if tender)

Remove from the oven, let cool for 10 minutes, or until you can handle them comfortably. 

Run under cool water and use fingers to push the peel off of the beets without the use of the pesky peeler!
In your CSA share this week
Carrots
Garlic

Dandelion Greens

Lettuce Mix
Beets 
Zucchini or Yellow Summer Squash
Kale
Coming next week... head lettuce, beets, sweet corn, zucchini, and more.
Fruit share - Peaches and Cherries
Flower share - Mixed bouqet
Egg share - next week
Coffee share - next week
Bread share -next week
Wine & cheese - next week
Detailed recipes are below
Feeling Dandy about Dandelions? We are!!!
Important Reminder: Weeds are really just plants where you don't want them. So while you may dismiss dandelions from your front yard, we welcome them here in our field and challenge you to do the same at your dinner table. Dandelions are incredibly healthy!!! Time to get nerdy about the facts: Did you know that the flower, leaves and root of the dandelion are all edible? Traditional people have used the whole plant for healing support for eons. Go take a quick glance around health food stores and you might find dandelion root tea, dandelion tincture, dandelion capsules and tablets. Renowned for supporting healthy liver function, you can find this wonderful plant in many combination herbal formulas as well. When it comes to good health and good taste, dandelion greens are a perfect choice providing calcium, iron, fiber, Vitamins A, E and K, and powerful antioxidants including beta Carotene and lutein. If you have never tasted dandelion leaves, you are in for a nice surprise but remember: Like many leafy greens, they can be a little bitter, but when properly prepared, you'll be glad you tried them! For less of a bite try steaming them before sautéing. Check out our recipe this week to cook up your own healthful masterpiece! 
Summer time = BBQ time!!!
As farmers it is imperative we know what is "in-season" it's how we keep the community fed well! According to expert opinion, BBQ is in season right now. Okay, sure it isn't being harvested from the field exactly, but now is the time to fire up the grill, grab a cold iced tea and make use of the backyard while summer is still here. The farm store is stocked full of pork and beef cuts perfect for making brats and burgers or for our more daring home cooks, steaks and ribs! Just save us a seat at the table, we love a backyard bbq!
(Farm store card members get 10% off purchase each time, including all meat cuts)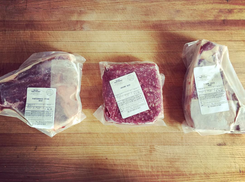 Without leaps of imagination, or dreaming, we lose the excitement of possibilities. Dreaming, after all, is a form of planning.
Gloria Steinem
1 bunch of dandelion leaves, chopped into 3 inch pieces (can serve raw or sautéed)

1/2 to 2/3 cup salted, shelled pistachios

12 ounces fresh goat cheese
4 to 5 tablespoons red or white wine vinegar, or sherry vinegar

1 generous tablespoon dark, grainy mustard

1/3 cup minced sweet onion

Salt and freshly ground black pepper to taste

5 to 6 tablespoons oil from the caramelized carrots, more if needed
About 2/3 cup good-tasting extra-virgin olive oil

4 medium carrots, peeled and cut into thin strips

6 large garlic cloves, thinly sliced

1 teaspoon coarse sea salt or kosher salt, more as needed

2 to 3 generous pinches of sugar, more as needed
1. Heap the greens on individual plates. Scatter with the nuts and small spoonfuls of the goat cheese. (If sautéed – less bitter greens are desired- heat 2 tablespoons of olive in a pan and cook for 3-4 minutes until greens are wilted, steam before sautéing to additionally reduce bitterness).
2. To make the dressing, in a medium bowl whisk together the vinegar, mustard, onion, and salt and pepper to taste. Set aside.
3. To caramelize the carrots, place a slotted spoon and 3 or 4 layers of paper towels on a cookie sheet near the stove. In a 12-inch skillet, heat the olive oil over medium-high until hot, but not smoking. It should sizzle when a carrot piece is dropped in. Gently ease the carrots into the oil. Cook, turning with the slotted spoon, 30 to 45 seconds, or until carrots are browning. Quickly scoop them up with the slotted spoon, shaking off the oil, and spread them on the paper towels. Sprinkle them with the salt and sugar, using enough to brighten their flavors.
4. Reduce the heat to medium and stir the garlic into the oil; cook a few seconds until the garlic barely picks up color. Scoop it out and drain on the paper towels with the carrots. Remove the pan from the heat, allow the oil to cool slightly.
5. To finish the salad, barely re-warm the oil in the pan, then scatter the carrots and garlic slices over the greens. Blend 5 to 6 tablespoons of the warm — but not hot — oil from the pan into the dressing and spoon it over the salads. Serve immediately.



Cure Organic Farm

7416 Valmont Rd.
Boulder, CO 80301
cureorganicfarm@yahoo.com
www.cureorganicfarm.com