---
Scotland Island RFS Celebrates 60 years
O

n Saturday 11th July past and present members of the Scotland Island brigade, residents and dignitaries celebrated the Brigade's 60th anniversary.




More than 75 people attended the Fireman's Ball including The Honourable Bronwyn Bishop MP, Federal Member for Mackellar, Councillor Jacqueline Townsend, Mayor Pittwater Council, RFS Assistant Commissioner Steve Yorke and RFS Deputy Fire Control Officer Inspector George Sheppard.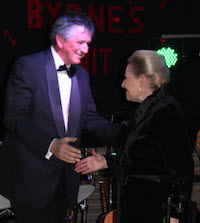 The Brigade was started in 1955 as the first order of business by the newly formed Scotland Island Progress Association. Residents constructed a fire shed near Tennis Wharf and the first fire vehicle (a jeep with a 44 gallon drum on it) was donated to the Brigade.

Over the years, the Brigade's equipment has improved and a new Fire Station was constructed in 1991 on the current site above Catherine Park.

The Brigade now has over 130 members and over the years has responded to numerous fires and other emergency incidents both on and off the island.


Bronwyn Bishop MP and SIRFS Captain Tim Byrne

Members of the Brigade have also formed an Ambulance Service Community First Responder unit which provides island residents with emergency first aid and medical support.


The Brigade's high speed fire boat also provides support for bushfires, boat fires and other emergency situations on Pittwater, Coal and Candle Creek and the Hawkesbury River.

Ms Bishop and Ms Townsend both recognised the important contribution the Brigade and volunteers in general make to the Australian community and to Pittwater. Steve York, representing the RFS Commissioner Shane Fitzsimmons presented the Brigade with a plaque commemorating its 60th anniversary.

Guests enjoyed a delicious array of canapés and were entertained throughout the night by performances by Tabatha & Co and the Byrnes Unit.


Councillor Jacqueline Townsend, Mayor of Pittwater
The Brigade would like to thank those that attended the Fireman's Ball and all other residents for their continued support. The next Brigade function is a Fire Shed dinner on the 8th August, followed by a Fire Shed dinner on the 12th September and Open Day on Sunday 13th September.


Current Brigade Officers (left to right), Peter Lalor, Tim Byrne, Ian White, Wayne Gluyas
Residents interested in joining or supporting the Brigade can contact the Brigade on 9999 4404 or by email sirfb@sirfb.org.au



---
Scotland Island RFB Fire Shed Dinner
Fire Shed - Footy Night

Saturday 8 August 2015 from 7pm
As the August Fire Shed Winter Dinner is on the night of the Bledisloe Cup we will be having a Footy Night


Menu:


BBQ hamburgers and sausages, on bread rolls with onion jam
Nachos (mince and vegetarian) with salsa and sour cream
Ice-cream desert



Door prices will be $15 for Adults and $10 for Teens
We offer a discount on all tickets booked online!

Please join us for a fun night watching the game on the big screen




The team at SIRFB



---
A Plea to the Ferry Drivers
A plea to the Ferry drivers, please will you not use that SPOTLIGHT all the time, it blinds anyone in a smaller boat. It takes away our night sight. It makes it very dangerous as we don't know which way to turn to get out of the ferry's way.

I have lived on the Island for many years and have never needed a spotlight and its only in the last couple of years that any ferry driver has used one.

Regards
Gillian Unwin



---
A Letter to the Editor:
Re Emergency Water Supply

It is with some sadness that I read the letter by Disgusted of Tunbridge Wells, bashing the emergency water supply that SIRA volunteers worked so hard to retain when Sydney Water made the decision to rip the previous pipes out, as Sydney Water no longer wanted to bear the risk of the water being contaminated … which would've left us high and dry when our tanks ran dry (pardon the pun).

As much as I would love to be connected to town water, in absence of this, I am thankful that I can continue to obtain water when my tank runs out (with a far easier-to-find pipe system than was previously there). If that means non-potability, then so be it. I'd rather have it non-potable than not at all.

To Disgusted of Tunbridge Wells… if you feel this strongly about the supply of potable water, then I would like to urge you to volunteer YOUR time in representing the community in attempting to get Sydney Water to hook us up to the mains water supply, rather than writing letters that in effect de-value the efforts of volunteers from our community that have ensured the current service was able to be retained for the use of the whole SI community.

Regards
Iza Foster



---
Can anyone help?
We've been told on very short notice to vacate the private wharf that we were renting for boat mooring as the tenant has moved.

Does anyone have a wharf for rent immediately (even temporarily) until we can get a more permanent option sorted out?

Please could you put this in the offshore news letter.

Sean and Janine M'Crystal 0423 760 490



---
Found
Inflatable
This inflatable washed up on the shore two houses south of Pathilde Reserve on the North Eastern side of Scotland Island.

I've tied it to the jetty if the owner wants it back feel free to come around and pick it up.

Greg Waters
gregwaters@me.com



---
Wanted
Baby's Cot
Does anyone have a baby's cot and changing table they don't need any more?

Please let me know by phone or email.


Lara
0450076066
Barbieloveshotcakes@hotmail.com


---
Working dishwasher
Does anyone on the island have a dishwasher they want to sell or get rid of?

Working order, only, please!

Let me know.

Jon m: 0418 655 129
e: jon@themaxim.com



---
Give away
Garden Shed To Give Away



Size Approx 2.5m x 2.1m x 2.1m
Rough old wooden shed with wooden floor but doesn't leak.

Please phone 0431018279





---
---

A complete set of past electronic newsletters since May 2000 can be found and read at https://ymlp.com/archive_gesgjgm.php


---
To Contribute
If you would like to contribute to this newsletter it's easy!. Send an e-mail to the editor (editor@scotlandisland.org.au) or by clicking here. Type your contribution (100 words or so would be fine) and assuming it is of general interest to the community, does not include matter of a political nature and is not offensive, it will appear next month.


Subscription Information
To get on and off this newsletter, click here

or got to:

http://www.scotlandisland.org.au/signup .


To change your address, click the 'modify' link at the bottom of this newsletter or send an email to the

editor@scotlandisland.org.au


---
Follow the PON
---
The Online Local Contacts Guide
Click HERE to load
---
---
The views expressed in this newsletter are not necessarily the views of the Scotland Island Residents Association (SIRA), or the Western Pittwater Community Association (WPCA)
---
---