Let's introduce someone...

Wie, wat, waar?

Every month we give you an update on the projects that have been completed by our applicators with Liquid Rubber®. Some are large (in terms of volume), others are smaller, but this way you get an impression of the many possibilities with Liquid Rubber. If you have any questions about these projects, please contact us.
Roof leakages often occur in many different situations. Liquid Rubber is an universal renovation product that can be used in many roof leaking situations.
At this project there were many leakages at the connection of the glass construction stones to the concrete. Because this job is visually accessable, the Liquid Rubber applicator did a very conscientiously job.
First the entire surface was cleaned. After the cleaning, the edges were taped to realize a tight finish. Liquid Rubber HBS200 was directly applied on the surface and on some details a geotextile was placed into the Liquid Rubber. After placing the geotextile, a second layer of Liquid Rubber HBS200 was applied. The tape was removed directly after the application and resulted in a very neat and tight finish.

 
The leakages are gone and the customer is very happy with the application method of the Liquid Rubber applicator.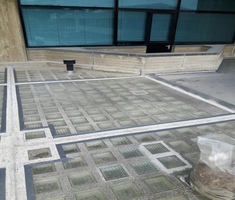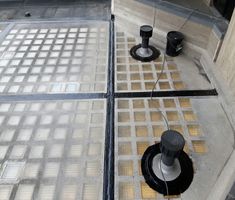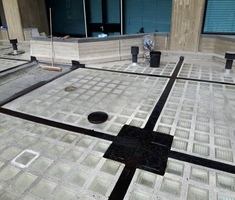 Photos: Liquid Rubber Europe (LRE Coatings BV)
------------------------------------------------------------------------------------------------------------------------------------------------
Project:
Liquid Rubber has proven to be a perfect sealant for swimming- and fish ponds. This client wanted a high quality waterproofing solution for two ponds. Because these ponds contained many difficult corners and edges, the liquid system of Liquid Rubber was perfectly suited for this job.
First he ponds were cleaned very thouroughly with a power wash system. Afterwards the Liquid Rubber HBS200

combined with Geotextile was applied to seal all the cracks and joints in the pond. Liquid Rubber SprayGrade was later applied in a dry thickness of 2mm to ensure a fully seamless and flexible waterproofing membrane.
A very effective method to waterproof a pond in a durable way. Because Liquid Rubber is fully environmentally friendly, it does not harm the fish or plants at all.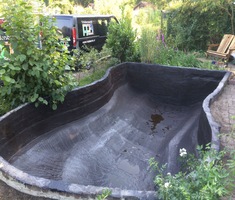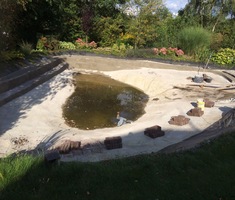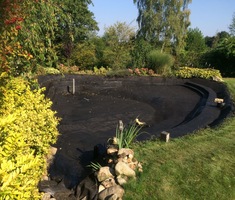 Photos: Liquid Rubber Europe (LRE Coatings BV)
------------------------------------------------------------------------------------------------------------------------------------------------
Project:
Leaking balconies is a very comon problem. In many situations, a bitumen was burned on top of the conrete and the connection to the facade. Because this connection always has some movement, cracks in the bitumen occur very often after some years. These cracks usually result into leakages at the facade connection. That was also the problem with this project.
To seal this connection again, an applicator of Liquid Rubber was assigned to the job. The surface was cleaned and the Liquid Rubber HBS200 was applied combined with a Geotextile. Afterwards a second layer of Liquid Rubber HBS200 was applied. Liquid Rubber HBS200 has a perfect adhesion on the roofing and the facade. Because the product has a flexibility of 900%, Liquid Rubber is the perfect product for the job.
The leakages are solved and the customer is very satisfied. Nice job by the Liquid Rubber applicator!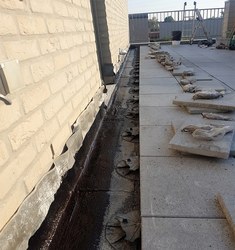 Photos: Liquid Rubber Europe (LRE Coatings BV)
From the 1st of October we've welcomed a new colleague at Liquid Rubber Europe. We would like to introduce to you.. Clemens Knippenborg.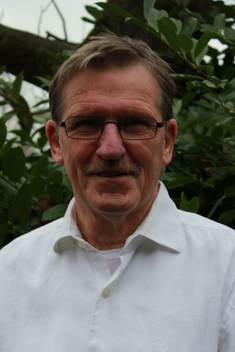 Photo: Liquid Rubber Europe (LRE Coatings BV)

Clemens is the new Liquid Rubber representative for the Eastern part of The Netherlands. Clemens can provide you with information, advice or a product demonstration. Of course can you also place your orders with Clemens.

If you have a question for Clemens, you can contact him at +316 11 21 28 44 or via clemens@liquidrubbereurope.com
We would like to wish Clemens a lot of success and we hope that we'll have a long and productive cooperation.
On our social media account we post informative, interesting and entertaining posts. On YouTube we post videos that are informative and demonstrate the large number of possibilities of our product range. Besides following our developments you can also share your opinion about Liquid Rubber with the rest of the world.
 
Click the following buttons to follow Liquid Rubber Europe.
Liquid Rubber Europe, Groot Mijdrechtstraat 15, 3641 RV  Mijdrecht, The Netherlands