REMINDER
Welcome event for visiting Palestinian marathon runners with SA Sports Minister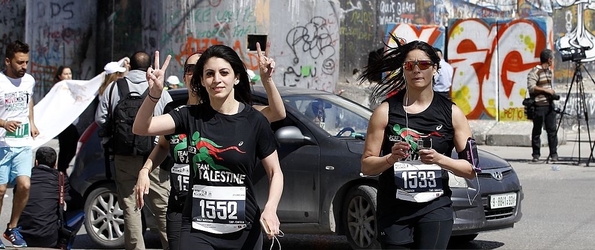 10 April 2017
This is a reminder and invite to members of the media to an event this evening (Monday 10 April) in Johannesburg with SA Minister of Sports & Recreation, Thulas Nxesi (ANC NEC and SACP CC Member) to welcome a group of visiting Palestinian marathon runners and sports delegates. The Palestinian runners are in South Africa to particiapte in the upcoming Two Oceans Marathon.
The visiting Palestinian marathon runners are part of a Palestinian group called "Right To Movement" (RTM) that founded the annual Palestine Marathon (
click here for more info
).
The Palestine Marathon, held since 2012, takes place in the Holy Town of Bethlehem in Palestine with over 6000 runners (including an over 50 percent female participation, more than 500 people with disabilities and with runners and teams from more than 65 countries across the world). The symbolic event is a 42km (26-mile) sports activity in protest against Israeli restrictions on Palestinian movement. It kicks off at Manger Square by the Church of the Nativity in the old area of Bethlehem and runs the length of the city. The route also includes running through two Palestinian refugee camps and along Israel's 8 meter high Apartheid wall. Palestinians have explained how participation in the marathon is a non-violent demonstration and a way to show that "we are here, and this is our land, and we have right to move".
Last year RTM also carried out a remarkable event during Christmas in the Holy Town of Bethlehem. The event, titled "Mary Can't Move", saw 24 Palestinian runners dressed as Mary & Joseph, showcasing the same path Mary & Joseph took 2016 years ago but now with Israeli restrictions and obstacles (
click here for short video
).
Members of the public and media are invited to join:
Welcome event for Palestinian Marathon Runners
- With SA Minister of Sports & Recretaion, Minister Thulas Nxesi
DATE: Monday 10 April 2017 at 18h00
VENUE: BDS South Africa, 5th Floor, 77 De Korte Street, Braamfontein
RSVP: info@bdssouthafrica.com
CONTACT: 0740543826
HOSTS: BDS South Africa, Embassy of the State of Palestine, Palestine Solidarity Alliance (PSA), PSA Youth League and others
ISSUED BY KWARA KEKANA ON BEHALF OF BDS SOUTH AFRICA
BOYCOTT, DIVESTMENT AND SANCTIONS AGAINST ISRAEL IN SOUTH AFRICA (BDS SOUTH AFRICA)
5th Floor | Mishumo House | 77 De Korte Street | Braamfontein | Johannesburg
PO Box 2318 | Houghton | 2041 | Johannesburg
T: +27 (0) 11 403 2097 | M: +27 (0) 74 054 3826 | F: +27 (0) 86 650 4836
BDS South Africa is a registered Non-Profit Organization. NPO NUMBER: 084 306 NPO
BDS South Africa is a registered Public Benefit Organisation with Section 18A status. PBO NUMBER: 930 037 446