---
---
SIRA

NEWS
The Annual General Meeting
of the Scotland Island Residents' Association
Sunday 21st October, 2018 at 10:00am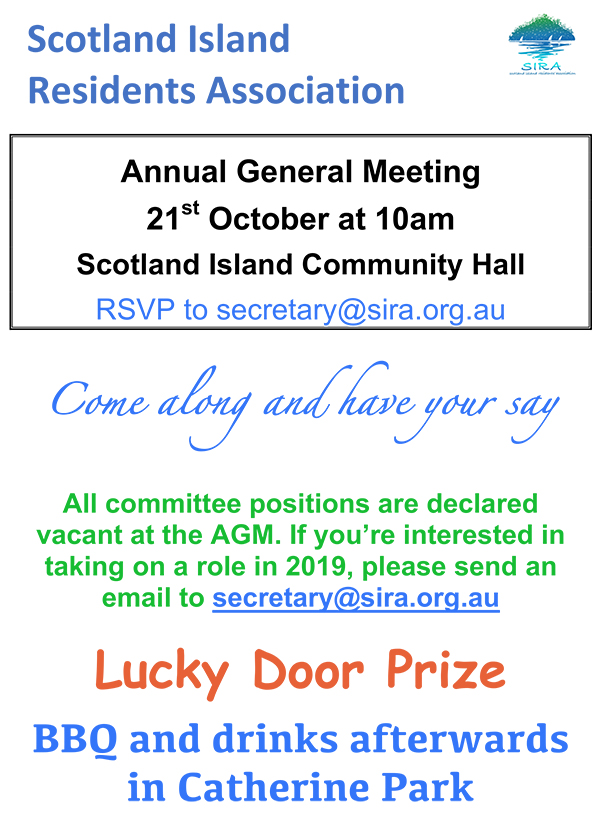 ---
Petition to Improve Roads on Scotland Island


We are trying to get a larger annual budget from Council to improve the roads and drainage on the island. We recently had a number of Northern Beaches Council over to show them the state of the roads around the island.

For years our Roads and Drainage team have worked with Council and have achieved significant improvements over the years but because our budget is small it will never be completed without further funds.

Now that we have a new Council and the support of our local representatives both State and Federal to lobby for more funds we have launched this petition to convince the Council to address this problem with further funds so that we can establish and implement a 5-10 year plan for Scotland Island.

Your help is needed so please click on the following website;





---
4th Young and Young-at-Heart Musicians' Concert
Sunday 18th November 
2.30 to 4.30pm 
Scotland Island Community Hall
Our next concert is calling for performers – any instrument, voice, dance, reading.
Please contact David Richards or Robyn Iredale if you would like to participate.
We are also looking for comperes and help with setting up and dismantling the concert.  
Gold Coin donation (to cover the cost of the hall) and plate of food or drinks.
David RICHARDS
drjavoo@gmail.com
Robyn Rae Iredale
rriredale@gmail.com
---
Lovett Bay Fire Shed Dinner
Saturday 10 November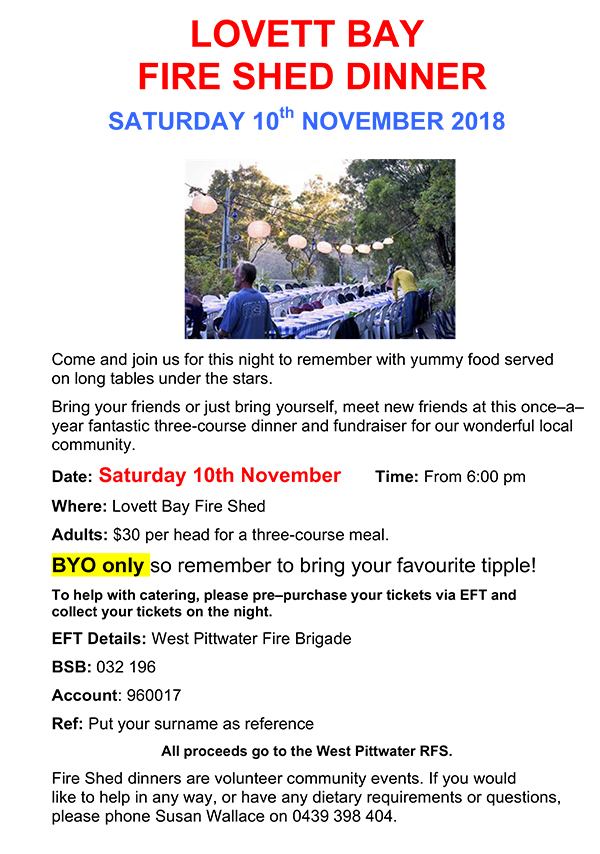 ---

Australia's Largest Selling Wine Syndicate Newsletter
All the Wine that's fit to Drink :)
 Greetings,

Our next tasting is approaching and we wanted to remind you of the details.



PLUS: We have a special offer for you! We really want a good crowd at the next tasting - after all Christmas and the holiday season is soon upon us and you need supplies don't you!



Who wants a free bottle of wine? Raise your hand. Better still.....

CLICK HERE





Details of the tasting:





Date:

October 21st from 3pm


Where:

Paul and Pamela's capacious boatshed, third jetty into Elvina Bay on the southern side of the bay.


Cost:

Free


What to bring:

A tasting glass, a plate of simple food to share (biscuits and cheese would do, I am bringing party pies :)



---
Volunteers Wanted
To Host this coming Christmas Goodwill Lunch at the Fire Shed
on 25th December 2018
Julian and Nathalie will not be able to host the Christmas lunch as usual this year..

So, we need some people willing to
replace them to..

Carry on the tradition of goodwill for the Scotland Island community.
Maybe a group of people, or a couple of couples?
All recipes will be provided, by Nathalie
All quantities of food and hints for an easy hosting will also be provided.
Please contact for details;
Nathalie on: 0419 432 460
Or
nathalie@muir.net
Thank you
Nathalie Muir
---
For Rent:
Bright spacious upstairs level of house for rent - reduced to $350 per week (was $400).
Furnished. Includes electricity and water.
One large bedroom/sitting with t.v and dining area, bathroom with shower and own downstairs kitchenette with use of BBQ.
Private entrance.
Shared laundry.
Water glimpses and very close to Tennis wharf.

Looking for quiet person, non smoker, no pets.
Will consider short or long term.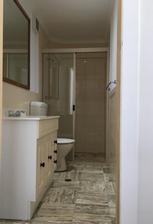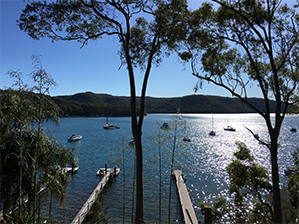 Please contact Jane 0478454116 



---
Paul & Tracy's Art Sale
Sunday November 2nd 10am-4pm
---
Wanted: Household Furniture Items
Located on Scotland Island
Hi Scotland Island Residents, Perhaps you have some good quality furniture, you would like to get rid of?

I am moving back over to the island late November/early December. I am looking to purchase the items below. If they are available already on the island, and it saves me from having to transport them over, that would be great....

I am looking for good quality items in "as new" condition. Please note, I won't be able to collect them until late November.

Please me send a couple of photo's, price, dimensions and description, if you think you might have something suitable. Looking forward to residing in this very special part of the world again!

I am looking to purchase the following items on my "wish-list":
2 Queen size slatted bed bases (preferably with storage drawers) 2 Queen Mattresses, Glass dining table and 6 chairs, 2 timber coffee tables, with drawer storage, 2 oak bedside tables, 2 sofa beds (fabric, older "classic" style, preferably in beige or brown) front load washing machine in good working condition. 

Please email me with details on markdalton717@gmail.com



---
---
---
A complete set of past electronic newsletters since May 2000 can be found and read at https://ymlp.com/archive_gesgjgm.php  or by clicking here or by visiting the Mona Vale Library.

The Island website is at www.scotlandisland.org.au



---
To Contribute
If you would like to contribute to this newsletter it's easy!. Send an e-mail to the editor (editor@scotlandisland.org.au) or by clicking here. Type your contribution (100 words or so would be fine) and assuming it is of general interest to the community, does not include matter of a political nature and is not offensive, it will appear next month.
Subscription Information
To get on and off this newsletter,

click here

or got to:

http://www.scotlandisland.org.au/signup .


To change your address, click the 'modify' link at the bottom of this newsletter or send an email to the

editor@scotlandisland.org.au


---
Follow the PON
---
The Online Local Contacts Guide
Click HERE to load
---
T

he

Editor

and the publisher disclaim responsibility for any injury to persons or property resulting from any ideas, articles or products referred to in this publication. Further, t
he views expressed in this newsletter are not necessarily the views of the Scotland Island Residents Association (SIRA), or the Western Pittwater Community Association (WPCA)
---
---