---


First Aid at the Kindy

Saturday, Jan. 16 - 10am-5pm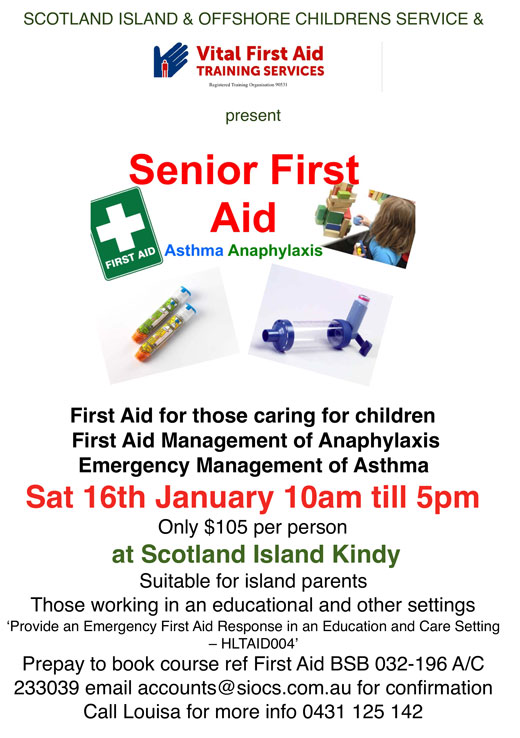 ---
Scotland Island boat catches fire
Source: West Pittwater Local News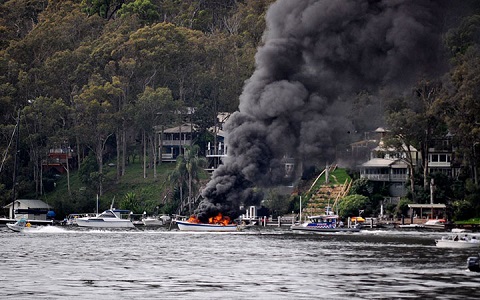 More Images & Video at
http://www.westpittwater.com.au/latestnews/scotland-island-boat-fire
A boat moored near cargo wharf, Scotland Island, caught fire and burnt down to within a metre of waterline.
A large column of acrid black smoke alerted locals. The West Pittwater RFS, Water Police and onshore brigades were quick to respond and the fire was brought under control in record time. 
The cause of the fire has not been determined.
The gutted vessel was towed, by the Scotland Island RFS boat to the Quays Marina to await Police inspection and investigation.

---

Merger proposal handed down
The NSW Government has made available its proposal document which outlines a merger of Pittwater with North Warringah to create an expanded Council.
Additionally the government has announced Richard Pearson as the Delegate who has been tasked with the function of examining and reporting on the merger proposal.
Richard Pearson is currently Director of Pearson Planning Solutions and is formerly the Deputy Secretary of the Department of Planning and Environment.
Pittwater Mayor Jacqueline Townsend said that an Extraordinary Meeting of Council will be held next Monday 11 January to discuss the NSW's Government merger proposal.
Mayor Townsend said the Delegate has informed Council the community will have an opportunity to have their say through a public inquiry which is to be held as part of the proposal examination process. The community can also provide a written submission through the online portal. The date, time and location of the inquiry is yet to be set. We will notify the community once Council has been advised.
"The government's proposed relocation of Pittwater's boundary includes Terrey Hills, Narrabeen, Collaroy, Collaroy Plateau, Cromer, Wheeler Heights, Oxford Falls, Frenchs Forest, Duffys Forrest, Belrose, Davidson, Forestville and Killarney Heights.
The government's proposal identifies the benefits the merger will provide to the local community including:

a total financial benefit of $49 million over a 20 year period that can be reinvested in better services and more infrastructure
a projected 67 per cent improvement in annual operating results
potentially reducing the reliance on rate increases through Special Rate Variations (SRVs) to fund local infrastructure
greater capacity to effectively manage and reduce the infrastructure backlog
effective representation by a council with the required scale and capacity to meet the future needs of the community
working with the NSW Government to complete the B-Line bus rapid transit project
more integrated management of Narrabeen Lagoon and Catchment
common parking system to deliver a reciprocal permit
a new strategic centre at the Northern Beaches Hospital Precinct.
"For the time being it's 'business as usual' for Pittwater," Mayor Townsend added.
For details on the proposal and how to make a submission visit www.councilboundaryreview.nsw.gov.au


The submissions deadline is 28 February 2016.

For reform updates, please visit our website, subscribe to our e-newsletter aboutPittwater and follow us on Twitter and Facebook.

Contact: Media contact: Community Relations
Phone: 9970 1172 or 9970 1119




---
---
---
A complete set of past electronic newsletters since May 2000 can be found and read at https://ymlp.com/archive_gesgjgm.php  or by clicking here or by visiting the Mona Vale Library.

The Island website is at www.scotlandisland.org.au


---
To Contribute
If you would like to contribute to this newsletter it's easy!. Send an e-mail to the editor (editor@scotlandisland.org.au) or by clicking here. Type your contribution (100 words or so would be fine) and assuming it is of general interest to the community, does not include matter of a political nature and is not offensive, it will appear next month.
Subscription Information
To get on and off this newsletter,

click here

or got to:

http://www.scotlandisland.org.au/signup .


To change your address, click the 'modify' link at the bottom of this newsletter or send an email to the

editor@scotlandisland.org.au


---
Follow the PON
---
The Online Local Contacts Guide
Click HERE to load
---
---
The views expressed in this newsletter are not necessarily the views of the Scotland Island Residents Association (SIRA), or the Western Pittwater Community Association (WPCA)
---
---