---
Contents

---
---


Start of the Bushfire Danger Period – Fire Permits Required
Given recent weather conditions, the lack of rain and a number of Total Fire Bans, the risk of bushfire in our community is already quite high. In fact, we've had a number of bushfires in the local area already.
However, the 1st October marks the start of the official Bushfire Danger Period which will run through until at least 31st March.
During this period residents wishing to do hazard reduction or pile burns will require a Fire Permit as well as a Hazard Reduction Certificate.
Fire Permits are valid for a period of 21 days


They are automatically suspended during Total Fire Bans and periods when the Bushfire danger is rated Very High or above. Before issuing a Fire Permit, the Permit Issuing Officer will need to be convinced that appropriate plans are in place for supervising the fire, containing the fire and extinguishing the fire


You are also

still required to notify neighbours and the Rural Fire Service at least 24 hours before

you plan to do the burn and before you light the fire


Other conditions may also be imposed when the Permit is issued.
You should read the Before You Light That Fire document which is available on the RFS web site.

If you need a Hazard Reduction Certificate this can be arranged by contacting the Northern Beaches Fire Control Centre on (02) 9450 3000.


When you have the Hazard Reduction Certificate you can obtain a Fire Permit by contacting the Scotland Island Brigade on 9999 4404 (or the West Pittwater Brigade for offshore residents on 9997 3795) or the Northern Beaches Fire Control Centre.

---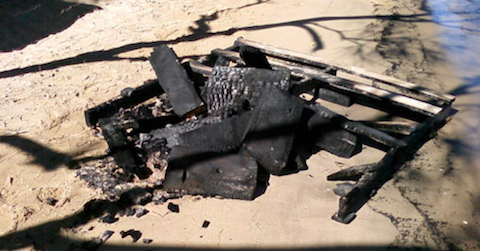 There have been a number of fires lit on Cargo Beach Scotland Island over the past couple of months.


The Scotland Island Rural Fire Brigade would like to remind everyone that lighting fires on Cargo Beach is a breach of the Rural Fire Act and is illegal. There are significant penalties for breaching the Rural Fires Act.

Fires on the beach, particularly when they are left unattended or smoldering overnight represent a significant fire risk to the community.

When fires at the beach are reported (and they should be reported by calling 000) the Brigade has no option but to respond and extinguish the fire.



---
Bush dance at he next Fire Shed Dinner
Saturday 14th October from 7.00pm
***
If you want to dress up, you're most welcome! 
Classic wide skirts, bib and braces dungarees, flannelette shirt...
Interlace Costume hire has numerous outfits!
***

---
ON QUAY - The Pittwater Offshore Community Choir
Saturdays at 2:15pm in Community Hall
ON QUAY- THE PITTWATER OFFSHORE COMMUNITY CHOIR
Is looking for members!
We meet every SATURDAY afternoon at 2.15pm in the Scotland Island Hall.

Only $12 a week! Pay as you go. First week free.
It's a Community Choir. No audition.
You don't have to read know how to read music, (but it helps.)
Fun and welcoming atmosphere. Men are welcome too.

Join us!
Call or text Jessica on 0422 474 279 for more info.

---
Ferry Walking Group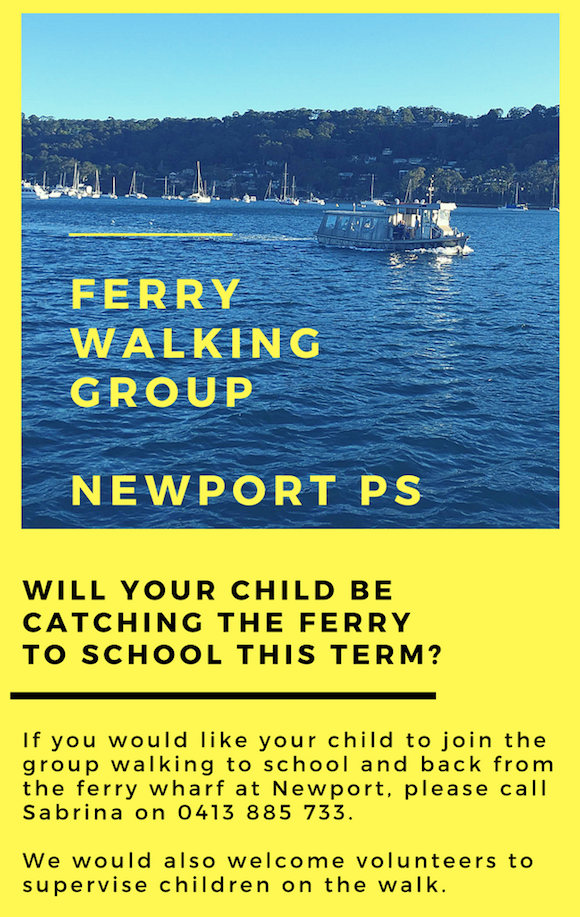 ---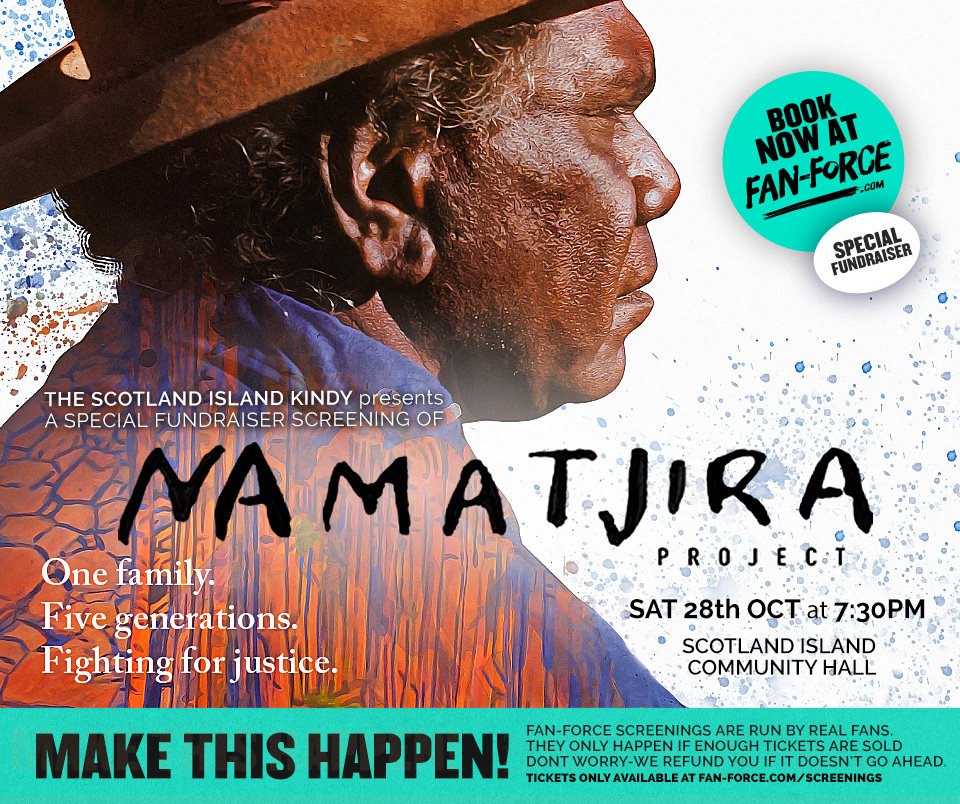 Having premiered at this year's Melbourne International Film Festival, Namatjira Project is heading to Scotland Island on Saturday 28 October for a special screening brought to you by the Scotland Island Kindy.

A Big hART production, the documentary in part grew from the stage, but "it's far more than a straight bio or theatre-on-film adaptation" (SMH, 2017).

Not to be missed, this is a special fund raiser for the Kindy.

Join us for wine and cheese before the start of the film. Do not miss out - book your tickets now:

https://fan-force.com/screenings/namatjira-project-scotland-island-community-hall-nsw/



---
Nettie Lodge Artworks Sale
Saturday 14 October
12 Richard Road from 2:00pm
(Geoff's Deck

---
Marty Fund Raiser
Help Marty get to the Special Olympic National Games


---
Empowerment in Ageing
by New Way to Stay - Louise Mace
Thu. 9 November 2017
6:30 pm – 8:30 pm AEDT
At Royal Motor Yacht Club Broken Bay
46 Prince Alfred Parade
Newport, NSW 2106



"...Most Australians in their advanced years would like to have the choice to remain living independently in their own homes, even when their mobility and health declines. We believe they can do this far more often than they realise.

This event is hosted by New Way To Stay, a a new business concept and true end-to-end partner in aged care. Louise Mace, who founded New Way To Stay from her own real life experience, invites all ages of the community to join us for a drink and canapés in the beautiful surrounds of the Royal Motor Yacht Club, Newport, whilst hearing from leading experts on how to better navigate your own path at this critical time....."




New Way To Stay to help people navigate their older years, in particular to help them stay at home and fund in-home aged care. The business features in the latest issue of Pittwater Life - it's a new business concept, that Louise was inspired to start after going through the loss of her own father in his final years.

The event is an information evening themed 'Empowerment in Ageing' that will be held at the Newport Royal Motor Yacht Club on 9 November.

The line-up of speakers includes a solicitor (to talk about wills and estates), a financial planner and a home care expert, and Jason Falinski MP will also be speaking (he has a background in health care as a small business owner).

Tickets can be purchased online here or directly through the club for $25.



---
Australia's Largest Selling Wine Syndicate
All the Wine that's fit to Drink :)

Sunday 22nd October 2017

The Chapman/Roberts homes on the north side of Scotland Island


Greetings,

Wow! What happened to winter? I must of dozed off and missed it. So here we are again, ready to face spring and then the Christmas holiday season and we all know what that means (apart from sunburn) - quality wine time!

Apart from the obligatory inclusion of a top bubbly at a great price, there are some terrific surprises - and some old faves.

THE DETAILS:
DATE:

Sunday, October 22nd
WHERE:

The Chapman/Roberts homes on the north side of Scotland Island - boatshed adjacent to Greg and Louise's home 'Pittpoint'
On the northern side of Scotland Island
TO BRING:

Friends and family, a plate of bite sized food to share and a printed copy of the attached tasting notes - and a pen! We only have a limited number of tasting glasses so it is a good idea to come with one of your own

---
WPYC Commodores Cocktail Party
Early Notice !
November  11

Put it in your Diary .....


---
Looking for a private berth for commuter boat
Quiet, respectful islander looking for a berth on a private jetty – preferably close to Carols or Bells.

I need a deep water berth to ensure an easy commute for work.

Happy to discuss a fee for the use of the jetty.

Please contact Eileen on 0414714891.
 



---
---
The Local Guide
Community Information
Scotland Island Web Site

 www.scotlandisland.org.au
click to go to the Calendar

Scotland Island Residents Facebook Page

click to go to Page

Scotland Island Community Vehicle -

0404 103 700
Number, Usage & Charges

Scotland Island Rural Fire Brigade

- 9999 4404
http://www.sirfb.org.au

West Pittwater Rural Fire Brigade

- 9997-3795
www.westpittwater.rfsa.org.au
Offshore Photo Gallery
offshore gallery
Scotland Island Residents Association (SIRA) Membership details - click here for details
West Pittwater Community Association (WPCA)

- www.westpittwater.com.au
Scotland Island Emergency Non-potable Water
Agreement for Sale of Non-potable Water
SIRA Membership Application
Emergency Non-potable Water Guidelines
General Information, Map & Contacts
http://www.scotlandisland.org.au/community/emergency-water/
Scotland Island & Offshore Children's Services (SIOCS)


Long Day Care at The Island Kindy in Catherine Park
Days of operation: Monday, Tuesday, Wednesday & Thursday
Times: 8.00am - 6.00pm
Before & After School Care
8.00am until walked to school ferry - collected from school ferry until 6.00pm
Vacation Care, Casual Care and Playgroup on Fridays
Hire the Kindy for Birthday Parties
Please call

02 9979 7856

or email SIOCSdirector@gmail.com
Facebook: https://www.facebook.com/theislandkindy
Website: http://scotlandislandkindy.business.site/
Scotland Island Community Hall Bookings:  Barbara Labram M: 0473008339  or hall@sira.org.au
Pittwater Online News

-  http://www.pittwateronlinenews.com
Tick Fact Sheet
TUG Waitlist   (Tennis User Group) - Application Form
---
Transport
---
Real Estate
---
Services, Clubs & Accommodation
---
Island Classes (Fitness, Dance, Art etc)
Pilates, Meditation and Group Fitness

with Patrice -  0406 483 036 patrice.corrie@gmail.com
Art Classes

- drawing and painting in oils, acrylics and mixed media- Marion 0431 457 431
Dru Yoga

- Tuesday 9.00 to 10.30 Tuesday morning - Phone Katya on 0414 187 916
---
Groups
Green Group For Catherine Park

- Run by SIOCS - Emmie Collins on 0405 330 781
Parents & Kids Groups Playgroup

- Run by SIOCS - email Emma trysemz@tpg.com.au
Scotland Island Players

- contact Bob 0414 994 092 or Kez on 0414 994 094
Catherine Park Bush Care Group

, 2nd Sunday @ 9.30am, Sharon Kinnison @ 9997 6017
Elizabeth Park Bush Care Group

, 1st Saturday @ 9 am, Bob Bolton @ 0414 994 092
Island Thinking Group

-

Roy Baker, 9999 6891, roybaker99@yahoo.com
---
Government Organisations
---
Airlines, Buses and Railways
---
Weather
Pittwater Weather
Scotland Island Tides, Moon phases, Sun rise & set
Local Weather Forecast
Radar weather for Sydney (128k circle)

---
Emergency Contact Numbers   
ALL EMERGENCIES (Police - Fire - Ambulance)
000
Police Assistance Line & Information
13 1444 or 9281 0000
Broken Bay Water Police
9910 7899 or 0412 162 093
Marine Rescue Broken Bay - Weekend
(02) 9999 3554 - (02) 8411 1121
Marine Rescue Broken Bay - VHF Radio channel
VHF Radio Channel: VHF 16
27MHz Radio Channel: 86 or 88
Scotland Island Rural Fire Service 
9999 4404
Elvina Bay Rural Fire Service
9997 3795
Lovett Bay Rural Fire Service
9979 1612
Mackerl Beach Rural Fire Service
9974 1162
Rural Fire Service Headquarters Terrey Hills
9450 3000
NSW Fire Service General Information 9265 2999
9265 2999
Rural Fire Service General information
9450 3000
State Emergency Service, Warringah/Pittwater SES
13 25 00 9486 3399
National Parks & Wildlife Service: 000, general information
9457 9322
Dept of Community Services: general information
9977 6011
Sydney Water
132 090
Energy Australia
131 388, (ah) 131 909

---
---
A complete set of past electronic newsletters since May 2000 can be found and read at https://ymlp.com/archive_gesgjgm.php  or by clicking here or by visiting the Mona Vale Library.

The Island website is at www.scotlandisland.org.au




---
To Contribute
If you would like to contribute to this newsletter it's easy!. Send an e-mail to the editor (editor@scotlandisland.org.au) or by clicking here. Type your contribution (100 words or so would be fine) and assuming it is of general interest to the community, does not include matter of a political nature and is not offensive, it will appear next month.
Subscription Information
To get on and off this newsletter,

click here

or got to:

http://www.scotlandisland.org.au/signup .


To change your address, click the 'modify' link at the bottom of this newsletter or send an email to the

editor@scotlandisland.org.au


---
Follow the PON
---
The Online Local Contacts Guide
Click HERE to load
---
The views expressed in this newsletter are not necessarily the views of the Scotland Island Residents Association (SIRA), or the Western Pittwater Community Association (WPCA)

---