Wiltshire RoADAR – Wiltshire Seven White Horses Ride
Our last ride out of 2020 saw 8 bikes and one pillion turn up for a ride around Wiltshire, visiting seven white horses carved into the chalky landscape.
Meeting at our forever favourite starting point, Sally Pussey's in Royal Wootton Bassett, on a dry Saturday morning we split into two groups of four, following the route above, mostly! The forecast was for sunny spells interspersed with showers. The sky looked like it would be kind to us, but it seems the BBC almost got something right this time! As midway round, we were caught in a very heavy downpour!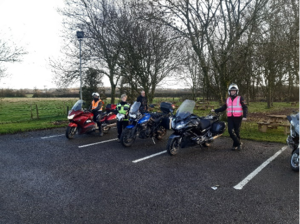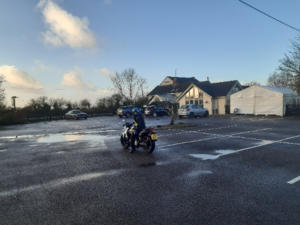 My group and Jane eager to set off!
The plan was to take a photo at a viewing point for each horse. This meant we would probably be doing some u-turns, which we did.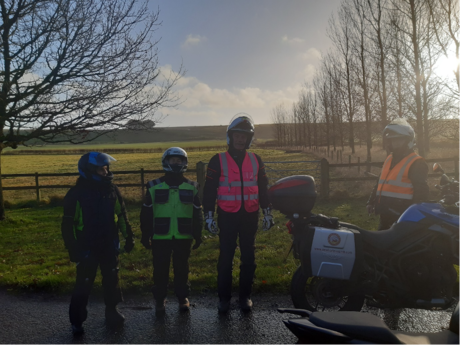 Our first stop at Hackpen Hill
Moving onto Cherhill, then to Devizes where it started to pour down, we stopped for a cuppa tea and a bacon sarnie.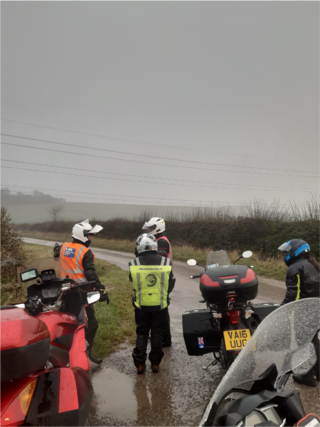 As you may be able to tell, the weather took a wet turn! It was at this point one of the group mentioned there were actually eight white horses in Wiltshire! But luckily for us Andy knew Devizes well and lead us to a parking spot only a short distance from a nice  café.
Our next stop was towards Westbury, Bratton Camp, and this turned out to be my favourite of the lot. Weather was changing for the better and the sun was out. And the view across to the horse was superb!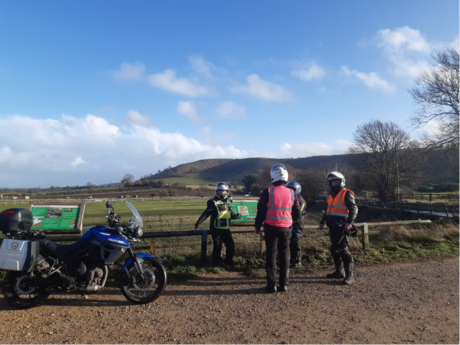 The horse is there, but hard to see!
Moving on from here, we followed the route to Pewsey and then onto our final group photo of the day overlooking the Alton Barnes white horse.
Alton Barnes white horse.
To ride this route meant passing through many chocolate box villages, with thatched roof cottages and village greens. It was not a fast ride, more of a burble around Wiltshire. Googlemaps suggests a time of around 2 hours. I think you could spend a whole day doing this, stopping off frequently for sustenance and taking photos.
A great ride, so thanks to all that joined for the last one of the year!
Here's to many more happy rides in 2021 – what could possibly go wrong!
The View from the other Group
The December Ride-out was looming large and I was eager to get my RT1200 Beamer on the road.  I am falling in love with her as she is a very reliable ride and so comfortable.  My true love was my Blackbird but she was just a tad uncomfortable when draped over her tank on a long ride.
To make the ride a bit longer I had decided to deliver a few local Christmas cards so up and out at break of day and programme the Sat Nav to find them all and off I went.  Nice to practice some slow riding on quiet urban roads before making my way to Sally Pussey's.  As I came off the J16 roundabout I spy a well ridden bike behind me.  I hope it is a fellow ride-outer and sure enough he follows me in.  Great to see some old friends and new as we chat before the off.
We were over the rule of six limit, so divided into two parties.  Markey Mark was my leader and as no one else had been a 'tail end Charlie'.   I decided to volunteer.  I remember seeing others do it and that the backmarker stays well back to give everyone a chance to sort themselves out and let the marker rider get going again before you have to stop.
We were a small band of four so no real skill was needed as the backmarker and the other two riders were very experienced.  Markey Mark had been handed a map by Peter which was a pretty pink.  Peter could provide no good reason for this even after some ribald comments.   Peter's group went first so after another five minutes we set off.
First off was Hackpen Hill so turn left out of Sally's, a bit of a relief as turning right can take ages and make for a very straggling tail end.  Then a quick nip round the top of J16 and past the Garden Centre and a tricky little road with some right-angled bends which are always sharper than you remembered.  All safely through and an easy right onto the A4361.   We are settled as a nice group riding in fine weather.  Then a left at Broad Hinton for Hackpen which must be on most peoples' favourite ride list.  We passed the other group as they were on a photo mission.  Peter looked like an old AA combo man as he saluted us by.  I love this road, such a delight to take the bends nice and accurately (for me at any rate) then let the big bike open up as you power up the hill leaning nicely into the bend, a little counter steer and up to the top of the hill.  Mark decided to carry straight onto Marlborough, always a lovely town to amble through.  We picked our way down to the Saturday Market.  What a lovely county Wiltshire is.  I am a relatively recent migrant here and love it.  Past Rick Stein's restaurant where we had enjoyed the £10.00 off Sunak surprise in the late summer.  We cracked on, the pace was good but not in any way onerous.  Mark was wearing in new tyres so it was even smoother than his usual runs.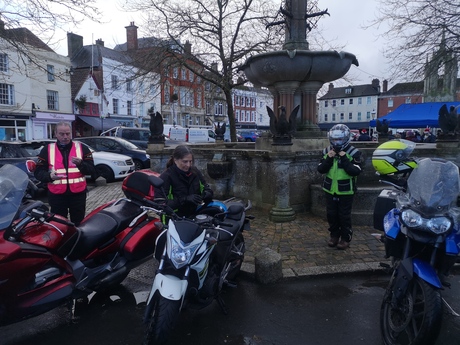 Parked up in Devizes
Past Marlborough College and down the Bath Road and onto a five-minute stop at the Old Divine Café site.  The weather was starting to turn a little inclement but no matter.  Then as we pulled out,  big fat drops fell from the sky.  Why hadn't I used the time to put my wet weather gear on?  It really striked cold, as well as wet.  I fiddled with my heated bars and seat.  Well, my beloved 'Bird had none of such fripperies which I now see as essentials.  The bars were soon to hot to handle while the seat warmed up the puddle I was sitting in.   Devizes homed into view.   At last! A proper stop, we went round once and found the bike park and I waddled off to the café in The Shambles.  A true delight, Hot Chocolate and a hot breakfast and a chat to a fellow Triumph (car) enthusiast TR6s & Stags were the main topics.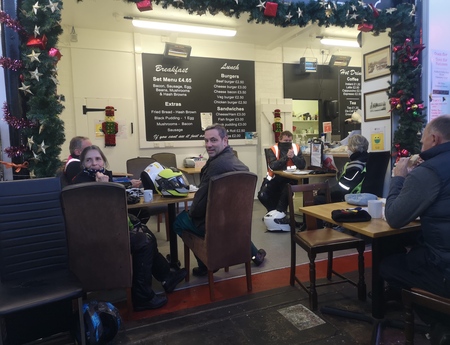 The delightfully homey Shambles Café
Back to the bikes and pull the wet weather gear over the wet leathers and off!  A delightful ride to the Calne Cherhill White Horse.  We met Pete's group just pulling into the car park from the other direction as he had followed the route a little more closely.  The poor horse which needs a little cheering up, more grey than white but a stunning view and well worth a visit.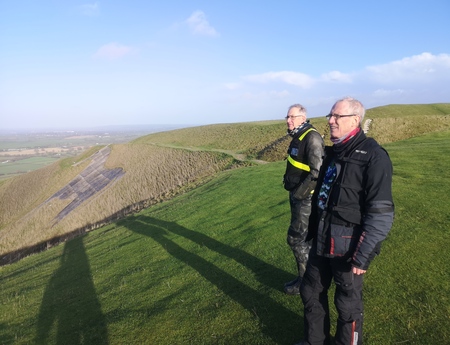 Admiring the stunning view at Cherwell
The afternoon sunlight was lovely but we saw dark menacing clouds beating their way up the valley towards us so a hasty retreat.  Mark and I went back to Marlborough as I had one more card to drop off in Ogbourne St. George.  A great ride out thanks guys.