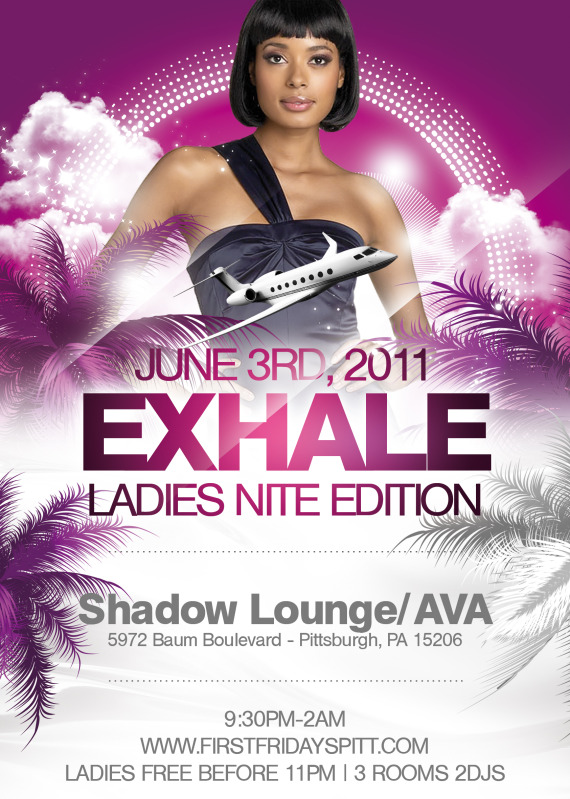 Calling all Social Butterflies & Sophisticates/nightlife vixens & connoisseurs of cool/fashionistas & progressive thinkers/movers & shakers/trendsetters & tastemakers. In other words, the right people to create the right setting to start your weekend off the right way.
Come enjoy an evening with an upscale atmosphere that only First Fridays Pittsburgh can provide. We have taken the liberty of reserving all three rooms to ensure ample room for networking, socializing,
or just absorbing the vibe.
THAT'S RIGHT...
3 rooms, 2 Djs, 1 Unforgettable Experience.
Doors open at 9:30pm
*LADIES FREE BEFORE 11:00 PM

*For more info log on to
www.FIRSTFRIDAYSPITT.com
(make sure you leave your email/contact info on the site)
Attire:
First Fridays Pittsburgh strives for professionalism and excellence at all our events. In order to bring you the best in upscale entertainment, we have implemented a dress code for our functions. We expect our patrons to dress with class and be neat. Unless otherwise noted please adhere to the following: Absolutely No Hats, Athletic Gear, Sneakers, Work Boots, T-Shirts, or Baggy Clothing. If in doubt, DRESS UP not DOWN.
412.716.8807
Email: firstfridayspittsburgh@gmail.com