Who, what, where?

Every month we give you an update on the projects that have been completed by our applicators with Liquid Rubber®. Some are large (in terms of volume), others are smaller, but this way you get an impression of the many possibilities with Liquid Rubber. If you have any questions about these projects, please contact us.

Project:
Sealing Velsertunnel
Description:

The special sealants of Liquid Rubber are also used in the infrastructure. The "Velsertunnel" is being renovated and the department of Waterways and Public Works chose Liquid Rubber as a durable and high quality sealant.
Liquid Rubber JointFiller is used to seal the pipes that carry the electronic cables. These cables are covered with all tipes of plastics and are very hard to seal from water. Liquid Rubber JointFiller has an enourmous adhesion power and adheres to all the difficult sorts of plastic. The JointFiller is applied with a silicon gun and cures into a seamless and flexible waterproofed layer. The JointFiller is also used as a waterproofed glue layer to seal the lid on to the pipes.
Liquid Rubber ensures a durable waterproofing and we are very proud that the department of Waterways and Public Works chose Liquid Rubber for this difficult sealant.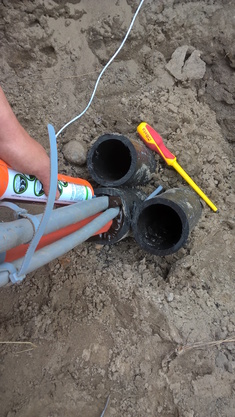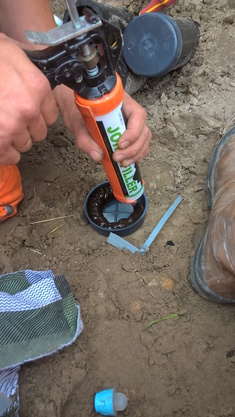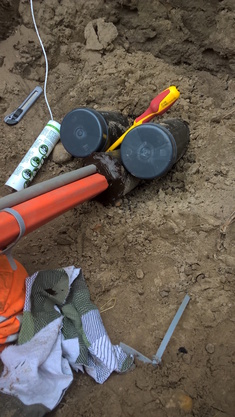 Photos: Liquid Rubber Europe (LRE Coatings BV)
------------------------------------------------------------------------------------------------------------------------------------------------
Project:
Foundation waterproofing

Liquid Rubber is very often used to waterproof foundations. In this project, Liquid Rubber HBS200 was spray applied directly on the surface. A geotextile was placed in the Liquid Rubber to bridge the joint. A second layer of Liquid Rubber HBS200 was sprayed over the geotextile.
This system cures into a seamless and fully waterproof membrane that keeps all the water outside.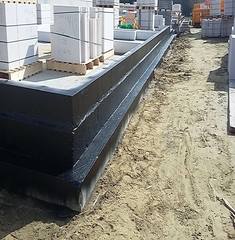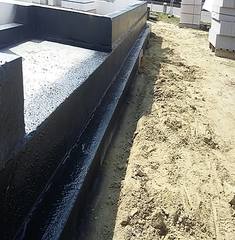 Photos: Liquid Rubber Europe (LRE Coatings BV)
------------------------------------------------------------------------------------------------------------------------------------------------
Project:
Facade seal with Liquid Rubber HBS200
Liquid Rubber has the unique abillity to adhere to many different surfaces. In this project the connection between the facade EPDM on the flat bitumen needed to be waterproofed. Otherwise, the wind on this deck could push the water underneath the EPDM or Bitumen and then you can get water transport under these surfaces.
Liquid Rubber HBS200 was used to glue the EPDM (facade) on the flat bitumen. Liquid Rubber ensures a good adhesion and waterproofing. This way, water has no chance to penetrate under the EPDM or Bitumen.
The customer was very happy with this rather easy but solid waterproofing.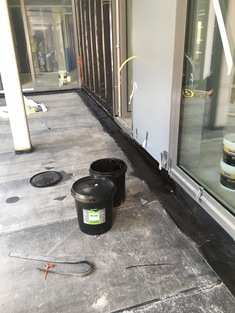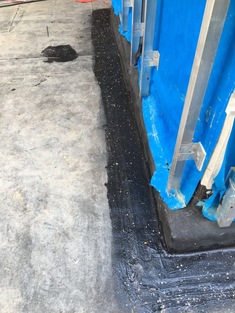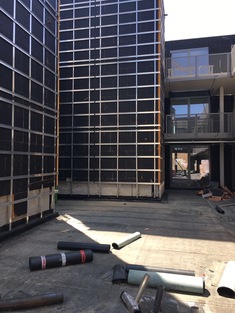 Photos: Liquid Rubber Europe (LRE Coatings BV)
These days, the traditional construction holiday doesn't exist anymore. To stop building in the best weather period of the year sounds a bit lunatic. That is why we, Liquid Rubber Europe, are available as always. You can contact us for questions, help, advice, orders or for all the other services you are used to have from us.
For those that are going on a holiday this month. We would like to wish you a very pleasant holiday!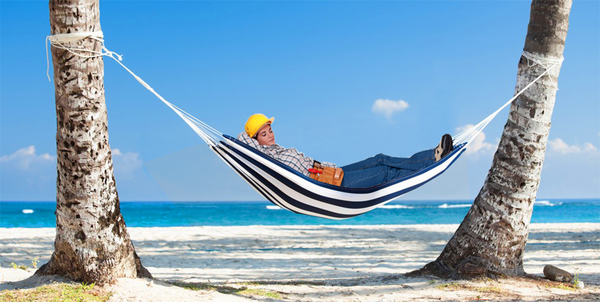 Photo: Liquid Rubber Europe

On our social media account we post informative, interesting and entertaining posts. On YouTube we post videos that are informative and demonstrate the large number of possibilities of our product range. Besides following our developments you can also share your opinion about Liquid Rubber with the rest of the world.
 
Click the following buttons to follow Liquid Rubber Europe.
Liquid Rubber Europe, Groot Mijdrechtstraat 15, 3641 RV  Mijdrecht, The Netherlands