---
'Aeon'



The wavelet of shimmering water gurgles as it splashes my toes. The incoming tide is stealthily edging over basking rock.

My skin glows with the balm of a caressing sun and a dragonfly wanders erratically. There is a cathedral quiet on the island shore except, perhaps, a sigh from the nor'easter sifting through the casuarina grove behind me. A spiritual comfort of peace here, an escape.

For so long, longer than the mind can comprehend, this water has stroked or, sometimes, even pounded this shore in a twice-daily rhythm of reliability. The aborigines were here, too, their middens stacked with giant shells. Before that it was a wildlife haven for millennia.

My eyes love the curving comfort of pretty Woody Point and the bulwark of hills behind the bays. They play a soothing symphony on my mind.

There is a wonder about these moments as I contemplate with gratitude.



Leicester Warburton




---
Contents
---

---
TRIVIA NIGHT SATURDAY 16th JUNE 7.30pm
SCOTLAND ISLAND COMMUNITY HALL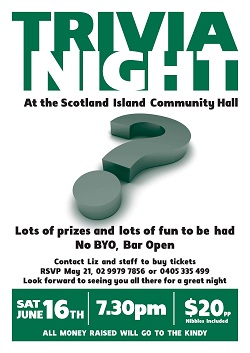 Bar open $20 includes nibbles.

Lots of prizes to be won from;

$100 Toni and Guy Voucher
Meal for two at Pittwater RSL
$50 Beauty Voucher
Massage
Ferry Tickets
$90 Glenworth Valley horse riding vocher
And many many more.

Please contact Liz and staff at the Kindy on 02 9979 7856 or 0405335499 to buy tickets or to buy a table of 8.

Please help support the Kindy all money raised will go towards new resources and equipment.
Look forward to seeing you all there.

Regards
Liz


click image to load flyer




---
SCOTLAND ISLAND RURAL FIRE BRIGADE

Fire Brigade Matters

This is the start, or restart, of a monthly inclusion in the newsletter talking about matters relating to the island brigade. cal

Just to remind you, the brigade now has a Community First Response service with a number of trained members able to respond to and deal with medical emergencies on the island. Phone 000, this will put into process the response to the emergency including on site attention, the possible evacuation to the mainland and co-ordination with the mainland ambulance service.

We have a new accredited member in Graham Crayford who is now a basic fire fighter.
Wayne Gluyas is training for an advanced fire fighter accreditation and will continue on to qualify as a crew leader.

To explain a little about your brigade on Scotland Island, to start with, this is the heirachy of personnel; Captain, Senior Deputy Captain, and Deputy Captains who are also crew leaders, fire fighters. The officers are elected positions, elected annually.

There is also a President,Secretary,Treasurer, and Social Secretary, Bruce is our Station Officer. All active members (fire fighters) are trained in bushfire and structure (house) fire fighting.

The boat, (Scotland Island 15) attends boat fires, and bushfires or structure fires that can be reached from the boat fire pump. As well as Pittwater we respond to fires in the Hawkesbury River and Cowan Creek when we would probably be assisting a local brigade. The boat travels at 27 knots so we can be at Bar Point in say 40 minutes.

We have three vehicles in the fireshed; a category 7 (cat 7) firetruck, fully equipped, carrying its own water supply (limited), also carrying CABA which is breathing apparatus to allow an operator to enter a smoke inundated environment, to rescue a trapped person, a smaller Category 9 or striker truck, also with its own water supply ( once again a limited supply). The PC or personnel carrier acts as an island ambulance,
it is equipped with a defibrillator (heart starter) and oxyviva ( oxygen resuscitation) as well as comprehensive first aid equipment.

All active members have ongoing training enabling us to offer the best in an emergency.

Should you want to discuss any matters pertaining to fire safety, or if you feel you can make a commitment yourself to active membership you can ring or email, details below, or you can talk to any of the other members of the brigade.

David Wardman
9999 5944
david@wardman.com.au
SIRFB



---
Scotland Island Winter Fire Shed Dinner
Saturday June 9th, 7pm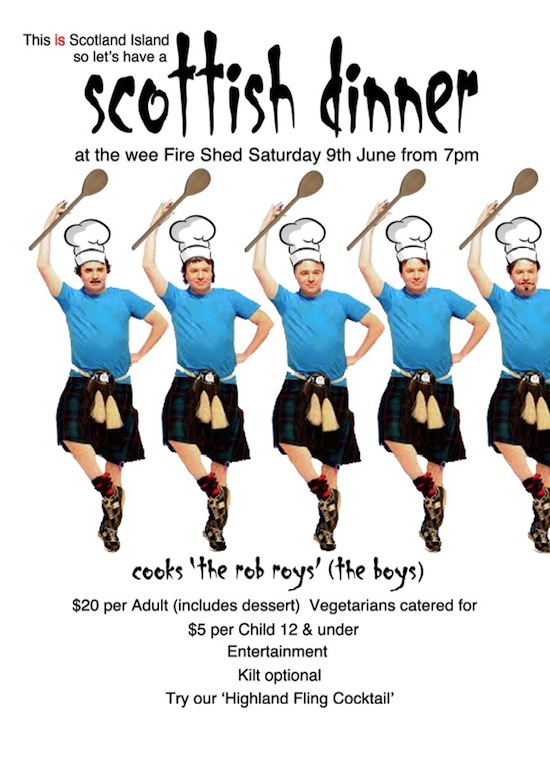 Scottish Dinner by 'the rob roys'
Includes Dessert
Adults $20
Children under 12 $5

---
Pink Water Taxis Service


Change of Mobile Phone Carrier



After two hours in the Telstra Business Centre and having signed away my first-born child on an entire
Spotted Gum forest worth of paper, the Pink Water Taxi mobile phone is now with TELSTRA Business.

We pray to any deity listening that this will, at the very least, improve on our previous carrier's woeful performance.

On advice from Telstra, the taxi phone is switched to the 2G (GSM/EDGE) network for now as it's less congested than 3G and should be more stable/reliable. After all, we just want voice calls and SMS; no frilly bits.

Any and all feedback welcome.

Yours aye - Rod



---
Pittwater Offshore Directory (POD)


Last chance to get one...





There are limited spare copies of the 2009 POD available to anyone who is new to the Island or if you have misplaced the copy distributed to all households.



Please email cassgye@spin.net.au if you would like one. A new POD will not be produced until next year, subject to volunteers giving their time to create the 5th edition of this valuable source of information.

Cass Gye
02 9979 5853
0418 220 107
P O Box 52
Church Point 2105



---
Letters to the Editor


thank you all



Dear friends,

I have spent four nights trying to find sufficient words to say thank you to all my friends who made my 80th birthday such a great celebration. The words still won't fill the huge heartfelt thanks I wish to convey to everyone. The great girls who made a feast, a mammoth cake, the firies who serviced the bar, the speechmakers and acapella singers, and all those present and presents which have brought such joyful hours of loving memory.

From my heart, thanks to all our "village".
Old Auntie Marg.


---
Runabout Rescue


A big thank you to the person who rescued our aluminium runabout last Saturday in those very strong westerly winds.
I don't know how it broke free from the big clip on the running line.
If you pick up this message, I would love to hear the story.

Thank you again
Greg Roberts 9979 5228



---
WAO access will be free




Water Access Only



After more than 12 years battling with the previous Government and the Crown Lands Dept, thanks to the efforts of a small group of WAO people, working through the Home Access Association (President Carl Joy, Lesley Stevens, Paul Purvis, Greg Roberts, and several committee members from the Hawkesbury River), we have won the 'fairness and equity' argument - why should we have to pay to access our homes across Public Land via our jetties, when no mainland home owner has to pay to access their homes across Public Land via their driveways.

WAO access will be free.

Visit IPART's website for the details - HERE

or download the pdf report below....


Media Release - Review of Rents for Domestic Waterfront Tenancies - May 2012



---
SALVATION ARMY RED SHIELD APPEAL THANKYOU!

Hi everyone,

Island & Bay residents (and visitors) opened their hearts and wallets 2 weekends ago, with over $1300 raised for a wonderful cause-thanks so much to everyone who donated so generously.

Special thanks to our enthusiastic and energetic on-land volunteers (Scott Frazer, Greg Roberts and Kath Anderson), together with fabulous support from Tim Byrne, Dave Brady & Alex Kelso on water.

Special mention to Katie Brady from the Collaroy Centre for her encouragement and initiative, with plans next year for more opportunities for local businesses to expand fundraising support for the Salvos. Thanks to the Church Point Store, Church Point Ferries and Pink Water Taxis for leading the way this year.

If we didn't make it to your place this time, it's not too late-you can still donate by calling 13 SALVOS (137258). Hopefully next year with an even bigger volunteer team, we'll be able to reach everyone and raise even more for those in need.

Thanks again,
Jenny Frazer :)



---
SI Fireshed Dinner - French Feast Images


By June Lahm



Full size images can be seen at the Offshore Photo Gallery HERE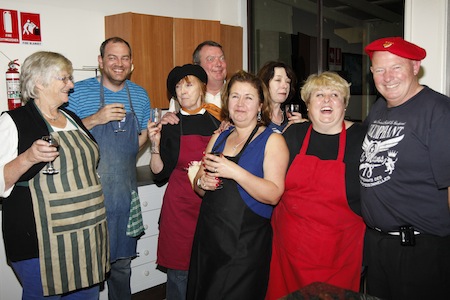 ---

AUTHOR TALK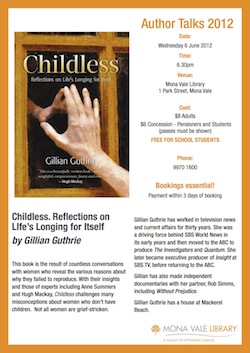 Childless. Reflections on LIfe's Longing for Itself




by Gillian Guthrie



This book is the result of countless conversations with women who reveal the various reasons about why they failed to reproduce. With their insights and those of experts including Anne Summers and Hugh Mackay, Childless challenges many misconceptions about women who don't have children. Not all women are grief-stricken.




Author Talks 2012




Date:

Wednesday 6 June 2012


Time:

6.30pm


Venue:

Mona Vale Library
1 Park Street, Mona Vale


Cost:

$8.00 Adults
$6.00 Concession - Pensioners and Students (passes must be shown)


Phone:

9970 1600
Bookings essential!
Payment within 3 days of booking


Click image to load flyer




---
ARTSPACE ROUGE at Sydney's Rock's Market
Saturday 2nd June & Sunday 3rd June 10am-5pm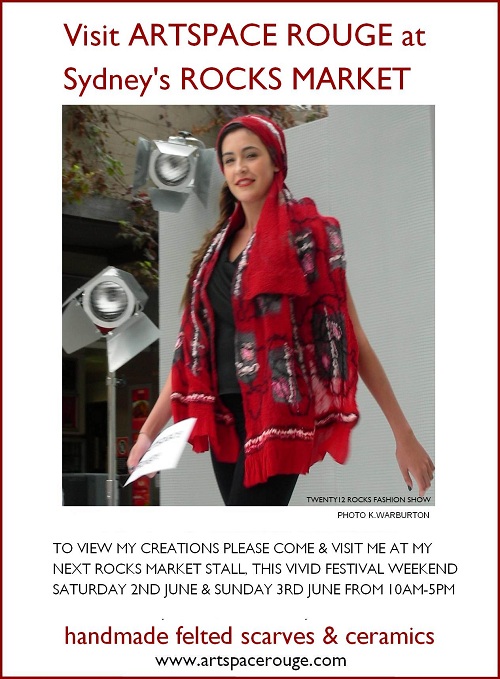 www.artspacerouge.com

---

Local Council Notices

Free Film Screening for Guringai Festival





A free screening of the movie The Tall Man will be held in celebration of the Guringai Festival on Wednesday 20 June at 10am at Collaroy Cinema.



The Guringai Festival is a month-long celebration of Aboriginal and indigenous culture in northern Sydney, involving over ten councils.

Based on Chloe Hooper's award winning book, The Tall Man is the tragic and compelling story of the death of Cameron Doomadgee in the Palm Island police station in 2004 and the court cases that resulted from that death.

Cameron's crime was that he allegedly swore at a policeman. Forty minutes later, he lay dead in a watch-house cell.

The 'tall man' of the film's title is policeman Christopher Hurley who chose to work in one of the toughest and wildest places in Australia. The story follows the struggle to bring the circumstances of Cameron Doomadgee's death to trial.

The movie covers in luminous detail the two worlds clashing and the haunting moral puzzle that emerges.

The Tall Man has been adapted to the screen by Tony Krawitz and brings the Palm Island community into vivid focus.

Movie critic Margaret Pomeranz calls Krawitz 'a fine filmmaker who has dealt with this tragic story with skill, delicacy and artistry'. She describes it as 'an important story, an important book and an important film!'

Collaroy Cinema is located at 1097 Pittwater Road, Collaroy.

This free event is coordinated by the Aboriginal Support Group of Manly, Warringah and Pittwater. Bookings are not required. For further enquiries call Lizzie Landers on 9918 2594.

Media contact: Vanessa Walsh, Aboriginal Support Group – Manly, Warringah, Pittwater
Ph: 9970 5456



---
Bimblebox makes it to Sydney
The documentary Bimblebox is finally
screening in Sydney!



A documentary from the front lines of Australia's battle against coal and gas expansion






At this critical time, when so much coal and coal seam gas expansion is planned in Australia, this film aims to win the hearts and minds of the people, exposing the destructiveness of this industry to our climate, communities and environment. It tells the stories of the people fighting for their homes and culture. Australia is the worlds largest exporter of coal, providing almost one third of the worlds supply.






Tuesday 5th, 6pm




Customs House, Circular Quay




http://bimbleboxdocumentary.com/
the Bimblebox team


Click image to load flyer




---
Bookkeeping, Office Admin, Project Work, Data Entry, Internet Research......




Stay on top of your office work



Services Include; - Data Entry, MYOB Bookkeeping (including Invoicing, Statements, Debt Collecting) - Phone calls on behalf of your Business - Research - Secretarial Support - anything else your business may need - Just Ask!

I understand the importance of your time, my service allows you to allocate your time to the important tasks and to lighten your work load, providing a reliable and flexible service that helps you keep your business stay on track.

Contact: Nikki Gibson

Email nikkigibson22@gmail.com
Mobile 0425 227792



---
Wanted


Anyone with Microsoft Access Experience??



Help required to create invoice template in current database.
If you have any experience with Microsoft Access would be grateful if you could share your knowledge.

Call or email Cass Gye 0418 220 107 or cassgye@spin.net.au


---
Want to Buy



I'm wanting to buy a second hand Portacot in near new condition.
Just wondering if anyone on the Island has one lying around that they wish to sell?

Phone Kirsty 0405110564 or Antony 0415393676



---
For Sale
Boat for Sale

4.1 METRE POLYCRAFT
40HP 2 STROKE MERCURY OUTBOARD
(2YRS OLD)

Motor has automatic trim and tilt and is still under 5 year warranty

Boat comes with Canopy, Seat and Console, Rear Protection Bar, Lights, Bilge Pump, Battery, Floats

Included is the main petrol tank and 3 petrol storage canisters, life jackets, anchor, ropes

Rego till Dec '12. Mooring rights at Tennis Wharf can be added.

$12,500

PHONE Geoff and Nila 99992445


---
Putt-Putt For Sale



Very attractive 15' fiberglass putt-putt launch. Lovely family boat.

Twin cylinder Blaxland Chapman motor not running but a great winter project if you're a bit handy.
In the meantime whack an outboard on the back & even use it as a commuter.

Just antifouled.

$1500 ono.

Call Col Batt on 9997 4037 or 0414 514 254


---
Dining Table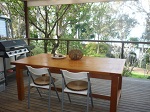 Solid oregon dining table, seats 6-8, 2000cm x 1050cm, good condition
$199.

Contact Jane Kirby 0414978793


---
Trampoline





SpringFree Trampoline for Sale on the island - URGENT



$300 (sells for $1385 new)
8 x 11ft oval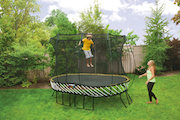 Located just above Cargo
Mat and net are dismantled (the hardest part!) – frame needs to be dismantled (instruction
provided to put trampoline back together)
Netting has a small hole that could be stitched up

Call 0450 334 565



---
The Local Guide
Community Information
Scotland Island Web Site

www.scotlandisland.org.au

What's On in Pittwater - Self Editing Event Calendar

click to go to the Calendar

Scotland Island Community Vehicle -

0404 103 700
Number, Usage & Charges

Scotland Island Rural Fire Brigade -

9999 4404
http://www.sirfb.org.au

West Pittwater Rural Fire Brigade

- 9997-3795
www.westpittwater.rfsa.org.au

Offshore Photo Gallery

http://picasaweb.google.com/offshoregallery/
Scotland Island Residents Association (SIRA) Membership Application

- click here to download
West Pittwater Community Association (WPCA)

- http://www.wpca.org.au
Scotland Island Water


SI Emergency Water Contacts and Guidelines for water: click here for information and contacts
Scotland Island 'Water Agreement' - click here to download
Scotland Island Children's Centre

- (SIOCS - Scotland Island & Offshore Childrens Services)
Catherine Park (Long Day Care Service) 7.30am - 5.30pm (Tues, Weds, Thurs & Friday)
Other services include: School Holiday Programme / Facility & Equipment Hire
For information call 02 9979 7856 or email: siocs@comcen.com.au
Scotland Island Community Hall Bookings:

Kez on 9999 4092 or kezborthwickbolton@gmail.com
---

Transport
---
Real Estate
---
Services, Clubs & Accommodation
Scotland Island Traders - On-line shopping

from your computer, through your door on Scotland Island. Contact Graeme on 0419 460 331 or click here for full details
Justice of the Peace

- Bob Bolton - 9999 4092
Justice of the Peace

- Paul Purvis - 9979 9667
Justice of the Peace

- Paul Burchall - 0414 975 793
Justice of the Peace

- Bob Mitchell (Mackeral Beach) - 0419 745 628
Justice of the Peace -

Maureen Anderson - Morning Bay resident. - 02 9997-2659 or 0417-279-346
Pittwater Community Arts Inc.

- Enquiries Lorrie Morgan 9997 8079 lorriemay@bigpond.com
Peninsula Music Club

- enquiries Janice Tuynman - 99991937 - jt@swift dsl.com.au
Woody Point Yacht Club

- http://www.wpyc.com.au commodore@wpyc.com.au
Royal Prince Alfred Yacht Club

-

02 9997 1022

http://www.rpayc.com.au/
Royal Motor Yacht Club

- http://www.royalmotor.com.au/ 02 9997 5511
Scotland Island Lodge - Bed & Breakfast -

02 9979 3301 or http://www.scotlandislandlodge.com.au
Pittwater Youth Hostel

- 02 9999 5748 www.yha.com.au/hostels/details.cfm?hostelid=31
Nila Chambers - Celebrant (marriages, funerals etc)

Discount for all offshore residents. 9999 2445
Handy Service

- "No job too small" - Call Alan 0447 775 541
Electrician Wayne

on Scotland Island 0418 229 277 - offshore community sparky - www.sparky.com.au
---
Island Classes (Fitness, Dance, Art etc)
Pilates, Meditation and Group Fitness with Patrice

- 0406 483 036 patrice.corrie@gmail.com
Anusara Yoga

- Thursdays - 0421762236 dominiquemarill@gmail.com or floydcbg@ozemail.com.au
Art with Max

- Watercolour classes. Phone Max on 9997 4527
Art Classes

- drawing and painting in oils, acrylics and mixed media- Marion 9979 3993 or 0431 457 431
@ Nathalie's Table - Cooking Classes

- Mediterranean cooking fortnightly - Nathalie - 9999 4449
Dru Yoga

- Tuesday evenings - Phone Katya on 0414 187 916
---
Groups
Gurdjieff / The Forth Way

- Call John on 9979 5584, Marion on 9979 3993 or Anne on 9999 3478
Island Kinesiology Clinic

- Mondays on SI Phone Jen Cudmore 0425 212 849
Green Group For Catherine Park

- Run by SIOCS - Emmie Collins on 0405 330 781
WOW - Women on Water

- second Wednesday of the month - contact Nila on 9999 2445
Parents & Kids Groups Playgroup

- Run by SIOCS - email Emma trysemz@tpg.com.au
Scotland Island Players

- contact Bob or Kez on 9999 4092
Catherine Park Bush Care Group

, 2nd Sunday @ 9.30am, Sharon Kinnison @ 9997 6017
Elizabeth Park Bush Care Group

, 1st Saturday @ 9 am, Bob Bolton @ 9999 4092
Island Thinking Group -
Roy Baker, 9999 6891, roybaker99@yahoo.com
Offshore a capella choir

– Saturdays at 2:30 pm, SI Community Hall. Call Gordon on 9997 2035.
---
Government Organisations
---
Airlines, Buses and Railways
---
Weather
Scotland Island Tides, Moon phases, Sun rise & set
Local Weather Forecast

Radar weather for Sydney (128k circle)
---
Emergency Contact Numbers
ALL EMERGENCIES (Police - Fire - Ambulance)
000
Police Assistance Line & Information
13 1444 or 9281 0000
Broken Bay Water Police
9910 7899 or 0412 162 093
Marine Rescue Broken Bay - Weekend

(

02) 9999 3554 - (02) 8411 1121



Marine Rescue Broken Bay - VHF Radio channel

VHF Radio Channel:

VHF 16


27MHz Radio Channel:

86 or 88



Scotland Island Rural Fire Brigade
9999 4404
NSW Fire Service General Information 9265 2999
9265 2999
Rural Fire Service General information
9450 3000
State Emergency Service, Warringah/Pittwater SES
9486 3399
National Parks & Wildlife Service: 000, general information
9457 9322
Dept of Community Services: general information
9977 6011
Sydney Water
132 090
Energy Australia
131 388, (ah) 131 909

---
Join SIRA
You can now join the Scotland Island Residents Association by
clicking here.
Please print the page and return the completed form to SIRA at this address:
The Treasurer, SIRA, PO Box 70, Church Point 2105.
Please NO CASH.

Contact SIRA at
sirapittwater@gmail.com
Join WPCA

To join the Western Pittwater Community Association, contact Michael Wiener at
m2wiener@bigpond.net.au
---
Archived Newsletters


A complete set of past electronic newsletters since May 2000 can be found and read at https://ymlp.com/archive_gesgjgm.php or by clicking here or by visiting the Mona Vale Library.

The Island website is at www.scotlandisland.org.au


---
To Contribute


If you would like to contribute to this newsletter it's easy!. Send an e-mail to the editor (editor@scotlandisland.org.au) or by clicking here. Type your contribution (100 words or so would be fine) and assuming it is of general interest to the community, does not include matter of a political nature and is not offensive, it will appear next month.

Subscription Information


To get on and off this newsletter,

click here

or got to:

http://www.scotlandisland.org.au/signup .


To change your address, click the 'modify' link at the bottom of this newsletter or send an email to the

editor@scotlandisland.org.au


---
Follow the PON
---
The Online Local Contacts Guide
Click HERE to load
The views expressed in this newsletter are not necessarily the views of the Scotland Island Residents Association (SIRA), or the Western Pittwater Community Association (WPCA)

---