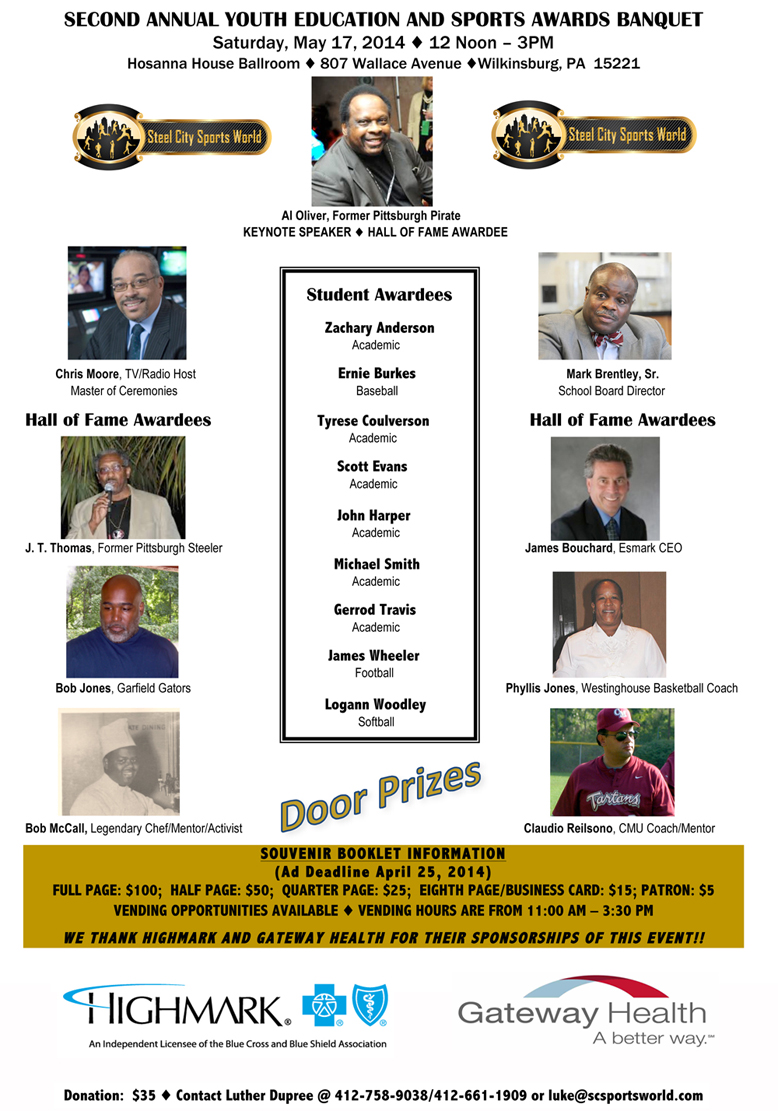 On Saturday, May 17, 2014 at 12:00 Noon, Steel City Sports World will host our Second Annual Youth Education and Sports Awards Banquet in the Hosanna House Ballroom, located at 807 Wallace Avenue, Pittsburgh, PA 15221. This worthy banquet honors youth who have contributed and continue to contribute to their schools and communities. We are awarding youth in Pittsburgh and surrounding areas who are affected by violence.
This year, we will induct former Pittsburgh Pirate, Al Oliver, who will be our keynote speaker; Former Pittsburgh Steeler, J.T. Thomas; CMU Coach, Claudio Reilsono; Legendary Chef/Mentor/Activist, Bob McCall; Westinghouse Basketball Coach, Phyllis Jones; Coach/Organizer of the Garfield Gators and CEO of Brothers and Sisters Emerging, Bob Jones; and Esmark CEO and philanthropist, James Bouchard into our Steel City Sports World Hall of Fame. They will give words of encouragement to the youth who are being honored at the banquet. TV and radio host, Chris Moore will be our master of ceremonies and School Board Director, Mark Brentley will also address the students.

Steel City Sports World (SCSW) is a nonprofit organization founded in 2006 to encourage youth in Pittsburgh and the surrounding areas through education, sports and the media. We address issues affecting our youth via various forms of advocacy, as well as providing mentoring and educational support. Our goal is to raise funds to assist in promoting our mission and allowing us to work with hundreds of youth who are in need of our support.

VENDING OPPORTUNITIES ARE AVAILABLE.
VENDING HOURS WILL BE 11AM UNTIL 3:30 PM.

If you are interested in supporting this event, please call 412-758-9038, 412-661-1909 or email us at luke@scsportsworld.com.
You may also visit our website at scsportsworld.com.