If you cannot view this BAP E-Blast correctly CLICK HERE and click on
Self-care at Any Age: Open to the Public - April 29, 2017!

We're Celebrating Women & Self-care
Self-care is a Movement!
Self-care doesn't mean selfish!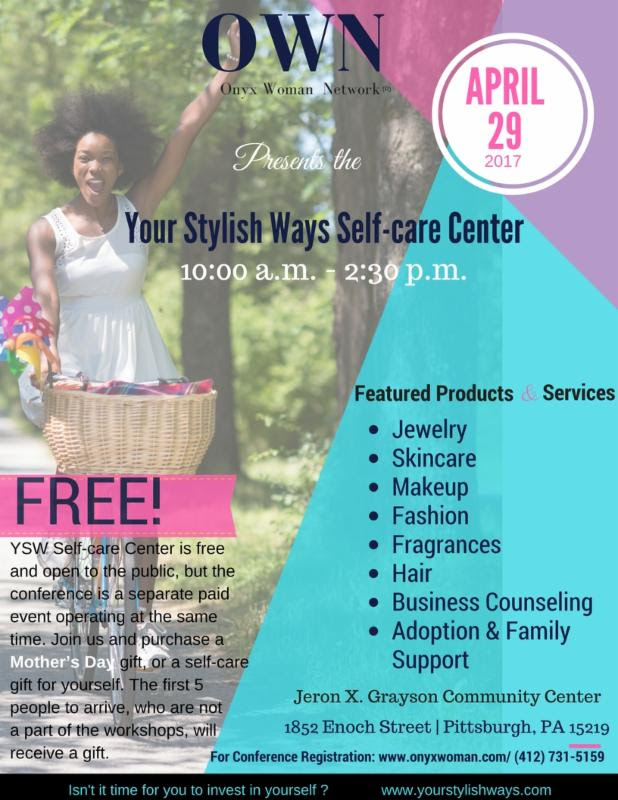 YSW Self-care Center is free and open to the public, but the At My Age conference is a separate paid event operating at the same time. Join us and purchase a Mother's Day gift for mom or for yourself.
The first 5 people to arrive, who are not a part of the workshops, will receive a gift.
Date: Saturday, April 29, 2017
Place: Jeron Grayson Community Center
1852 Enoch Street, (Hill District)
Pittsburgh, PA 15219
Cost: FREE if you are not attending the At My Age conference
Time: Registration 9:15 a.m.; Conference: 10:00 a.m. - 2:30 p.m.
(412) 731-5159
(Click for conference information)
There will be a special Your Stylish Ways Self-Care Center, where vendors will have everything from products to services on site that is open to the public (FREE of charge) even if you are not attending the At My Age conference. But, you MUST register if you want to attend the workshops. Contact: events@onyxwoman.com/(412) 731-5159. www.onyxwoman.com