---
Contents
---
---
---
Pittwater Carols Afloat 2017
Friday 22nd December
7pm at

Lovett Bay Boatshed
8.30pm at Church Point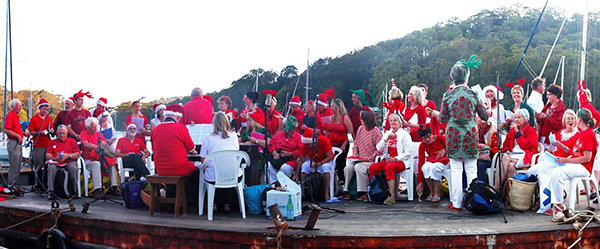 image by June Lahm
Everyone is welcome
The performance date is Friday 22nd December with the first performance to be held at the Lovett Bay Boatshed
at 7 pm.
Boats can raft up or gather around the marina.
The choir then embarks on a ferry -
courtesy of Penny Gleen and the Church Point Ferry Service
- for the trip to Church Point.
The second performance will be on the old ferry wharf starting at 8.30 pm
A boat will be across the end of the wharf (as Tim Byrne's was last year) with some of the choir on board.
Whether the audience is in the square, in the restaurant or on boats around and about they will hear everything.
The sound system will be the same as last year.
The Choirmaster is Rod Heard, as last year, and we hope the carols being sung will appeal to young and old
John Flower
Whipper-In
Pittwater Carols Afloat 2017
 Share the fun with family and friends .. bring along that silly hat, a picnic and the dogs.

---
Scotland Island Dog Race
It's on again!
Same time same place
Christmas Eve 6pm @ Church Point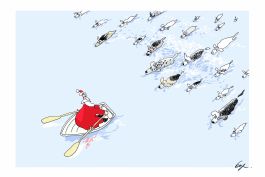 DETAILS:
Register your Dog from 2:30 to 5:30pm
Entry fee is 1 Longneck (Cold !) and 1 x Large Tin Dog Food
Official starting time 6pm (or thereabouts)

---
SIRFB Community Briefings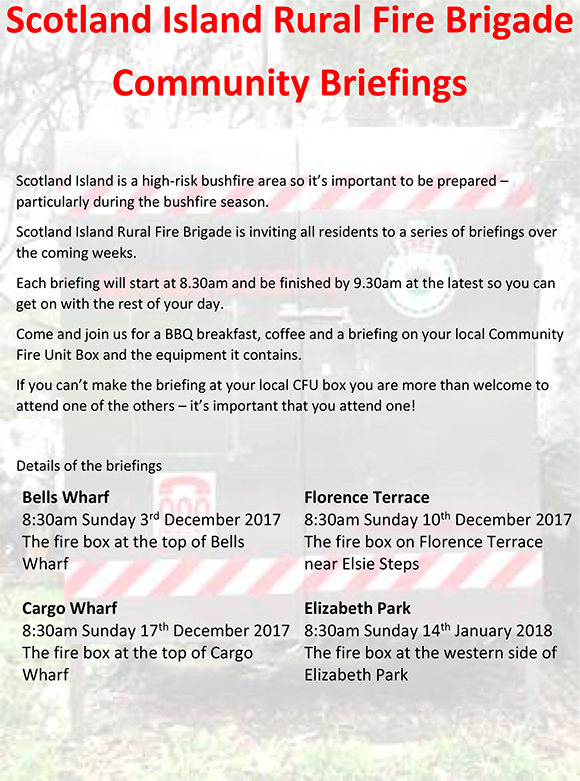 ---
Help The Island Kindy Get A Playground

Start voting TODAY for Scotland Island & Offshore Children's Services to win a recycled playground worth $45,000 – thanks to Garnier!

Everyone can cast one vote for every 24 hours by jumping onto Garnier.com.au/Playground. Vote every day until December 8th.

Once you click on the link, go to the bottom right hand corner of the page and there will be a "Cast your vote" section. If you fill out your details and then type "Scotland" into the school section our kindy will come up.

Below is a picture of our current playground – as you can see we need some help!

You can also help by saving all your empty cosmetic containers and packaging. Examples include; shampoo, conditioner, body wash, hand cream, hand wash, face cleanser, face wash, moisturiser, makeup, lipstick, lipgloss etc etc.

With thanks to Pittwater Online News
November 26 - December 2, 2017: Issue 339



---
Larger Signs Or Ranger Patrols Needed At
Church Point
Residents of our offshore areas are finding the frustrations with the building of new car park works at church point compounded by visitors not being aware, or disregarding how to use the new areas already finished.

On weekends Restaurant diners have taken every spot in the 10min unloading zone, not good for residents who may have items they wish to drop off to their boats.

One resident spent 40 minutes trying to find a parking spot yesterday (Saturday November 18th) resulting in the ruination of ice-cream - not something those with easier access to a car-park and their freezer will have to explain to youngsters.

A little consideration, paying attention to what you can do when and where, or a few fines may remedy the problem of onshore people not looking out for or after offshore people.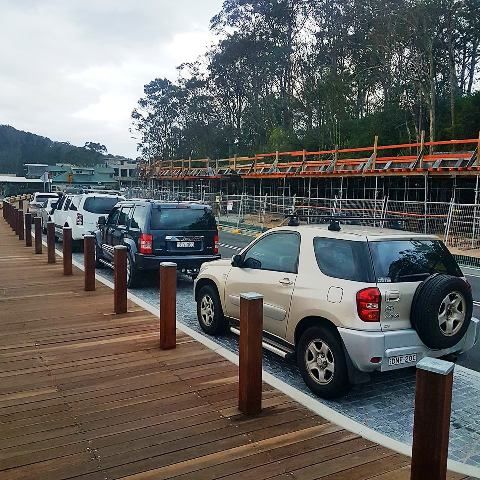 With thanks to Pittwater Online News
November 26 - December 2, 2017: Issue 339



---
Open Mic Night- Thank Yous!
We had a great night last Saturday in the Hall... a very relaxed, slightly messy, fun evening. A mix of non-professional and professional performers, and some kids too, singing and playing in all sorts of musical styles.

I was MC and I was so overwhelmed, I forgot to thank most of the people I should have. Oops! Extra thanks to John and Maxine for the sound setup and mixing, to John Marshall for lending us his PA gear, to Boyd for doing the lights at very short notice, to Gil Unwin for advice and general help, to Fergus for sitting on  the door, the On Quay Choir girls for bringing that great food and setting up and cleaning up; and Lisa, Susanne, CB, Lewis and Boyd for the Sunday clean up. Not to mention a huge thank you to all the great musos and brave kids who performed for us and made the night so brilliant. I hope I didn't forget anyone.

And re waste- everyone recycled what they could, no single use plastic cups and plates were used, very little food was wasted, and amazingly we only we had half a supermarket bag full of rubbish at the end! Great effort.

We did make a small profit which will go towards the next one.... yes... people keep asking me when the next one is. So watch this space.... and look out, I'll be calling for more volunteers to help.... and think about what YOUR 15 minutes of fame might be at the next one!
-Jess McGowan



---
Scotland Island Fire Brigade Goodwill XMAS Lunch
December 25th from Midday
Booking is essential !
RSVP by 18th December at the latest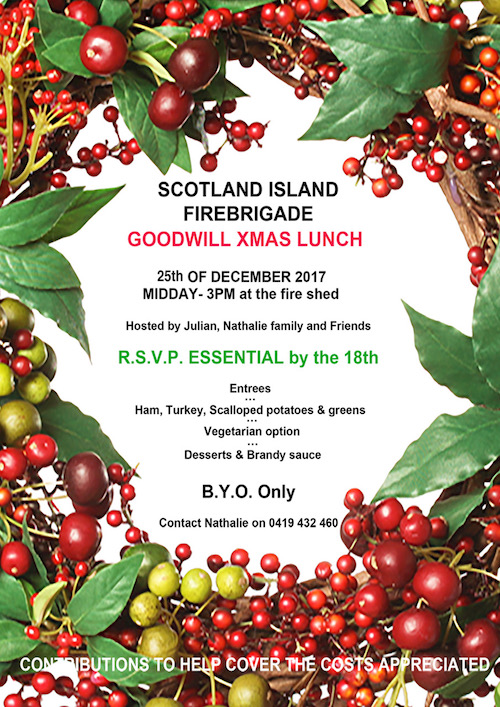 ---
The Co-Op Club Presents
November-December 2017 Bookings
Church Point Cafe -  Artists play between 3:30 - 6:30pm

---
Yoga for Beginners
Mondays 7pm from 22nd Jan. 2018

---
2107 Xmas Young Musician's Concert
Sunday December 10 3-5pm

---
Wanted - Old Dinghy
Our school is needing an old dinghy for it's playground. If you happen to have an old hull whose buoyant days have passed, please get in touch and we will arrange for it's transportation!

Thanks
Nadine 0402 752465



---
Wanted to Rent
I have lived on the island for nearly 3 years and the place I am renting has gone for sale.

I am a single mum who is looking for a one or two bedroom place to rent for myself and my 15 year old son. 
I am happy to take a short term lease in the meantime.
I keen to find somewhere on the island or in the bays.

 My phone number is 0411672309
Claire Le May



---
Stump Grinder on the Island- late Jan.


---
Yacht For Sale

$5900 ono

Triton 721 23 foot sail boat

8 hp Yanmar inboard diesel
2 burner metho stove , sink.
Sea toilet under v berth in bow
Headroom approx. 5ft 7in below deck
Main sail and no2 headsail
Tender and oars

Not been used for a few years but clean and tidy.
Looking for a new owner to love her


Steve 0423 099 766

---
For Sale
$ 900 ono
Mirror sailing Dinghy
Classic timber sailing dinghy
Fully rigged with gaff mast, boom, center board and  rudder
Red sails , spinnaker with pole and sheets
Boat cover
Beach lunch trailer  ( can sell dinghy without trailer


Steve 0423 099 766




---
Kayak For Sale         
Sea Kayak  $550 ono
Pro Kayak with paddle and foot operated rudder

Steve 0423 099 766


---
Looking for a house sit
We are looking for a house sit or cheap rental for 5 days over the Christmas period.
We are flexible with dates (excluding the week 8/01/18- 12/01/18).

Happy to look after pets if required.

It is for a couple looking for a island break.

Please text or call Nicole 0426 162 843



---
Dear Scotland Island Neighbours
We are very much looking forward to moving into our new home on Scotland Island and will be arriving at

89 Richard Road bright and early on Tuesday 5 December.



The removal van will be there at around 7.30 am in the morning and will need to park on the nature strip in front of No 89 Richard Road.

We would be very grateful if that area could be left clear of other vehicles for the morning so that the removal truck does not block the road.

Thank you in advance for your help with this and we hope to say hello in person very soon.

Sam, David, Joe and Eloise



---
For Sale - Scooter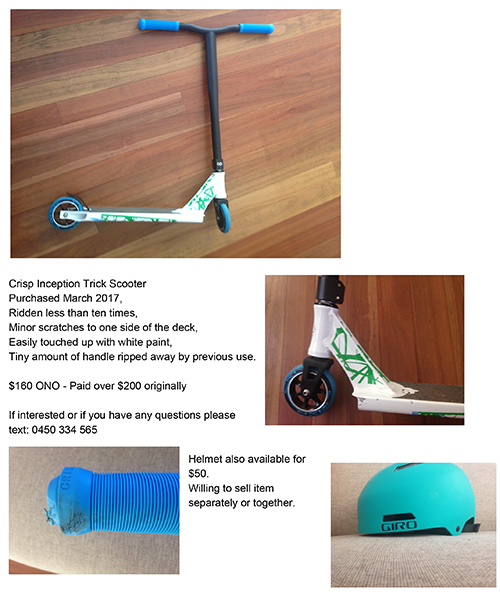 For Sale - BasketBall Hoop


---
Free Wooden Sailing Boat and Row Boat
Both boats need lots of work and TLC.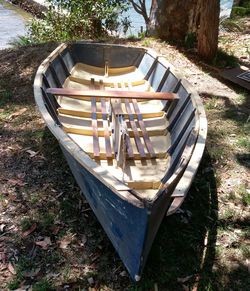 Can be done up as boats or tuned into whatever your imagination desires.

Sailing boat comes with mast, boom, rigging and sail.
 
Call Phil on 0419 757 211.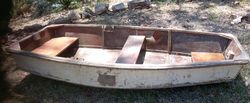 ---
Free Sofa Bed

Orange sofa bed good condition innerspring mattress pickup Richard road good access

Ring 0407829656









---
---
The Local Guide
Community Information
Scotland Island Web Site

 www.scotlandisland.org.au
click to go to the Calendar

Scotland Island Residents Facebook Page

click to go to Page

Scotland Island Community Vehicle -

0404 103 700
Number, Usage & Charges

Scotland Island Rural Fire Brigade

- 9999 4404
http://www.sirfb.org.au

West Pittwater Rural Fire Brigade

- 9997-3795
www.westpittwater.rfsa.org.au
Offshore Photo Gallery
offshore gallery
Scotland Island Residents Association (SIRA) Membership details - click here for details
West Pittwater Community Association (WPCA)

- www.westpittwater.com.au
Scotland Island Emergency Non-potable Water
Agreement for Sale of Non-potable Water
SIRA Membership Application
Emergency Non-potable Water Guidelines
General Information, Map & Contacts
http://www.scotlandisland.org.au/community/emergency-water/
Scotland Island & Offshore Children's Services (SIOCS)


Long Day Care at The Island Kindy in Catherine Park
Days of operation: Monday, Tuesday, Wednesday & Thursday
Times: 8.00am - 6.00pm
Before & After School Care
8.00am until walked to school ferry - collected from school ferry until 6.00pm
Vacation Care, Casual Care and Playgroup on Fridays
Hire the Kindy for Birthday Parties
Please call

02 9979 7856

or email SIOCSdirector@gmail.com
Facebook: https://www.facebook.com/theislandkindy
Website: http://scotlandislandkindy.business.site/
Scotland Island Community Hall Bookings:  Barbara Labram M: 0473008339  or hall@sira.org.au
Pittwater Online News

-  http://www.pittwateronlinenews.com
Tick Fact Sheet
TUG Waitlist   (Tennis User Group) - Application Form
---
Transport
---
Real Estate
---
Services, Clubs & Accommodation
Scotland Island Traders

- On-line shopping from your computer through www.g2u.com.au -delivered to your door Scotland Island by Scotland Island Traders -  Graeme Richmond - Mobile: 0419 460 331
email scotlandislandtraders@gmail.com
Justice of the Peace

- Bob Mitchell (Mackerel Beach) - 0419 745 628
Justice o

f the Peace

- Tony Hendel - 0419 242723
Justice of the Peace

- Andy Derijk - Elvina Bay 0418 613 890
 

Justice of the Peace  - 

Lexie Le Blang 0418399674 or 99992574
Pittwater Community Arts Inc.

 - Enquiries Lorrie Morgan 9997 8079  lorriemay@bigpond.com
Peninsula Music Club

- enquiries Janice Tuynman - 99991937 - jt@swift dsl.com.au
Woody Point Yacht Club

-  http://www.wpyc.com.au   commodore@wpyc.com.au
Royal Prince Alfred Yacht Club

-

02 9997 1022

  http://www.rpayc.com.au/  
Royal Motor Yacht Club

- http://www.royalmotor.com.au/ 02 9997 5511
Scotland Island Lodge

- Bed & Breakfast - 02 9979 3301 or  http://www.scotlandislandlodge.com.au 
Pittwater Youth Hostel

 - (02) 9999 5748 (8-11 am and 5-8 pm)
http://www.yha.com.au/hostels/nsw/sydney-surrounds/pittwater/ 
Handy Service

- "No job too small"  - Call Alan 0447 775 541
Electrician Wayne

on Scotland Island 0418 229 277 - offshore community sparky - www.sparky.com.au
David Walsh

-

Graphic Design

-

Custom Made Sculpture

- 0404 239 212 - ital2@optusnet.com.au
Dog Wash & Grooming

- Call Jenni: 0450 444 100 or Email: jena50@hotmail.com
Free Pump Outs for Boats

- Council with RMS installed a pump out at Careel Bay wharf
Island Based Domestic Cleaner

 - Annie Hurn - 0410 688 008 - annie.hurn8@gmail.com
Solicitor - Rachel Carter - Carter O'Neill Legal - 0406 239 946
Blue Toro Mobile Mechanics Northern Beaches - Ben (owner operator) on 0420 851 706

Vehicle servicing and repairs by coming to you...
---
Island Classes (Fitness, Dance, Art etc)
Pilates, Meditation and Group Fitness

with Patrice -  0406 483 036 patrice.corrie@gmail.com
Art Classes

- drawing and painting in oils, acrylics and mixed media- Marion 0431 457 431
Dru Yoga

- Tuesday 9.00 to 10.30 Tuesday morning - Phone Katya on 0414 187 916
---
Groups
Green Group For Catherine Park

- Run by SIOCS - Emmie Collins on 0405 330 781
Parents & Kids Groups Playgroup

- Run by SIOCS - email Emma trysemz@tpg.com.au
Scotland Island Players

- contact Bob 0414 994 092 or Kez on 0414 994 094
Catherine Park Bush Care Group

, 2nd Sunday @ 9.30am, Sharon Kinnison @ 9997 6017
Elizabeth Park Bush Care Group

, 1st Saturday @ 9 am, Bob Bolton @ 0414 994 092
Island Thinking Group

-

Roy Baker, 9999 6891, roybaker99@yahoo.com
---
Government Organisations
---
Airlines, Buses and Railways
---
Weather
Pittwater Weather
Scotland Island Tides, Moon phases, Sun rise & set
Local Weather Forecast
Radar weather for Sydney (128k circle)

---
Emergency Contact Numbers   
ALL EMERGENCIES (Police - Fire - Ambulance)
000
Police Assistance Line & Information
13 1444 or 9281 0000
Broken Bay Water Police
9910 7899 or 0412 162 093
Marine Rescue Broken Bay - Weekend
(02) 9999 3554 - (02) 8411 1121
Marine Rescue Broken Bay - VHF Radio channel
VHF Radio Channel: VHF 16
27MHz Radio Channel: 86 or 88
Scotland Island Rural Fire Service 
9999 4404
Elvina Bay Rural Fire Service
9997 3795
Lovett Bay Rural Fire Service
9979 1612
Mackerl Beach Rural Fire Service
9974 1162
Rural Fire Service Headquarters Terrey Hills
9450 3000
NSW Fire Service General Information 9265 2999
9265 2999
Rural Fire Service General information
9450 3000
State Emergency Service, Warringah/Pittwater SES
13 25 00 9486 3399
National Parks & Wildlife Service: 000, general information
9457 9322
Dept of Community Services: general information
9977 6011
Sydney Water
132 090
Energy Australia
131 388, (ah) 131 909

---
---
A complete set of past electronic newsletters since May 2000 can be found and read at https://ymlp.com/archive_gesgjgm.php  or by clicking here or by visiting the Mona Vale Library.

The Island website is at www.scotlandisland.org.au




---
To Contribute
If you would like to contribute to this newsletter it's easy!. Send an e-mail to the editor (editor@scotlandisland.org.au) or by clicking here. Type your contribution (100 words or so would be fine) and assuming it is of general interest to the community, does not include matter of a political nature and is not offensive, it will appear next month.
Subscription Information
To get on and off this newsletter,

click here

or got to:

http://www.scotlandisland.org.au/signup .


To change your address, click the 'modify' link at the bottom of this newsletter or send an email to the

editor@scotlandisland.org.au


---
Follow the PON
---
The Online Local Contacts Guide
Click HERE to load
---
The views expressed in this newsletter are not necessarily the views of the Scotland Island Residents Association (SIRA), or the Western Pittwater Community Association (WPCA)

---