NOAM CHOMSKY ON WHY CLINTON "FEARS" BDS

World renown linguist, philosopher and intellectual, Professor Noam Chomsky, has said that: "Boycott and sanctions make perfectly good sense…you can understand why Hillary Clinton is frightened of them. They might undermine the policy of her husband and his predecessors, and Obama, as well, to support Israeli violence and aggression…and the nonviolent [BDS] actions to undermine this, legitimate actions, of course frighten Hillary Clinton enormously. " Click here for more info.
DA'S HELEN ZILLE MEETS ISRAELI SETTLEMENT

 

COMPANY 

Helen Zille of South Africa's opposition party, the Democratic Alliance (DA) recently met the Israeli settlement linked company Netafim (click here). For more info on Netafim and its links to the illegal Israeli settlements, click here.
ANC: WE SHOCKED BY DA'S SUPPORT FOR ISRAEL

The ANC in the Western Cape has expressed "shock" that South Africa's opposition party, the Democratic Alliance (DA) "continues" to support Israel. Click here for more info.
VIDEO: HILLARY CLINTON ATTACKS SOUTH AFRICAN INSPIRED BDS BOYCOTT OF ISRAEL MOVEMENT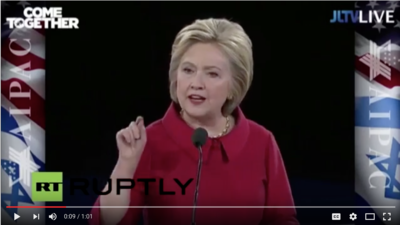 United States presidential contender Hillary Clinton has attacked the South African inspired, non-violent, citizen-led, Palestinian-headed, international BDS boycott of Israel movement. Speaking at the pro-Israeli lobby American Israeli Public Affairs Committee (AIPAC) she said: "we have to be united in fighting back against BDS". >>> Click here for video <<<
Even though BDS is increasingly supported by progressive Israelis and members of the Jewish community (who are critical of Israel's illegal occupation and apartheid policies) Clinton has tried to falsely suggest that the Boycott, Divestment and Sanctions (BDS) movement is anti-Semitic.
Israel's policies against the indigenous Palestinians (Muslim, Christians and others) has been compared to Apartheid South Africa by anti-apartheid icons including Archbishop Desmond Tutu, John Dugard, Ahmed Kathrada, Winnie Mandela, Denis Goldberg and others. However, last year, in a public letter to Haim Saban (USA Democratic Party mega donor, Hollywood mogul, and pro-Israeli lobbyist) Clinton attacked the BDS movement and added that: "I am also very concerned by the attempts to compare Israel to South African Apartheid" (Click here to read Hillary Clinton's letter to pro-Israeli millionaire Haim Saban).
[TODAY, SUNDAY 12 JUNE]: 

RADIO PLEDEGE LINE - CALL IN, PLEDGE, DONATE TO BDS SOUTH AFRICA
Join us

today

(Sunday 12 June) from 3pm on Cii Radio Station in raising funds for BDS South Africa and the BDS boycott of Israel.
Tune in: DSTV Audio Ch 865
DONATE TO BDS SOUTH AFRICA
BANK: First National Bank
NAME: BDS South Africa
NUMBER: 62273997943
BRANCH NAME: Rosebank
BRANCH CODE: 253305
SWIFT CODE: FIRNZAJJ 

BDS SA, is a registered Public Benefit Organisation (PBO) with Section 18A tax-deductible status. This means that any donations made to us can be used to apply for tax exemptions. Kindly send copy of proof of payment to finance@bdssouthafrica.com for receipt.
JOIN BDS SOUTH AFRICA'S
EMAIL MAILING LIST
To join BDS South Africa's email mailing list (& receive these newsletters) send a blank email message to alerts@bdssouthafrica.com