As many of you are aware, Alan Phillips stood down as Chairman at this year's AGM. His contribution over the past year has been exceptional, not only to the running of the Federation, but also to the successful adoption of the Allotment Strategy.

We thank Alan for all his hard work and sense of humour and hope he now has a well-earned rest! I would like to introduce myself as the new Chairperson for BHAF. In taking over from Alan, a hard act to follow, I also understand I may be the first female Chairperson in BHAF's history. No pressure then…
It's going to be an exciting year ahead of us as we work together to begin implementation of the Strategy. Already some of the changes have come into effect, notably the choice of plot size, and there is much more to come. There will be many opportunities to contribute thoughts and ideas to the process, and we will keep you informed as to how you can get involved. Here's to an enjoyable, stress-free growing season!
Emily Gardiner (Keston)
The 2014 Allotment Strategy
As you are no doubt aware, the Allotment Strategy is now finished and was passed by the Council in March. Here are links to the briefing documents and the full strategy document.

Thanks to all of you who attended our AGM last month. The minutes from the AGM can be found here.
One issue that came up at the AGM was the 'minimum requirements of allotment associations' to be affiliated to the Federation. The minimum requirements can be seen here. The BHAF are keen to encourage Allotment Associations as we believe that they bring many important benefits to sites for plot holders. We have a page on our website with details on how to form and run associations.
However we are also committed to making sure that any Associations that want to be
affiliated with us are properly representing
their plot holders and run in an open and transparent manner. Allotment
Associations can be a real force for good
when run openly, but we are also aware of examples around the country where small groups have 'taken over' allotment sites and attempted to run them according to the personal views of a small number of people. It is to that end that we have drawn up our minimum requirements which were endorsed at the AGM.
All plot holders in Brighton and Hove are members of the Allotment Federation, and it is our duty to make sure that they are being properly represented by any group which attends our meetings and claims to be representing them.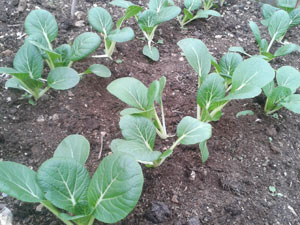 Pak Choi Seedlings Spring 2014

New System for Plot Letting
We have had a number of enquiries regarding how the choice of plot size now works.
There is now a 'principle of choice' established by the strategy whereby existing plot holders and those on the waiting list should be able to choose their plot size. Automatic halving of full plots has stopped. It is the role of the site rep to try and offer a choice of plot size wherever it is available.
Full details of the new procedures can be seen in the final strategy document on page 63. Sites will now follow slightly different procedures depending on how many plots are at that site.
Small sites are sites with less than 100 plots.
Large sites are sites with more than 100 plots.
This is a list of the 'Large Sites' ;
North Nevil, Eastbrook Farm, Camp Site, Craven Vale, Whitehawk Hill, Lower Roedale, Moulsecoomb Estate, Tenantry Down, Roedale Valley, The Weald.
New Tenants
Small Sites Procedure
Irrespective of size of plot that becomes available, the first person on the list will be offered it. If it is a full plot, and the applicant wants a full plot, it will be let as such. If the applicant wants a half plot, and there are no other half plots available, only then can the plot can be halved.

If the plot that becomes available is a half plot, and the applicant wants a half plot they can take it, but if the applicant wants a full plot they can choose to wait for a full plot to become available. Applicants should talk with the site rep to find out the likelihood of a full plot becoming available.
Large Sites Procedure
When a full plot becomes available (including previously split plots), Site Reps at Large Sites will search down the top 10 applicants to see if there is someone there who wants a full plot. If there is, then they will be let the full plot.
If only half plots are available, the list will be processed in chronological order. If an applicant would prefer a full plot, they can choose to remain at the top of the list until a full plot becomes available.
Current Tenants
Current plot holders are also now allowed to choose to either upsize or downsize. Any current plot holder who wishes to upsize or downsize should contact the allotment officer to register their request.
Upsize
You can apply to take over the other half of your plot if it becomes available as long as you do not have a history of correctly issued notices in the past 3 years and you have expressed your interest more than a year before. We therefore recommend that if you wish to upsize in the near future that you contact the allotments officer with this request as soon as possible.
If the other half of your plot does not become available, you can choose to leave your half plot and take on a new full plot elsewhere on your site subject to the same criteria as above.
Downsize
Plot holders can choose to downsize, by either swopping with another tenant on their site, or if there is no other practical solution by relinquishing half their plot. Again, these requests should be made to the allotment officer.