GEORGIA HUNTER
We Were the Lucky Ones
Tuesday, January 9 at 7 PM

Georgia Hunter did not know that she came from a family of Holocaust survivors until she was 15. In her debut novel, she tells the story of her family: Three generations trapped in Radom, Poland, during World War II. Astonishingly, all of them survived; less than 300 of the 30,000 Jews in Radom at the start of the war were alive at the end.

"Amid the many accounts of Jews who did not survive the Holocaust, this novel stands out in its depiction of one lucky family who, miraculously, did." - Booklist
---

NICK HARKAWAY (in conversation with Robin Sloan)
Gnomon
Thursday, January 18 at 7 PM

This new book from the widely acclaimed author of The Gone-Away World and Tigerman is a "beguiling, multilayered, sprawling novel that blends elements of Philip K. Dick-tinged sci-fi, mystery, politics, and literary fiction in a most satisfying brew," according to Kirkus Reviews.

In surveying, a gnomon is a set square used to mark right angles on a chart. In the world of Gnomon, citizens are constantly observed and democracy has reached a pinnacle of 'transparency.' Every action is seen, every word is recorded, and the System has access to its citizens' thoughts and memories - all in the name of providing the safest society in history.
---
JON GOLINGER
Saving San Francisco's Heart: How to Win Elections, Reclaim Our City, and Keep SF a Special Place
Tuesday, January 23 at 7 PM

Meet longtime San Francisco public interest advocate and attorney Jon Golinger, whose first book has been described as "a political how-to that shows how change can be achieved" by the San Francisco Examiner. Saving San Francisco's Heart is 'an action manual for the resistance' that takes readers on a roller coaster ride through the wild world of SF politics, creating a road map that shows how fed-up citizens and fired-up activists can take on powerful forces – and win.
---

DAVE EGGERS & MOKHTAR ALKHANSHALI
The Monk of Mokha
Sunday, January 28 at 10 AM*
*please note special day and time

From the best-selling author of The Circle and What Is the What comes this heart-pounding true story, weaving together the history of coffee, the struggles of everyday Yemenis living through civil war and the courageous journey of a young man - a Muslim and a U.S. citizen -- following the most American of dreams.

Mokhtar Alkhanshali grew up in San Francisco as one of seven siblings raised by Yemeni immigrants in a tiny apartment. At 24, unable to pay for college, he works as a doorman, until a chance encounter awakens his interest in coffee and its rich history in Yemen. He travels to Yemen and visits farms in every corner of the country, collecting samples, eager to improve cultivation methods and help Yemeni farmers bring their coffee back to its former glory. Suddenly, civil war engulfs Yemen, the U.S. embassy closes, Saudi bombs begin to fall on the country, and Mokhtar is trapped.
---

SUNJATA MASSEY (in conversation with CARA BLACK)
The Widows of Malabar Hill
Tuesday, January 30 at 7 PM

Agatha and Macavity Award-winning author Sunjata Massey (the Rei Shimura mysteries) will read from her new book, the first in a new series set in 1920's Bombay, featuring a distinctive heroine: One of India's first female lawyers. Perveen Mistry, who earned an Oxford degree and joined her father's law firm, suspects that the three widows of a rich Muslim mill owner were acting under duress when they signed over their inheritance to charity. A subsequent murder proves that she was right to be concerned.
---
More Upcoming Events:
SAN FRANCISCO WRITER'S CONFERENCE
Friday, February 15 - Saturday, February 16

---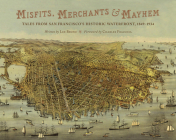 LEE BRUNO
Misfits, Merchants & Mayhem: Tales From San Francisco's Historic Waterfront, 1849-1934
Thursday, February 22 at 7 PM

---

JACQUELINE WINSPEAR
To Die But Once
Thursday, March 29 at 7 PM

---