Hello CSA members,
This is just a reminder that today, Wednesday August 30th is a CSA share pick-up. Your share will be ready for you to pick up at your chosen pick-up location between 4-7 pm.  We are excited about this week's harvest.
Also, registeration is now open for Winter Share. Read on for details.

We are looking forward to seeing you on the farm!
Winter CSA Share Registration  Begins Today
Winter Share registration begins today.  We hope that you will consider joining to extend the CSA season into December.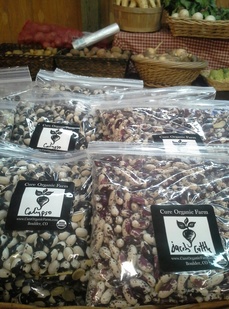 First pick-up is on October 25

th

 (the first Wednesday after summer CSA share ends)

Winter share is eight weeks long:  

October 25th -  December 13

th

.

Pick up's take place Wednesday from 3:30-6:30pm in front of the farm store or inside depending on weather. 

Winter Share is one size and includes both veggies and fruit. $240 for the eight-week bounty of veggies and fruit ($30 per week).

 
We will continue to offer our other shares as well including:
Egg Share $48

Bread Share (every other week) $30

Wine + Cheese (e/0 week) $120

Coffee Share (every other week) $44

Winter Share favorites including potatoes, garlic, dried beans, our sweet cool weather spinach, head lettuce, kale, chard, celery, broccolini, beets, carrots, turnips, parsnips, onions, leeks, radishes and of course winter squash! Included in the winter share is a fruit share in partnership with western slope farmers that will include incredible pears, plums, and apples, perfect for fall baking.
Grilled Peaches with Cinnamon Sugar Butter adadpted from Bobby Flay
1 stick unsalted butter, at room temperature
1 teaspoon cinnamon sugar
2 tablespoons sugar
Pinch salt
4 ripe peaches, halved and pitted
Canola oil


In a small bowl add the butter and stir until smooth. Add the cinnamon sugar, granulated sugar and salt and mix until combined.
Heat grill to high. Brush peaches with oil and grill until golden brown and just cooked through. Top each with a few teaspoons of the butter.
Fresh Basil Vinaigrette from Molly Watson
2 cups basil leaves (about 1 large bunch)
1/2 cup good-quality olive oil
1/4 cup white wine or champagne vinegar
1 small clove garlic
Sea salt and freshly ground black pepper to taste
In a blender or food processor, whirl the basil, oil, vinegar, and garlic until smooth. Add salt and pepper to taste. Makes about 1 cup Fresh Basil Vinaigrette.
In your CSA share this week
Dragon Beans or Green Beans
Tomatoes

Eggplant

Sweet Corn
Cucumbers
Peppers
Spicy Greens
Basil
Zucchini and Summer Squash
Coming next week... sweet corn, tomatoes, peppers, greens, beans, zucchini and more.
Fruit share - Peaches
Flower share - Mixed bouqet
Egg share - this week
Coffee share - next week
Bread share - next week
Wine & cheese - next week
Grilled Peaches
Summer squash soup with basil
Basil Vinaigrette
Detailed recipes are below
Sunday Supper at Frasca Food & Wine - September 10th
---
What a beautiful season to celebrate the non-stop, round the clock work of our local farmers. The Boulder County Farmers Markets become busier by the week, and seemingly every day at Frasca and Pizzeria Locale, we're getting in the most jaw dropping produce of the season.
Earlier this year in March, Frasca hosted their first "Sunday Supper" – designed to be a community-style dinner that creates a space for our favorite artisans and guests to share a meal together.
Erin at Frasca says:
"There is farm to table, then there is "farmer at your table", and that's exactly what we're creating with our next Sunday Supper on Sunday, 9/10, celebrating Boulder's finest farmers.
Please help us welcome in some of the best farming families from Cure Organic Farm, Toohey & Sons Organic Farm, Buckner Family Farm and Red Wagon Farm as they join your table."
To make a reservation or find out more info please call 303-442-6966.
"Don't judge each day by the harvest that you reap, but by the seeds that you plant."
 -Robert Louis Stevenson
Summer Squash Soup with Basil adapted from Curtis Aikens
2 tablespoons olive oil

1 1/4 pounds zucchini, or pattypan squash, roughly chopped
1 large onion, chopped
6 cups vegetable stock
1/2 cup julienned basil
1 1/2 tablespoons butter, softened
1 1/2 tablespoons flour
Salt and freshly ground pepper to taste
Juice of 1 lemon
Sour cream or plain yogurt as an accompaniment


Heat the oil in a large saucepan or stockpot, add zucchini and onion. Saute for 5 minutes or until onions are translucent and zucchini is crisp tender. Then add stock, bring to a boil, reduce heat and partially cover and cook for 25 minutes. Add basil during the last 5 minutes of cooking. Mix the butter and flour together into a paste. Remove 1 cup of simmering stock and whisk in butter mixture until smooth. Add back into soup, stir until thickened. Remove soup from heat to a blender and puree until smooth. Taste and season with salt and pepper. Add lemon juice and serve with a dollop of sour cream or yogurt.



Cure Organic Farm

7416 Valmont Rd.
Boulder, CO 80301
cureorganicfarm@yahoo.com
www.cureorganicfarm.com