Liquid Rubber during the wet winter months

Who, what, where?

Every month we give you an update on the projects that have been completed by our applicators with Liquid Rubber®. Some are large (in terms of volume), others are smaller, but this way you get an impression of the many possibilities with Liquid Rubber. If you have any questions about these projects, please contact us.
An old oil storage tank was in a very poor condition. It was coated with an old bitumen coating and on some spots the coating was entirely vanished. The underlaying steel was out in the open and needed to be protected against water to avoid corrosion. Liquid Rubber is the perfect product to renovate these kind of issues.
After the surface was cleaned thouroughly, the Liquid Rubber SprayGrade was sprayed directly on the existing coating and the steel parts. Liquid Rubber realizes a fully seamless adhering coating on top of the existing surface. Liquid Rubber is of course fully waterproof and 100% UV resistant.
A neat and effective way of renovating. The storage tank is now in good condition to last for years.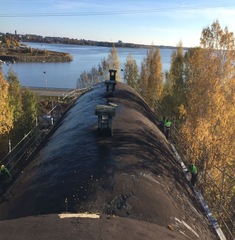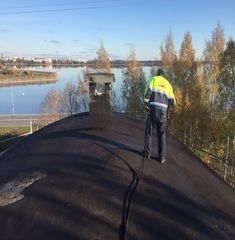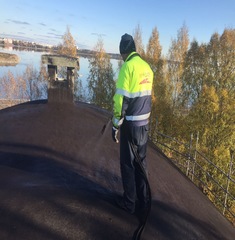 Photos: Liquid Rubber Europe (LRE Coatings BV)
------------------------------------------------------------------------------------------------------------------------------------------------
Project:
Sealing concrete is necessary for many reasons. Especially underneath a green roof, the concrete needs to be extra protected and waterproofed.

First the concrete is fully cleaned with a power wash. The upstands are all treated with the Liquid Rubber HBS200 combined with geotextile. Afterwards, the Liquid Rubber BelowGrade was applied directly on the concrete deck. This spray applied system is very efficient and effective. After application, the Liquid Rubber cures into a fully seamless and flexible (1200%) membrane.
This high quality sealant ensures a fully waterproofed layer on top of the concrete deck. The green roof can be build up on top of the Liquid Rubber.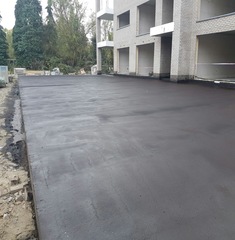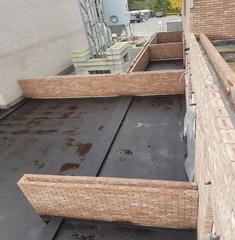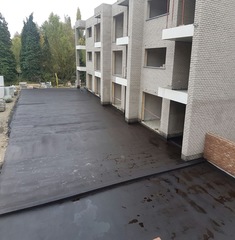 Photos: Liquid Rubber Europe (LRE Coatings BV)
------------------------------------------------------------------------------------------------------------------------------------------------
Project:
Roof connections have very often leaking problems. On this job, Liquid Rubber HBS200 was applied to waterproof several roof connections.
Liquid Rubber HBS200 has a very strong adhesion power to many different surfaces. As can be seen on the photos, the HBS200 was applied directly on the glass stones and realizes a seamless waterproofing on to the bitumen roofing. Because Liquid Rubber HBS200 is a liquid applied product, it can easily be applied on the difficult 90 degrees corners.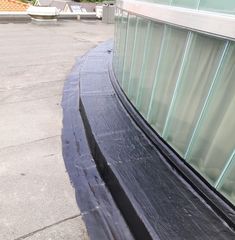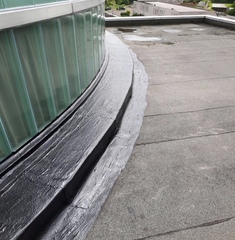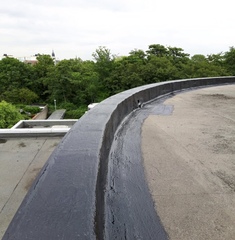 Photos: Liquid Rubber Europe (LRE Coatings BV)
Now that the clock is on winter hours, it feels like the summer is even further away. Unfortunately, the wet and cold winter months are upon us. For the construction and industrial markets, these are the worst months to work in.
Liquid Rubber has a big advantage during these wet months. Although Liquid Rubber is water based, it is not water soluble. This also means that Liquid Rubber can be applied on light wet surfaces. When a porous surface contains a lot of moisture, but does not leak any water, Liquid Rubber can be applied. Liquid Rubber wil directly realize a functional sealant. It will reach perfect adhesion in the period afterwards.
Important to know is that if Liquid Rubber is applied on a light wet surface, the water will need another way out of the construction. Liquid Rubber will seal the water and water always needs an exit. 
The application possibility on these light wet surfaces makes Liquid Rubber very flexible in application during these wet winter months.
If you have any questions regarding the wet surface possibilities, you can reach us at info@liquidrubbereurope.com or via +31297 58 78 66.

On our social media account we post informative, interesting and entertaining posts. On YouTube we post videos that are informative and demonstrate the large number of possibilities of our product range. Besides following our developments you can also share your opinion about Liquid Rubber with the rest of the world.
 
Click the following buttons to follow Liquid Rubber Europe.
Liquid Rubber Europe, Groot Mijdrechtstraat 15, 3641 RV  Mijdrecht, The Netherlands