Say H

appy Anniversary to Carr Manor! It's the Carr Manor's 15th Anniversary in Cripple Creek, CO, a Boutique Hotel that acts like a Bed and Breakfast. In celebration, we are offering guests a 15% discount on your stay from June 15 - July 31 (New reservations only and excluding holidays, special events, or for executive suites). You must call the inn directly at 719-689-3709 and request the 15th Anniversary Discount. And, the First Annual Pearl DeVere Day will be held on Saturday, July 27th in Cripple Creek. Pearl DeVere was the most important and influential Madam in U.S. history. In the late 1890s, Pearl DeVere owned and operated the prestigious "Old Homestead House" that played host to some of the country's wealthiest and most prominent businessmen. The brothel has survived for more than 120 years. The Old Homestead is the last original building left standing of the many infamous pleasure palaces on Cripple Creek's Meyers' Avenue. The day will be filled with bed races, live music, beer garden, great food and craft and steam-punk vendors fill the day with Victorian fun. Today, local ladies dress in costume and keep the story of the Old West alive through the stories they share about the lives of the girls who worked in the brothel and of the gold miners who made Cripple Creek famous. At the Carr Manor there is an Executive Suite named for her. Come and stay at the Carr Manor and enjoy a day that takes you back to Victorian times.
The Claremont Inn & Winery Weekend 2-Day GetAways
"An easy way to getaway and have some fun and get some rest…" It's easy… it's a great deal… and you get to customize your weekend getaway any way you wish… Take a break for yourselves… you deserve it! Each Claremont Weekends package includes 2 nights in the luxurious room of your choice, Wine Tastings each afternoon followed by delicious Chef's Menu Dinners each evening. Both mornings you will enjoy full Country Inn breakfasts… delivered right to your door for Breakfast-in-Bed if you like! PLUS We've included some great FREE upgrades: If you like you can upgrade to a Romantic Weekend GetAway, Cooking Class Saturday, Claremont Cooking Show Saturday, Escape Room Saturday, Murder Mystery Saturday, A Book & a Box of Chocolates and any of these upgrades can be added at no charge, a $100 savings! Visit Claremont Inn & Winery events page for more details. Call us today or visit our website to plan your Summer Claremont GetAway 719-348-5125.

Holden House 1902 Bed & Breakfast Inn

offers add-on Romantic Packages

including the

Romance Breakfast En-Suite with a specially prepared breakfast served en suite which can be yours any day for just an additional $15 per day. Want to relax or just spend a morning moment without having to arrive at the dining room breakfast table? Then this is the package for you. The ultimate in pampered luxury and relaxtion. The Sparkling Package will make your celebration sparkle by adding on this package to your stay. You'll receive chilled sparkling cider and two complimentary Holden House signature embossed wine glasses at check-in and enjoy a delicious gourmet breakfast served in the privacy of your suite. And, congratulate Holden House for heading into their 34th year of hospitality!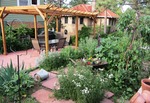 A Special Congrats to
Avenue Hotel Bed & Breakfast
in Manitou Springs for being selected as one of the Best in Business this year by the Colorado Springs Business Journal! The Avenue Hotel Bed and Breakfast, a boutique hotel, in historic Manitou Springs sits on a unique 1/4 acre downtown location offering an adult retreat to relax and enjoy turn of the century architecture with modern amenities.Our Colorado bed and breakfast Inn has a perfect location to walk to restaurants, shops, penny arcade and art galleries. Lovely guest rooms are warm and charming; each distinctive and spacious with a private baths and sitting areas. Everything is included: breakfast, free Wi-Fi, hot coffee or tea bar, free movies, snacks in your room, homemade cookies, computer & printer access, and a complimentary afternoon wine or beer. Don't forget your suits the outdoor patio Hot tub is a real pleasure after a full day. Numerous outdoor sitting area are located around the property, tables and chairs in the back garden and BBQ is available.
---

Servings: Makes 12 1/4 cup servings.
Ingredients:
1 1/2 cups gluten-free rolled oats
1 cup broken pecans or walnuts
1/4 cup raw sunflower seeds or pumpkin seeds or both
1/4 cup cocnut (optional)
1 tablespoon chia seeds (optional)
3 tablespoons brown sugar
3 tablespoons Maple syrup
3/4 cup raisins or dried cranberries or both
Instructions:
Preheat oven to 250 F degrees.

In a large bowl combine oats, nuts, seeds, coconut and brown sugar.

In a separate bowl mix maple syrup, oil & salt; stir into the dry ingredients.

Spread mixture on a rimmed cookie sheet and bake for one hour, stirring every 10 minutes.

Remove from the oven and mix in raisins or other preferred dried fruits.

Serve granola with milk or over yogurt.
---
Did you know if you #BookDirect you can save time & money?
#BOOKDIRECT
AND SAVE!
~
with direct links to our bed and breakfast association members in Colorado
In This Issue
Quick Links:
~
Let's Get Social! Join us on
Social Media
~