---
Scotland Island General Clear Out - Monday, February 25




General, Whitegoods & Metals





PLEASE READ COLLECTION GUIDELINES ATTACHED BEFORE PUTTING YOUR MATERIAL OUT!



The total quantity per household should not to exceed 3 cubic metres (3m x 1m x 1m)



UNACCEPTABLE ITEMS



Asbestos, batteries and household chemicals
Building materials – wall linings, gyprock, studs, timber beams, tiles, concrete
Car, motor and boat parts, rubber tyres – rims are accepted
Food, full gas bottles (open valve), glass including windows, panes, mirrors, panels, shower screens, picture frames, liquid paints, oils, fuel, soil, earth, fill, bricks
Recyclable materials – paper and cardboard, soiled wrappings, vegetation, plants
Unacceptable Items will not be collected – please remove from roadside
ACCEPTABLE ITEMS
Appliances such as stoves and fridges – remove doors; frames with glass removed – break glass into newspaper, wrap securely and put in household garbage
Paint tins and fuel containers – with the lid off and no liquid
Manageable quantities of: delivery pallets, wooden stairs, decking, gates, fencing, guttering, down piping, iron sheets and water tanks – cut down to 1.2 metre lengths and able to be lifted by one person; nails must not stick out – please hammer down; hot water systems – emptied
Metals to be kept separate, where possible, to be taken to Kimbriki Recycling & Waste Facility for re-processing and re-use
Place metals in a separate pile to other general clean up materials
Download Flyer Here
---
Scotland Island Players
The Hallelujah Girls
Another in our tradition of fun shows, playing at the Community Hall, Fri/Sat 15th & 16th, 22nd/23rd March, at 8 pm. Tickets, $20, can be booked at Scotland Island Lodge, 9979 3301, and picked up there, or at the Hall on the night (by 7.45pm, or they can be sold to the waiting hordes), or from `Wags' (David W-M) at the Point, - but not on rehearsal or performance nights.
---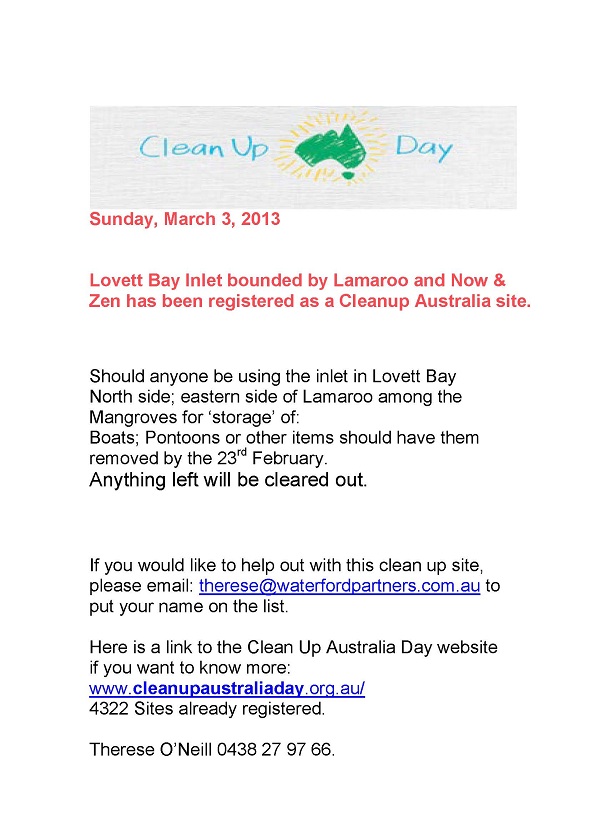 ---
CREATIVE MUSIC LESSONS AND AFTER SCHOOL CLASSES ON SCOTLAND ISLAND





Introducing BELLS WHARF CREATIVE: after school classes for kids, and one-on-one singing/songwriting/guitar/ukelele/theory lessons for kids and teens.



Adult lessons available in the evenings and on Wednesday - days.

Conveniently located on Scotland Island, directly above Bells Wharf. Please call me (Jackie) on 0415159178 to discuss your interest. I also offer group/pair lessons and one-off workshops.



***UPDATE***



There are still limited spaces in my Bells Wharf Creative after school classes for kids - three spaces on Tuesday and one on Thursday, the classes usually start around 4.10pm and go for 50 minutes/1hour.

I have also three half hour one-one-one lesson spaces left for children/teens on Monday and Tuesday at 5.10pm, and Wednesday 4pm.



PRICES



After School Classes - $15/head includes materials, afternoon tea
One-on-one - $35/half hour recommended for children, $70/hour recommended for adults and dedicated teens
Discounts apply for multiple bookings and up-front term payment.



MORE INFORMATION



For a brochure which includes after school class content information, detailed pricing, and my bio and qualifications, please email me at bellswharfcreative@gmail.com - I am most happy to answer any questions.


Best wishes,
Jackie Marshall
0415159178
bellswharfcreative@gmail.com



---
Wanted - House to Lease


We are a family on Scotland Island who need to find a property to lease by mid-April. We can however move before
then too. Currently we rent a 3 bedroom through a local real estate but we are happy to lease privately too with an owner if the opportunity arose. Our children go to the local schools and love the lifestyle that Scotland Island and the Bays offer. So far we've been fortunate enough to rent a waterfront and have just loved the easiness of parking your boat out the front and enjoying the yachts sailing by. It's a beautiful life here away from the hectic mainland with gorgeous neighbours and a lovely community.

Please if anyone knows of something coming up either on the island or in the bays we'd love to check it out.
Contact Essie on 0418253870."



---
Leaving the Island Garden Sale




'SENTOSA' 59 FLORENCE TERRACE



We finally SOLD our house last Monday

So we are having the first "Garden Sale" on

Sunday 24th February

, just prior to the 'clean up' and hoped that you could manage a line or two in the Newsletter.

We are sure that you know, we have had a wonderful stay of 21yrs. but age and health issues mean that we need change from the boat trips and Jetty, & 70 steps routine.

Completion is eight weeks away, so we will have lots of 'Farewell' meetings to look forward to !!

Audrey & Brian
'SENTOSA' 59 FLORENCE TERRACE



---
For Sale



Bunk Beds $150



High quality, beech veneer. Tall-boy drawers and book shelf at one end and student desk with drawers and book shelf at the other.
Very comfortable mattress.


Contact Sophie Peet 0435 269 877




---
Missed out on a Newsletter?




Go to the archives to download previous notices



A complete set of past electronic newsletters since May 2000 can be found and read at https://ymlp.com/archive_gesgjgm.php



---

The Online Local Contact Guide

Click HERE to load
The views expressed in this newsletter are not necessarily the views of the Scotland Island Residents Association (SIRA), or the Western Pittwater Community Association (WPCA)
---