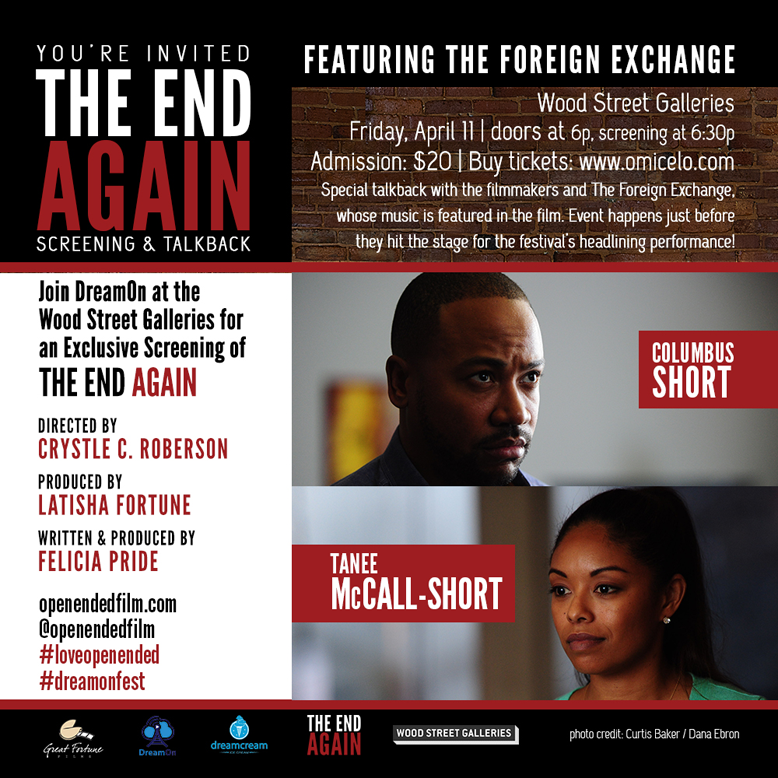 THE END AGAIN Film Screening & Talk Back
GREAT FORTUNE FILMS and GREAT PICTURE SHOW PRODUCTIONS
in partnership with OMICELO and DREAM CREAM ICE CREAM present
THE END AGAIN

a film screening and Talk Back
with the filmmakers and The Foreign Exchange at the#DreamOnFest!
Join DreamOn at the Wood Street Galleries for an exclusive red-carpet screening of THE END AGAIN starring Scandal's COLUMBUS SHORT and, his real life wife, actress TANEE McCALL-SHORT. PLUS, join in the post-film Talk Back session* with the filmmakers and THE FOREIGN EXCHANGE! And this happens just before The Foreign Exchange hits the stage as the festival's headlining performance!
For tickets visit www.omicelo.com.
Hear from the film soundtrack producers, The Foreign Exchange, on contributing music to THE END AGAIN, their insight on being independent artists and succeeding in the music business. Learn about the filmmakers' ideas and the process behind making of the movie, being independent filmmakers in the digital media/film festival age and what it was like to work with the The Foreign Exchange on the movie.

Check out THE END AGAIN teaser: https://www.youtube.com/watch?v=rA-wAkyhMbg
Features The Foreign Exchange's "Eyes to the Sky" from the Love in Flying Colors album.
*Audience Q & A session will follow the Talk Back session.
**Doors open at 6pm. Screening begins at 6:30pm. General admission is $20.
About THE END AGAIN #loveopenended
Directed by Crystle C. Roberson
Produced by Latisha Fortune and Columbus Short
Written and produced by Felicia Pride
THE END AGAIN is a pensive portrait of a couple's last day together as they emphatically end their six- year relationship. Joe and Jane have reached an impasse. It's moving day. But knowing that it's over doesn't make it any easier to walk away. The mood is somber yet routine as Jane prepares their tea like she's done so many times before. Joe helps her pack up the last of her belongings even as she prepares to shut the door on their relationship and walk out of his life. Throughout the day, they muse on memories shared and rehash old arguments. Still the outcome remains the same. It's over. In the end, their final farewell is emotional yet cold. Jane leaves. Joe is left alone. The end has arrived. Or has it?

The contemporary romantic drama illustrates the sometimes complex yet nuanced struggles that often accompany breakups as Jane Salmon (McCall-Short) and Joe Maxwell (Short) attempt to reconcile their personal battles of conscience against a love that still remains. THE END AGAIN is a short film prequel to the forthcoming feature length film entitled OPENENDED, which reunites Joe and Jane for a single day to mourn the loss of a mutual friend and to confront unresolved feelings.
For tickets visit www.omicelo.com.
WEBSITE: www.omicelo.com | Hashtag: #DreamOnFest #loveopenended
Facebook: Facebook.com/Omicelo | Facebook.com/openendedfilm
Twitter: @Omicelo | @openendedfilm
Instagram: @Omicelo | @openendedfilm
Tumblr: omicelo.tumblr.com | openendedfilm.tumblr.com