Laser Training Cabarete

Cabarete, Dominican Republic

.

August 2018
In this issue:
New for 2019!
While training in Cabarete this past January two podium-frequent Laser sailors told us that Cabarete offers very similar conditions to what they expect in Japan 2020 and at other important racing venues leading to the Olympics.
As the travel to Cabarete is easy and accommodation is relatively inexpensive they expect to train in Cabarete for at least two month in 2019. After all, conditions in Cabarete are unique as every day offers different challenges allowing for improvement of different aspects of sailing in a short period of time. One can not just get in to the same habits day in day out.
So… we decided to buy ten new Ice Blue Lasers following the 2018 worlds in Aarhus. The boats will feature composite spars, and carbon tillers and extensions, in case you prefer to travel to Cabarete with just one bag.
With these new boats we will also cater to teams and coaches who wish to use our facilities, our fleet of new Lasers, and
our coach boats to run their own training programs.
We will keep some of our white Lasers for sailors who are not yet on an Olympic budget and who are looking for an economical way to get better on a Laser.
More news regarding our winter programs coming your way soon.
---
17th Caribbean Laser Midwinter Regatta
Reserve the the dates:
The 17th Caribbean Laser Midwinter Regatta will take place January 18th-19th and 20th, 2019.
---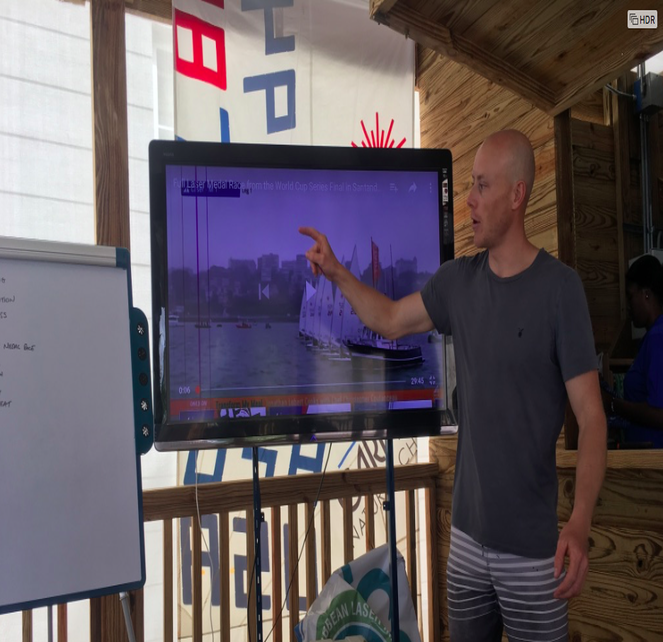 Olympian and two time world champion Nick Thompson GBR, explaining what to analyze during a starting sequence in one of his clinics January 2018 at our new club house.
---
---