---
---
PLEASE NOTE THERE HAS BEEN A CHANGE OF

DATE FOR THE COMMENCMENT OF ROADWORKS AT

SITE 1, ROBERTSON ROAD
NOTICE OF ROAD CLOSURE DUE TO DRAINAGE UPGRADE WORKS
 
Significant drainage works will be carried out at two Island locations as follows:


SITE 1:
10 to 18 ROBERTSON ROAD:
Installation of 70m of concrete storm water pipes, Installation of 2 inlet pits and 70m of asphalt dish drain. Installation of water bars across the road.
 


THE ROAD WILL BE CLOSED AT THIS LOCATION FOR 7 DAYS BEGINNING WEDNESDAY 7 JUNE TO WEDNESDAY 14 JUNE

 
THERE WILL BE NO VEHICULAR ACCESS TO ROBERTSON ROAD NORTH FROM CARGO; PEDESTRIAN ACCESS WILL BE AVAILABLE – RESIDENTS WILL NEED TO ACCESS ALL LOCATIONS VIA SOUTH FROM CARGO
 

SITE 2:
INTERSECTION FLORENCE TERRACE & KEVIN AVENUE, ABOVE TENNIS WHARF:
Installation of an inlet pit, asphalt dish drain and replacement of the existing broken concrete dish drain with a reinforced concrete dish drain. Installation of 3 water bars across the road.
 
THERE WILL BE MINIMAL IMPACT TO ACCESS AT THIS LOCATION DURING THE WORKS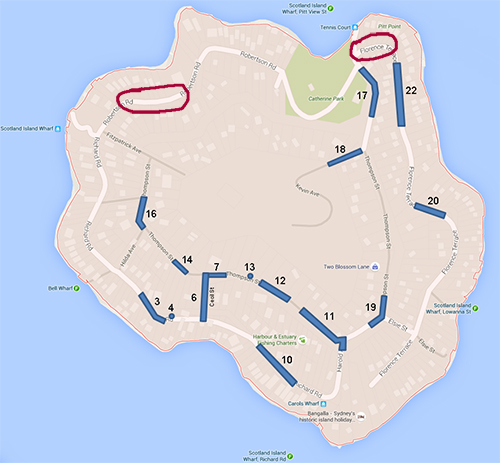 SCOTLAND ISLAND ROADWORKS LOCATION MAP

STAGE 2 UPDATED JUNE 2017 – SITE 1         AND SITE 2 


Queries:  Email allasphalting@gmail.com



---
---
---
A complete set of past electronic newsletters since May 2000 can be found and read at https://ymlp.com/archive_gesgjgm.php  or by clicking here or by visiting the Mona Vale Library.

The Island website is at www.scotlandisland.org.au



---
To Contribute
If you would like to contribute to this newsletter it's easy!. Send an e-mail to the editor (editor@scotlandisland.org.au) or by clicking here. Type your contribution (100 words or so would be fine) and assuming it is of general interest to the community, does not include matter of a political nature and is not offensive, it will appear next month.
Subscription Information
To get on and off this newsletter,

click here

or got to:

http://www.scotlandisland.org.au/signup .


To change your address, click the 'modify' link at the bottom of this newsletter or send an email to the

editor@scotlandisland.org.au


---
Follow the PON
---
The Online Local Contacts Guide
Click HERE to load
---
---
The views expressed in this newsletter are not necessarily the views of the Scotland Island Residents Association (SIRA), or the Western Pittwater Community Association (WPCA)
---