| | |
| --- | --- |
| BHAF Allotment Forum | Patcham : 7th Sep 2016 |

Dear Allotmenteer,
The Brighton and Hove Allotment Federation is run by allotment holders. All plot holders are members of the Allotment Federation.

You are invited to our next Allotment Forum Meeting.


Wednesday 7th September 2016
6.30pm 'Surgery'
7.00pm Meeting
Reducing the Allotment Subsidy, and Proposed Rent Increase.
Rob Walker from City Parks.

at Patcham Community Centre, Ladies Mile Road, BN1 8TA
As most people are aware, the Council is having its budget severely cut, year by year, by central government. This has resulted in the reduction of many services the Council provides, (including some very important ones). Allotmenteers are probably aware that according to the Council's figures, there is a shortfall in what the Council receives from plot holders in rent and what it costs to run the service. This figure is in the region of £40,000 and has been called 'the allotment subsidy'.

It is the aim of the Council to reduce this figure to zero, meaning the allotment service would become 'cost neutral'. In many ways it would be an advantage for allotmenteers to have a cost neutral service as it would be sustainable, and not a burden on Council funds that could be spent elsewhere.

The BHAF has been working with the Council to try and reduce the subsidy, and it has been coming down over the last few years. Our Site Reps have been letting more vacant plots, thereby improving income and measures have been made at reducing costs, but we still have a shortfall.

Allotment 'Subsidy' by year.
2010-2011 £61,500
2012-2013 £48,000
2014-2015 £39,100

Back in 2011 we were presented with a proposed rent rise of nearly 70% to cancel out the subsidy. The BHAF opposed this rent rise, as we felt it was too much too quick, and would affect those on lower incomes badly and in the end it was withdrawn. Over the intervening years the subsidy has reduced, but we are still looking at a proposed rent rise of 32% to cancel the subsidy. While this is more reasonable, we are still worried that it will unfairly affect plot holders on lower wages who are in work so do not receive a concessionary rate.

When we talk to people about the price of allotments, some people think they are as 'cheap as chips' and would willingly pay much more, but other people say that on already stretched budgets, large increases may force them to give up their plots. These positions reflect the large difference in wages across the city, with many plot holders on high wages, but many on very low wages. 'In work poverty' is a very real issue in the city, and it is the aim of the BHAF to protect the less wealthy plot holder's access to allotments, especially considering that allotments were originally intended for people on lower wages.

We have been discussing with the Council how we will be able to reduce the subsidy, but also protect those on lower wages from large rent rises.

One idea is to have a two tier payment system, a rate for those on low wages and another for those on higher wages. (The concessionary rate for the unemployed would still remain, so in effect there would be 3 different rates) This seems like a sensible proposal, but may be complicated to manage, we are hoping the Council can investigate a way to achieve this.

Other ideas we have had to reduce the overall subsidy include bringing the senior citizens concession into line with the current retirement age. At the moment plot holders get a concessionary rate from the age of 60. But current retirement age is 65. This would raise an extra £2000 in income.


A half plot costs exactly half of a full plot, but both sizes have the same administration cost. It has been suggested that perhaps there should be a flat 'admin fee' for all plotholders, regardless of plot size. This would make the half plot fee a little more than half the price of a full plot, and would again raise more income.

Nothing has been decided and all these ideas are up for discussion. Council Officer Rob Walker from City Parks will be attending the Allotment Forum meeting on 7th September to present the Councils case, discuss our ideas and answer your questions.


We are holding a 'Childrens Photo Competition'!
The theme is 'Harvest' and is open to all children under the age of 16.
You can take pictures of your harvest or your family or friends harvesting produce.
We will be looking for an image that makes us smile. Use your imagination, show us your harvest, having people in the picture certainly makes a more interesting shot.


Entries should be emailed to

bhaf.contact@gmail.com before the end of the school holidays. Please include your name, age and allotment site. The winning entries will be posted on our Website, Newsletter and Facebook page, and there will be prizes for the top 3 entries. With a top prize of £50. Get snapping!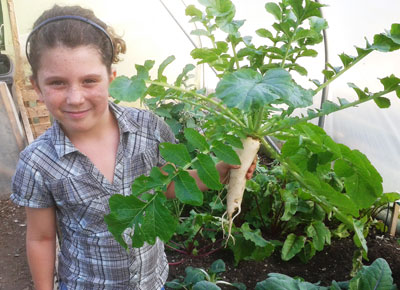 Foodshare


We had a trial food sharing day at Roedale Valley as discussed at the last Allotment Forum meeting. A box was left at the site hut on Saturday and plot holders were emailed and facebooked asking for any donations to be left by 2pm. We were worried we would just have a big box of courgettes! But in the end we got a wide variety of produce, potatoes, beetroot, beans etc.

BHAF Committee member Jim said "
Thanks to everyone who got donated food to our trial partnership with Love Activists and the Migrant English Project last Saturday. People were very generous and provided much more food than we expected, which the volunteers cooked up for some of the homeless and displaced people in the city. Given the success of the trial we are currently figuring out a way to do something on a more regular basis - but need to overcome some logistical issues around transport, storage and numbers of available volunteer cooks first. We'll update soon, but in the meantime if you are interested in helping with the project, trialing a box at your site or just think its a good idea, drop us an email at roedalefoodsharing@gmail.com thanks again"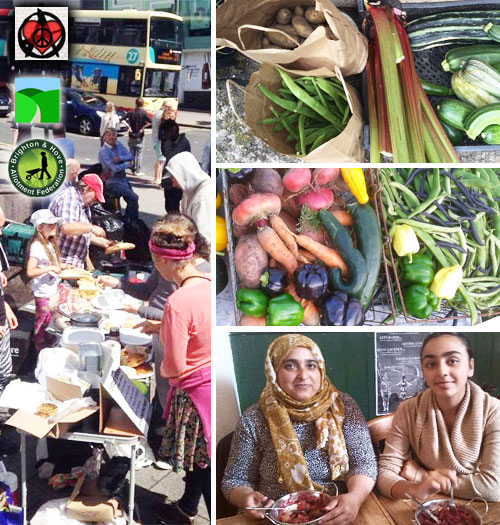 Karren Kenny, the President of the NSALG, (National Society of Allotments and Leisure Gradens) came to Brighon in June of this year. She came to represent the Society at the Faculty of Public Health (FPH) Annual Conference in Partnership with the Royal College of Nursing, where she was promoting the work of allotments relating to health issues. Some new and important connections were forged, which will further raise our profile in the health sector.

Liz Bunting, Legal and Operations Manager of the NSALG also mentioned the 'Gardens and Health' report, which was published in May 2016. ('Gardens and Health' - implications for policy and practise by David Buck) This report was commissioned by the National Gardens Scheme and undertaken by The Kings Fund (www.kingsfund.org.uk), an independent charity working to improve health and care in England.
The report demonstrates how gardening interventions have an important place in the NHS and the wider health care system.
---
Farm Terrace Allotments not giving up

A guide for Allotmenteers

Mark Carroll from the Brighton and Hove Allotment Federation and Jamie Burston from Sussex Butterfly Conservation have worked together to produce a guide to butterflies and moths especially for allotmenteers! You can download it from the website or collect some from the Forum meeting to distribute them.
http://www.bhaf.org.uk/page/butterflies_and_moths_conservation
Leading insecticide cuts bee sperm by almost 40%, study shows
Discovery provides possible explanation for increasing deaths of honeybees in recent years, according to scientists
Kindness of community helps Grace Eyre gardeners blossom
Less than a year after their allotment plot was seriously damaged by an arson attack, the Grace Eyre garden is coming back to life

.
Follow us on Facebook for Regular updates

https://www.facebook.com/BHAFpage
Allotment Forum Details
The meeting is in 2 parts; the first half hour, beginning at 6.30pm, is an informal surgery where people have an opportunity to speak to BHAF members or the Council Allotment Officer on a one-to-one basis over a cup of tea. This allows individual and personal issues to be dealt with more quickly and efficiently.
The second part of the meeting begins at 7pm and relates to more general and city-wide allotment issues. If you have a problem/question or an item for the agenda, come and talk to us during the surgery and we will do our best to help.
There is free parking at Patcham Community Centre and on surrounding streets.
For those travelling by bus, the 5 and 5A buses stop within 2 minutes walk of the centre (The Ladies Mile bus stop).
Timetable details can be found here:
We look forward to seeing you.
Best Regards,
Mark Carroll
for
BHAF Committee.