To ensure that my newsletters arrive safely, please add my email address to your address book.
May 2018 – In this issue:
How to move with purpose when telling your stories... 

check out the reasons to move
Ever thought of earning this credential?

                    Act Now ...

ONLY 8 SEATS LEFT!

 

   
Register for this amazing course now in its 10th year led by
Mitch Meyerson and Craig Valentine! Click here for more details:
starts June 11th 7pm

offered only ONCE per year

no travel involved

it is 100% virtual...phone, internet, Skype (from the comfort of your home)
calls are 1x/week
the maximum number of attendees is 25
it has sold out for the past 8 years
This 12-week  program provides you with everything you need to become:
- a
much more knowledgeable speaker
- a successful and profitable speech coach
What you will gain from this program:
CREDIBILITY
COMPETENCE
CONFIDENCE
CLIENTS
CONVENIENCE
Click here and hear what certified coaches have to say: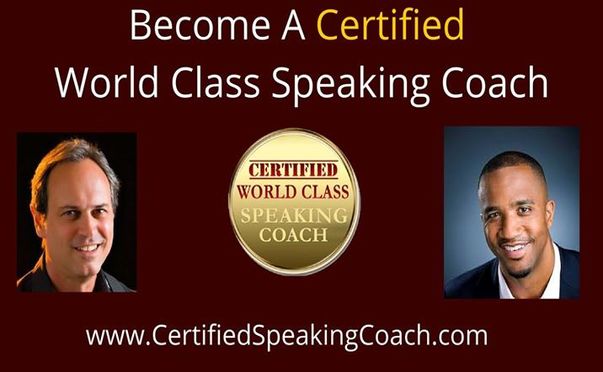 Still deliberating as I did in 2009 before signing up, give me a call: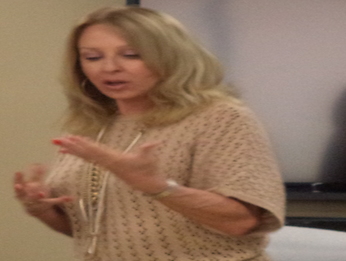 Let's have a brief chat (maybe it's not for you this year) Let's discuss what doors it can open for you as it did for me as a speaker, the expected worlkload, the templates you receive which you are free to use,  

PLUS the bonus benefit

from me for registering through this  link that I provide here: 
Quotations of the month:
"People won't remember what you say as much as they'll remember what they see when you say it." - Patricia Fripp CSP
"Phrasing helps with staging." - Craig Valentine,1999 WCPS
"Don't re-tell the story, re-live it." - Mark Brown, !995 WCPS
3 Tips on Purposeful Platform Movement when telling a story 
When you tell a story, do you either remain glued down to one spot, or pace aimlessly?
Speaking is both content and delivery. By choreographing your story 'script' on the platform, your stories will be more memorable!
After all, isn't  that what we, as speakers, want… to be remembered and repeated?
To involve your audience in what you are saying, it takes more than hearing your words. To experience your stories, they must be invited and placed into your scenes so they can re-live them with you.
Why do we choreograph a story script?
to create a

lasting picture of a scene

: Create scenes with characters, dialogue, and actions in the listeners' minds which they can easily visualize. Then at the end of your speech, when you refer to something you have already said, just call it back by gesturing to the spots where you spoke about it. Doing this will evoke emotion in your audience because they will be able to "see" in their minds the story you had talked about in that specific spot.(i.e.Do you recall the frustration I felt when...?)
to establish congruency between words and actions: (traveling or action words) They give you a valid reason to move:  "I walked to my car and ..."  "And I physically retreated in fear!" "1 saw the chair across the room and collapsed…"  "I boldly took a few steps forward..."
to create

timelines/sequencing events

: Because we read from left to right in our western culture, do this from the audience's perspective- their right is their future, their left is their past; center stage is present for both speaker and audience. Split the platform to show different spots for the past,  the present and the future 
-" If you could have seen me four months ago, you would have seen ..." PAST  
- "Right at this moment, I..." "Now fast forward 3 years..."  "And over the next 2 decades, I changed from being ..."   PAST to PRESENT
- "In the future, I would like to move towards..." Gesture or move to FUTURE location 
When re-living your stories, do not remain glued to one spot or wander aimlessly as your movements will be meaningless and distracting to the audience. Pay attention to choreographing your script; in other words,

make meaningful moves on the platform

.
I invite you to join me next month, when we discuss another speaking skill.
Until then, successful speaking to you!

_________________________________________________________________________________
Individual Speech Coaching or Group Instruction
call 416 489 6603 (Toronto) Leave a message with phone number; I'll 
respond within 48 hours
We work together via SKYPE, phone and emails and me sending you work sheets. 
Let's first discuss your needs or those of your group
 (no fee for consultation) 
 

| | |
| --- | --- |
| |   |

 

Kathryn MacKenzie, B.A. M.Ed. DTM




 

Presentation Skills Instructor, Keynote Speaker, Author

of:

"Speeches That Will Leave Them Speechless"





Was this newsletter passed on to you by a subscriber?

Want to MAGNIFY your speaking skills?


 

Then I invite you to visit my website: www.kathrynmackenzie.com and SUBSCRIBE to my FREE monthly 'Keys to Your Speaking Success' newsletter.

Phone: 416.489.6603


 

 

© 2018 All rights reserved