Contents
Come to our Tradeshow: 2015 ISA Hamilton Expo - Tues, March 24, 2015

Expo Keynote Speaker Announced: David Beckman - "Think for a Change"

Vendors - last chance to sign up for vendor booths at Expo

ISA Golf Tournament: Fri, May 22 at Chippewa Creek G&CC

ISA Hamilton Expo - Tues, March 24 at the RBG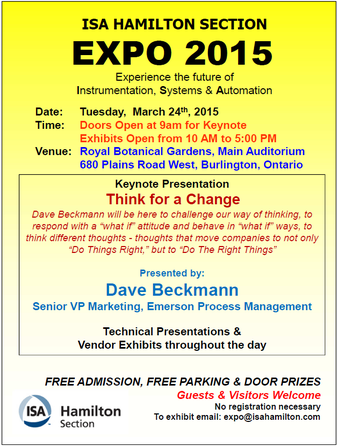 ISA Hamilton will be holding it's annual trade show on Tues, March 24 starting at 9:00am at the RBG in Burlington Ontario. As always the day will feature a keynote address, a technical speaking program, and exhibitor booths from a wide range of automation suppliers.
As always there is no pre-registration required, and all attendees are treated to a catered lunch and door prizes.
Royal Botanical Gardens
RBG Centre – Main Exhibit Hall
680 Plains Road West
Burlington, Ontario
Free parking on site!
Come and learn about the products and services from over 50 local automation suppliers. Show includes a instructional program with technical presentations on a variety of automation topics.
See our Flyer in CPECN magazine!
Keynote Address starts at 9:00am
Exhibitor Hall Hours 10:00am to 5:00pm

Keynote Announced for Expo: Dave Beckman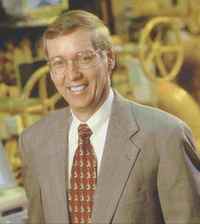 ISA Hamilton is pleased to announced that the keynote speaker for our 2015 Expo will be David Beckman. Mr. Beckman will be presenting at talk entitled Think for a Change, which will present overview of changes taking place in our sector and how technology continues to initiate change in our various industries.
Mr. Beckman is the Senior VP of Marketing with Emerson Process Management. Before taking his current role, he has held various senior executive roles within the Fischer Controls, Systems and Solutions, and other units within Emerson. Prior to his career at Emerson, he held several roles at Honeywell and Siemens, including manager of Honeywell's European operations. Mr. Beckman received his BSEE from LeTourneau University (Longview, Texas), and has an MBA from Harvard and several other advanced degrees.
Some of the ideas Dave will talk about during his "Think for Change" keynote address:

People who live imaginative lives are "What If?" people. They respond to ideas and events with a "What If?" attitude. They behave in "What If?" ways.
What If – we could build a plant where we had no surprises?
What If – we could complete a project under budget and ahead of schedule?
What If – we could predict with bull's eye accuracy the needs of the market?
What If – we could create an environment within a plant where innovative ideas are welcomed and solicited from every pay grade?
What If – we could seamlessly connect to subject experts wherever they are, regardless of who they work for?
What If – we could make a clean break from the legacy of the past and find new ways to collaborate with vendors, contractors, consultants and end users?
What If – we as automation professionals could imagine an empowered engineering and operational force, which would change the face of our industry?
What If – we could THINK DIFFERENTLY from the usual approach of design, build, operate?
Vendors: Last Chance to Sign-Up for Expo Tables
Attention automation vendors - exhibitor tables at our ISA Hamilton Expo are almost sold out. Get your exhibitor table booked while you can. Booths start at $650 each. Please visit our website for a copy of the exhibitor agreement. Payment can be made by sending the completed agreement and a cheque to "ISA Hamilton Section, 2186 Mountain Grove Ave, Suite 157, Burlington, Ontario, L7P 4X4"
Save the Date: ISA Hamilton Golf Tournament
Our 2015 ISA Hamilton Golf Tournament will be taking place on Friday, May 22, 2015. Tee-off is at 12:00 noon.
Our golf tournament will be taking place at Chippewa Creek Golf Club, which is about a 15 minute drive from Hamilton (via Hwy 6 south or Upper James Street). The tournament is played in foursomes with "best ball" in the Scramble Format, plus a few interesting house rules for fun.
Costs are:
$595 per foursome, and includes 18 holes of golf, power cart, steak dinner, and prizes for 4 people*
$500 for additional foursomes (2nd, 3rd, 4th…)
$195 Company Sponsorship Package only (does not include golf)*
$130 single golfer rate (includes golf/cart/dinner/prize, you will be put into a foursome)
$35 dinner only
*The foursome package includes the Company Sponsorship Package (hole sponsorship with logo/name sign at hole, ad with link on ISA Hamilton website for following year)

Registration is now open. Download the registration form at www.isahamilton.com/golf-tournament

To reserve your foursome, please register before May 1, 2015. .

ISA Hamilton

You are receiving this message because you opted in to receive messages from ISA Hamilton Section.
ISA Hamilton is a non-profit Canadian association for automation professionals and a local section of the ISA.