---
School Ferry Update
Last Newport school run Friday afternoon 16 December 2011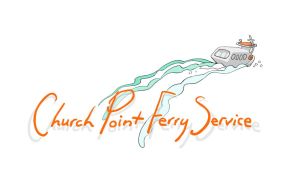 This is just a quick note for the Newport school kids and their parents regarding the last school run of 2011, this Friday afternoon the 16 December.





Last Newport school run Friday afternoon 16 December 2011.




Note for all parents and especially year 6 families. In the past we have run the old ferry Kuringai as a special way of farewelling the end of the school year but particularly the fabulous year 6 darlings who are off to high school next year. The Kuringai has been gone for several years now but we would like to run the L.Duck for this special run.offshore

Parents of all the Newport kids are welcome to come along and bring party foods and drinks if you wish.

The L.Duck departs Church Point at 3.20pm, Bells, Carols, perhaps Eastern if the flag is out, then over to Newport public wharf to collect the children at 3.45pm approx. Parents can hop on from Newport wharf if it suits after seeing the year 6 famous Newport school farewell (bring your tissues)

Love to see everyone on the ferry on Friday afternoon.

Best wishes to everyone for a very Merry Christmas and happy and safe New Year and good luck in high school year 6 !

Enjoy the school holidays kids-see you on the water..

Lots of love Penny, Carrie, Roz, Kath and Alison.



---
Carols at Tennis
Sunday 18 December from 5pm
---
Offshore Art Raffle




Win a beautiful unframed artwork by local artists including:


Nettie Lodge, David Wardman, Marion van den Driesschen, Michelle Macdonald, Paul Smith, Tracy Smith, Gwyn Perkins, June Lahm, Carole Corrie, Penelope Wise, Anne Willman…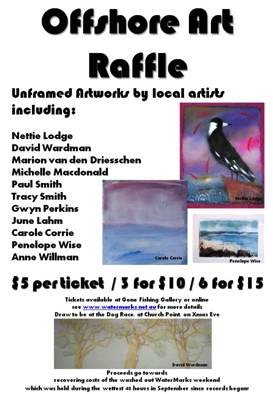 To view the artworks visit: http://watermarks.net.au/offshore-art-raffle/

Just $5 per ticket, or 3 for $10, or 6 for $15, or 15 lucky tickets for $30!

Tickets on sale from The Gone Fishing Gallery and PMC Hill at Church Point, Marion van den Driesschen or buy online (minimum purchase $15) via: http://www.stickytickets.com.au/7146



The draw will be at the Dog Race on Xmas Eve at Church Point.



All proceeds go towards recovering the costs of the WaterMarks Open Studios event which was held during the wettest 48 hours in September since records began (42 years ago!).



Thank you and good luck!




---
Scotland Island Kindergarten




Scotland Island Kindergarten will now open on Fridays in 2012 - Limited places available so please enroll your child if you need a place ASAP





First Friday opening is on Friday 3rd February 2012



Opening days and times are:
Tue: 7.30am to 5.30pm
Wed: 7.30am to 5.30pm
Thurs: 7.30am to 5.30pm
Fri: 7.30am to 5.30pm

No Casual places will be offered to families unless they already have a permanent day booked for their child.

If you need any information regarding enrolling etc please contact Liz – Director or any staff member on 02 9979 7856.

We would also like to wish all our families old and new a very Merry Christmas and a Happy New Year. Thank you for all your kindness and support over the last year and he is to a fabulous and exciting 2012.

Regards
Liz Power
Director SIOCS



---
Honey for Christmas


Hi Everyone
I have for sale some very delicious honey, from the same supplier as last time, who keeps his happy little bees very close to here, traveling with them as far south as Robertson and as far north as Mangrove mountain, often allowing the bees to feast in large gardens that he tends in Turramurra and Wahroonga.



I have Kulnura forest and this year's amazing Orange Blossom.




Large 1 kg jars $15, Medium 500gm $9, small 250 gm $5.



I have plenty, and I can certainly deliver so please do just get in touch either via email kathando@yahoo.com or call or text your order to me on 0405 097 424.
Makes a sweet Christmas present !
Cheers everyone and happy festive times
Kath Anderson



---
Follow the PON
---
Missed out on a Newsletter?




Go to the archives to download previous notices



A complete set of past electronic newsletters since May 2000 can be found and read at https://ymlp.com/archive_gesgjgm.php


---
The Online Local Contact Guide
Click HERE to load
---
The Scotland Island Community Website



For information about upcoming events, community facilities, living on the island, contact numbers, and about the Scotland Island Residents' Association (SIRA) including minutes and contact details for committee members, visit the Scotland Island Community Website at

http://www.scotlandisland.org.au/home




The views expressed in this newsletter are not necessarily the views of the Scotland Island Residents Association (SIRA), or the Western Pittwater Community Association (WPCA)




---