---
Island Cafe Reminder





Dear Valued Customers,



In order to progress this enterprise forwards, the marketing has been outsourced to an Indian partner, specialising in Australian corporate vocabulary. An innovative and exciting new campaign will be positioned for maximum market impact, to facilitate an enhanced customer experience. Longer term, we are aiming for sustainable corporate community engagement.



It is clear from the research that the consumption of hot drinks and sweet refreshments, along with the apparently trivial interactions between customers, is not an interim palliative – it is a universal panacea.

Business/customer interaction will be occurring between the hours of 10am and 12pm on the first day of the week, Sunday, at the location of Catherine Park, Scotland Island, as has previously been the case during cafe opening hours.

Regards,
The Team at the Island Cafe

Our mission statement:


"To make the best coffee and to facilitate community engagement on Scotland Island."




---
MOTOR VEHICLE REGISTRATIONS





WHEN: SATURDAY, JULY 10, 2010




WHERE: SCOTLAND ISLAND FIRE STATION




TIME: 9AM TO 2PM





PLEASE BRING:


REGO PAPERS
MOTOR VEHICLE



COST:


$50.00 PER VEHICLE
$10.00 S.I.R.F.B.


TOTAL: $ 60.00 CASH





PLEASE NOTE:


THIS WILL BE A ONCE ONLY INSPECTION!!
PLEASE HAVE VEHICLES IN ROADWORTHY CONDITION

REJECTION SLIPS WILL BE ISSUED FOR VEHICLES NOT CONFORMING WITH R.T.A. REGULATIONS



CONTACTS:


TIM BYRNE 0416 003 205
FIRE STATION 9999 4404


---

Author Talks at Mona Vale Library




BEST-SELLING AUTHOR - MATTHEW REILLY AT LIBRARY


International best-selling author of crime and thriller novels Matthew Reilly will be the star guest at Mona Vale Library's next Author Talk on Thursday 29 July at 6.30pm.

Known for his highly visual style and fast-paced action novels, Matthew Reilly will discuss his latest book, the third installment in the Jack West Junior series The Five Greatest His novel is a continuation of The Six Sacred Stones featuring archaeologist and ex- soldier Jack West and his team, which literally ended in a cliff hanger.

Jack West Jr. and his loyal team are in desperate disarray: they've been separated, their mission is in tatters, and Jack was last seen plummeting down a fathomless abyss.

After surviving his deadly fall, Jack must now race against his many enemies to locate and set in place the remaining pieces of The Machine before the coming Armageddon.

Matthew Reilly has been published in over 20 countries, with over 3.5 million copies of his books sold around the world.

Some of Matthew's works have been optioned by film studios for series or feature production, and he continues to write in a variety of mediums, from short stories, through to novellas and screenplays.
The author's novels have also, unexpectedly, become a major tool in the fight to get teenagers reading. Although written for a mature audience, his novels have become highly popular with younger male readers.
Matthew wrote his first novel while just 19, self-publishing it in 1996. His dedication paid off when he was noticed by a major publishing house.

The author's first professionally published novel Ice Station proved so popular that it was reprinted six times in its first two years.

The Author Talk will take place at Mona Vale Library from 6.30pm on Thursday 29 July.

Bookings are essential; to book phone 9970 1600. Following the talk there will be book signings and light refreshments.
Admission is $7.50 adult, $5.50 concession.
Catherine Buddin, Mona Vale Library Ph: 9970 1605


---
Award to Island Artist



Scotland Island artist Jan Sendel-Hand
won the Commadore's Award for her beautiful painting "Foredeck at Work' in the Marine Art Exhibition at the Royal Motor Yacht Club.


There were nearly 300 entries this year and judges Paul Tonkin (artist), Peter Scott (Boating magazine editor) and Susan Duncan were impressed with the professional standard of the work.


Jan is a well known marine watercolour artist with an outstanding understanding of light and movement as seen on the Pittwater.






Courtesy Pamela Southern at Pittwater Life



---
Come and register with Aardvark Casting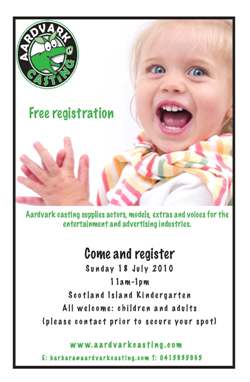 Aardvark casting supplies actors, models, extras and voices for the entertainment and advertising industries.




When?


Sunday 18 July 2010 - 11am-1pm



Where?


Scotland Island Kindergarten



Who?


All welcome: children and adults



please contact Barbara at barbara@aardvarkcasting.com prior to secure your spot







---

---
The Local Guide - Community Information


Click HERE to load
---