---
Reverbnation - A page has been entered for Wade. Wade's management would like to hear from the fan who set it up for Wade. Thank you to who did it. Management would like to be able to add to the page. Reply to this e-mail if you have info.
---
New pics shared on the sites
Melissa Wolfenbarger-Amagrande
---
Notes with Wade on the road
Country Music Cruise on The Eurodam - Holland America Lines - to the Caribbean
Wade joined the cruise on Wednesday in San Juan Puerto Rico. He was immediately in demand. He first stepped on stage at the afterhours jam that evening that was hosted by the Warren Brothers. He was extremely well received. Thursday was his show with the full band. We attended sound check and the show which played late in the evening to a packed house in the lounge they called the Opry Guitar Bar. Friday morning, Wade was one of several artists who performed in the tribute for George Jones held on the main stage. He performed 2 songs, Bartenders Blues and The King (Elvis) is Gone and You Are, Too. He said the latter song, with it's refrain of "Yabba, Dabba, Do" was a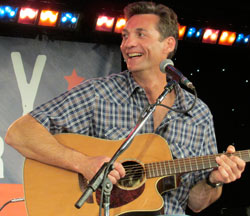 favorite in the Saturday night front porch jams he and his cousin had when they were teen-agers.
Friday night was the last after hours jam. Wade was the featured artist. He did a 10 song set before inviting other artists to the stage. It's always amazing to see Wade on stage with band members and artists that he's never or rarely performed with and join in with the songs they choose. This night included Andy Griggs, Anita Cochran, Paul Gregg and Larry Stewart (Restless Heart), Ty Herndon, Chuck Mead, Lee Roy (The Roys). Some of the impressive songs they performed: Silver Wings, I Don't Think Hank Done it This Way, Good Hearted Woman, Honky Tonkin' , You Ain't Woman Enough, Crazy, Rambling Fever. Saturday afternoon we're back in the Opry Guitar Bar. Dane Butcher is the host for an event titled, "Guitar Seminar with Wade Hayes & Bryan White." A very interesting combination interview and performance. Dane asked about their influences and how they got into the music business. Wade stated, "It (music) picked me; I didn't have a choice." He admitted he still has stage fright before a show, especially at the Ryman. He said he likes to see an old friend in the audience whereever he plays. Wade is booked for the cruise again next year.
---
Wade played the Opry on February 28.
If you missed it you can hear his part (8 minutes) on the Opry at this link.
---
It's a fun hour when Wade is the Guest DJ on WSM-650 AM.
Both the music Wade chooses and the stories he tells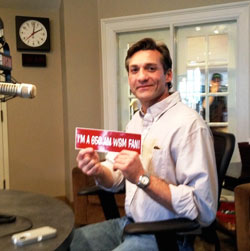 will keep you smiling. His last turn was on March 6, 2014. Luckily for all of us, WSM Archives these shows. So if you missed it, it is out there for you at
WSM Guest Artist Archives
.
A Wade Page in Country Weekly Mag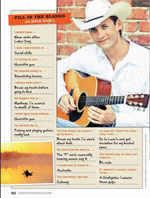 Page 80, the back page of the March 10 issue of Country Weekly was a "Fill-in-the-Blank" interview by Wade. If you missed it, you can see it here: Country Weekly with Wade.
---
---
Social Media - Wade's Facebook Fan Page, Friend's Page and Twitter link