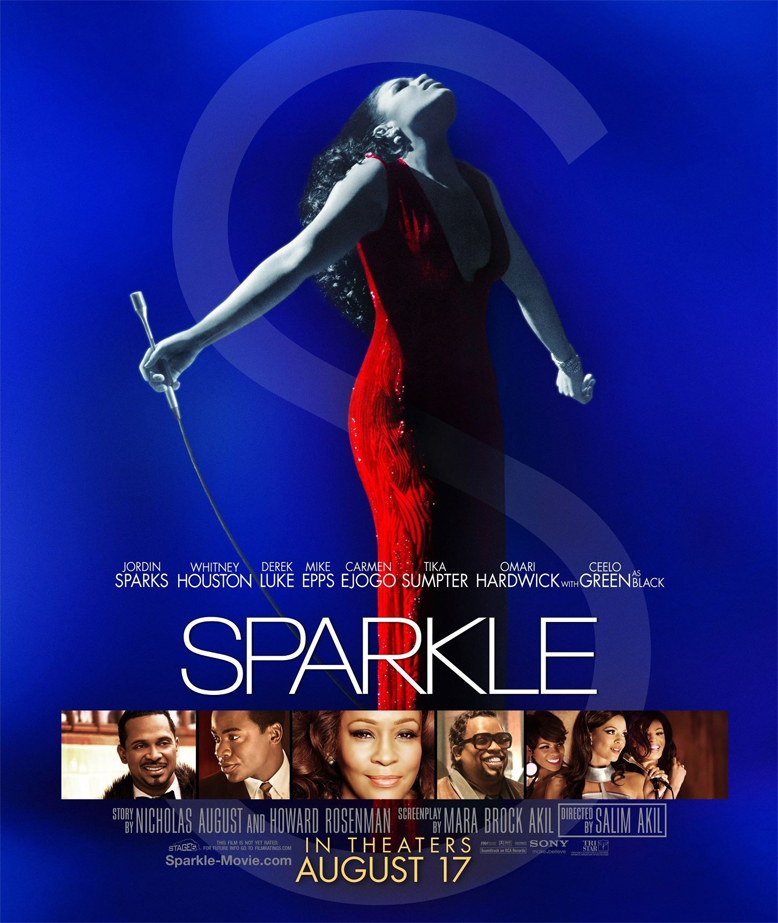 SPARKLE
OPENS NATIONWIDE AUGUST 17TH, 2012
VISIT THE OFFICIAL WEBSITE OF SPARKLE @
http://www.sparkle-movie.com/site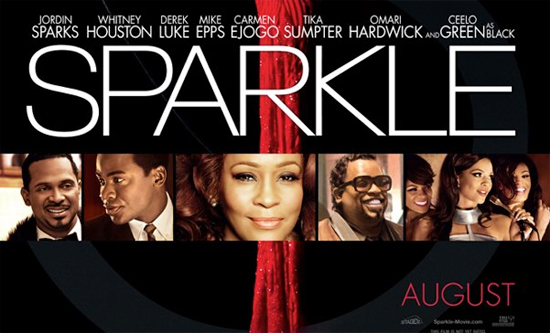 SPARKLE
A FREE MOVIE SCREENING AT AMC LOEWS - AUGUST 15TH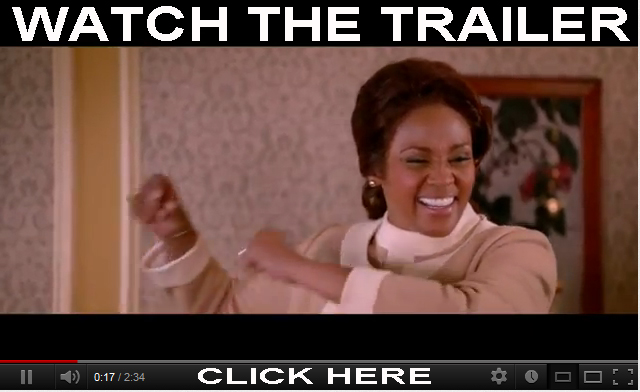 SYNOPSIS: SPARKLE is a story about dreams, family and choices, but its heartbeat is music, the glorious sounds of late '60s soul as only a cultural epicenter like Detroit could produce. That meant the movie had to give a great deal of attention to the sounds, the performances, and the meaning of its music. Screenwriter Mara Brock Akil sees the new SPARKLE as something more than a drama, but not as simply labeled as a musical. As she explains, "I think a lot of times with musicals, you're just trying to get to the next song so that the song can tell you what the story is. What I love about our movie is music sort of underscores the drama that's happening in these people's lives, and that you look forward to the next moments of their journey as much as you look forward to the song that's going to underscore what they're going through. It's a beautiful story with a lot of iconic musical experiences wrapped around it, and I think that's how we experience life. We kind of live our life, we learn a lesson, and music seals it for us, and I think that's what we accomplished with this movie."
For producer T.D. Jakes, SPARKLE hearkens back to an era when soul-singing was a mostly human, not technologically augmented endeavor. "First of all, people who love music love that era, when people were really singing from the lungs, not from the computer," says Jakes. "They were singing from the very depths of their being, and you really had to be gifted and talented. You didn't have so much technology to camouflage flaws. This was a time in history when this type of music was being catapulted, not only amongst Black Americans, but all Americans and ultimately around the world. And it's still loved all around the world."
Although new music was written for this reimagined SPARKLE, attention was dutifully paid to the classic Curtis Mayfield songs written for the original – "Something He Can Feel," "Jump," "Hooked On Your Love" -- and performed on that legendary soundtrack album by the Queen of Soul, Aretha Franklin. "It's very famous, so we've taken the most iconic of those songs, and they're performed by the cast members," says producer Debra Martin Chase. "Of course, we've got Jordin Sparks, so then we have original songs written by R.Kelly that are phenomenal." Executive music consultant, R. Kelly was instrumental in bringing the music of the new SPARKLE to life. He wrote three original songs, including the finale song "One Wing" and he did his take of the classic Curtis Mayfield track "Giving Him Something He Can Feel," a song that was also in the original film.
Gospel was integral to the story, too, with the church's influence an essential part of the Anderson family's dynamic. It led to one of the movie's unforgettable moments, when Whitney Houston, who came from a family of gospel singers, performs the spiritual classic "His Eye On The Sparrow." Houston chose the song, and looking back now, Akil can see how closely she'd been reading the script.
Says Akil, "It's the perfect song because in the larger context, you could say all of her girls were the sparrow, but certainly Sparkle was the sparrow. So there's that moment in the church when she's singing that song, that she does a little subtle point and nod to Sparkle, so she chose the perfect song, and the way she performed it was amazing. It sort of hits you behind the heart. It starts to come from within someplace and you feel it tapping on the back of your heart and you wonder, wow, how did you get in there?"
In the end, Debra Martin Chase sees SPARKLE as an ideal merging of drama and music. As she explains, "We've got all the twists and turns and emotions of great drama, but then on top of it, you've got these amazing performances, amazing songs. I don't know if we have seen a musical drama like this since Lady Sings the Blues. It's incredibly exciting."







TO WIN FREE MOVIE PASSES, MEET BROTHA ASH AT AMC LOEWS THEATER - WATERFRONT @ 6PM TO RECEIVE YOUR PASS.
WEDNESDAY, AUGUST 15TH @ 7:30PM
COME EARLY TO GET YOUR SEAT (6PM)
This is a first-come, first-served basis!!!
OPEN NATIONWIDE AUGUST 17TH, 2012

ONE MOVIE PASS ADMITS TWO PEOPLE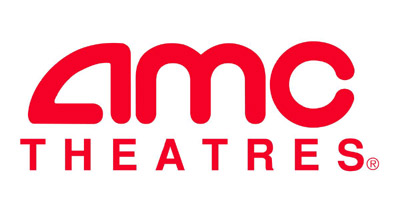 AMC LOEWS THEATRES
300 Waterfront Drive West
Homestead, PA 15120
(888) 262-4386