---
Congratulation Amanda and Luke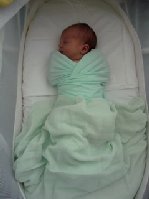 Paul and Tracy Smith's son Luke who was born and bred on the Island is adding to our generations here with his first little contribution.

No name as yet but born on Sunday 17th Jan at Manly 8.7lbs.

Luke, Amanda and baby are back at home and all is  well.








---
Graeme's Big Birthday Bash
Saturday 30 January Scotland island Fire Station
Join Graeme and friends on Saturday 30, Jan. to celebrate his 60 years young on Planet Earth.
 EVERYBODY IS WELCOME - INCLUDING CHILDREN !
Scotland Island Fire Station
From 5.30pm
Great Food and Live Music
BYO
---
ICAC and Currawong
ICAC urged to include Sale of Currawong in its investigations  
---
Book Launch Party
"It Must be My Hormones"



Dr Marion Gluck

, has a new book which is coming out on 1 February, published by Penguin. It is called 'It Must Be My Hormones' and focuses on the wonderful topic of menopause - from many different perspectives.

Marion is a medical practitioner and these days she runs a clinic for menopausal women (and men) in London and has started a pharmacy to produce her own products. She prescribes healthy compounds that are a sound alternative to the usual hormone replacement therapies (HRTs).

Why do I feel so empty?
Why do I feel so tired?
Why don't I feel like myself any more?
Can I trust HRT?
If you've ever asked yourself these questions or wondered if your hormones could be affecting your health, then this is the book for you. Written by a GP and a nutritionist who specialise in women's health, it explains clearly the role of each of our major hormones, how a deficiency can affect our wellbeing, what happens to our hormones when we have a baby or during menopause, and what we can do to restore the balance.

Filled with inspiring personal stories, nutritional suggestions and advice on bio-identical hormone therapy - the best and safest choice for HRT.

On

Sat 29 January

, we are going to hold a party on our waterfront (between Bells and Cargo) to

celebrate the publication

of this much-needed book.
It will be pizzas from our pizza oven from 4.30pm! Please bring refreshments.

Let us know if you are coming so that we know how many to cater for.
Both men and women are welcome!

Robyn Iredale and Tim Turpin
99791096



---







Local Council Notices




Keeping our School Children Safe


Pittwater Council will be launching a new road safety education campaign to coincide with children returning to school at the end of this month.

The campaign focuses on parents using primary school drop off zones safely.

A road safety brochure will be distributed to all families at Bilgola Plateau and Mona Vale primary schools which will offer advice on where and how to park around their school. The brochure highlights parking restrictions around the schools and offers tips on safe parking.

The campaign also includes signage near the drop off zones with information on how to use the zones safely.

Safety tips for parents include: not using bus zones and no stopping zones while waiting for a parking space; staying near the vicinity of their vehicle at all times; to keep moving if no parking space is free and to park no longer than indicated by the signs.

Road safety banners will also be attached to school fences displaying important road safety messages, encouraging parents to slow down and not park illegally.

Pittwater Council's Road Safety Officer Michelle Carter said that the key message for parents as the new school year starts was for them to 'choose safety over convenience'.

"Our goal with this campaign is to work closely with the schools, the P& C associations and parents to ensure risk-taking while picking up or dropping off children from school is reduced," she said.

"We also remind motorists that RTA school zones will be in force from Wednesday 27 January 2010 and that they should drive no more than 40km during school zone times."

"School zones are in force from 8am to 9.30am and 2.30pm to 4pm, Monday to Friday,"  Ms Carter added.

For more information on road safety visit www.pittwater.nsw.gov.au/local_services
Media contact:     Community Relations, Pittwater Council, Ph: 9970 1172



---
Mona Vale Library Community Notice Board


Please select this link to load the Community Noticeboard that appeared in Saturday's Manly Daily.

Lisa Trewin
Community Relations Officer
Monday - Wednesday
9970 1114



---
Check Online your Parking Fine


Pittwater Council has introduced an innovative online system allowing members of the public to check the veracity of parking fines.

The system, which went live on the Council's website this week, shows photographic evidence of parking infringements which can be verified by entering the fine number and the vehicle registration number. 

The system operates by downloading images from the computerised devices carried by all Pittwater's parking officers to issue parking fines. The devices automatically take photos of offending vehicles with the time and date of the infringement recorded on the image.

Compliance Manager Jeff Lofts said the system cost around $1300 to develop, but the Council expected to recoup the costs of the system within weeks.

"The advantage of the system is that it will free up officers time which is currently spent on phone calls discussing fines with members of the public," he said.

"From the public's point of view, they can go online and within a few moments get instant verification of whether a fine has been correctly issued."

He said infringement notices could still be challenged by writing to the NSW Infringement Processing Bureau.

The new system also allows infringement notices to be paid online via the Council website.

To access the system enter the infringement number and the vehicle's registration number at http://www.pittwater.nsw.gov.au/council/media/news/2010/january_2010/check_online_for_your_parking_fine and follow the prompts.

Media contact:    Jeff Lofts, Pittwater Council Ph: 9970 1136



---
The Local Guide - Community Information

 Click HERE to load
---