Contents
---
---



SIRA

Notices
As announced on several occasions, SIRA is no longer accepting standalone EFT payments for water purchases. Any transfer made will be bounced back to your account.

There are several online payment options available, including payment with credit cards. To save yourself the hassle of having to enter your credit card details again and again, you can elect to 'save your credit card details' by ticking the box for this on the payment form. You credit card details will be stored with Stripe, our card payment provider.

Do you want to continue to pay from your bank account? No problem, there are 2 options:

Use Poli. Poli guides you to login to your online banking account and transfer the billed amount to SIRA. It is easy, quick and safe.
Set up a PayPal account and pay with PayPal. In PayPal, authorise PayPal to debit your bank account for payments. When you pay the water bill online, login to PayPal, choose your payment method (bank account) and confirm.
Thank you

Colin
President, SIRA


---
Changed Parking at Church Point from 7am Monday 3rd Feb.
Please be aware of the restrictions to parking that will be coming into effect in the old carpark at Church Point due to the Ausgrid Power Reliability Project. These restrictions will start at 7am on Monday (3rd February).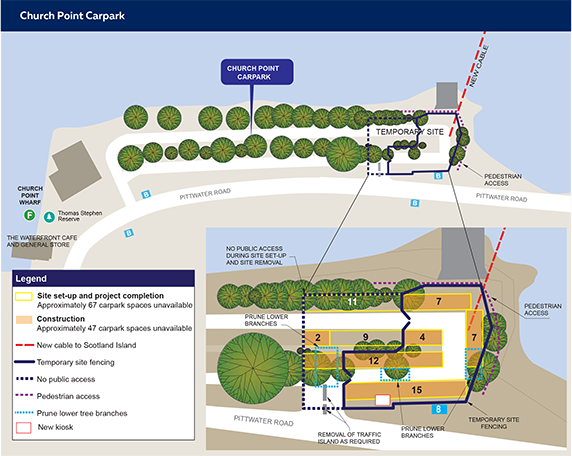 Please ensure your car is not located in the southern end of the carpark from the Pittwater Rd entry.
This applies to both Pittwater Rd. rows and waterfront rows of the car park.
During the initial phase, the entry to the carpark will also be closed. After this initial phase (whilst equipment is being brought into the site's compound), the entrance will be reopened.

SIRA has made a representation to Ausgrid to again reiterate our request that the NBN cable be also pulled through the new conduit at the same time. This would mean that NBN Co. are not required to restrict the carpark for a second occasion later to pull their cable through. Ausgrid have said they will investigate this.

Complete Project Update - HERE



---
NOTIFICATION to stakeholders
Fox Baiting using 1080 Poison in NPWS - GSB reserves for six monthly period
1 Feb 2020 - 31 July 2020
Please see attached notification of continuous and ongoing fox control using 1080 POISON with ground baits and canid pest ejectors (CPE's) in Sydney Harbour National Park, Garigal National Park, Ku-ring-gai Chase National Park, and Lane Cove National Park. As part of this program, baiting also occurs on North Head Sanctuary managed by Sydney Harbour Federation
Trust and the Australian Institute of Police Management facility at North Head.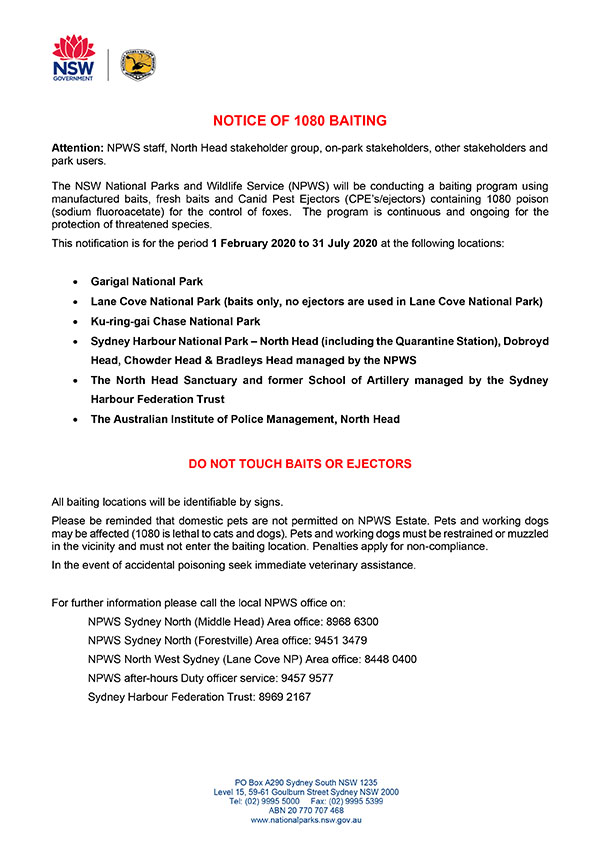 Click image above to download the full PDF file


This email provides notification for the 6 monthly period of 1 February 2020 - 31 July 2020.

Warning signs are displayed at park entrances to notify the public of 1080 baiting.

1080 Poison for fox control is used in these reserves in a continuous and ongoing manner. This means that baits and ejectors (CPE's) remain in the reserves and are checked/replaced every 6 - 8 weeks
1080 use at these locations is in accordance with NSW pesticides legislation, relevant 1080 Pesticide Control Orders and the NPWS Vertebrate Pesticides Standard Operating Procedures
A series of public notifications occur on a 6 monthly basis including; alerts on the NPWS website, public notices in local papers, Area pesticide use notification registers and to the NPWS call centre
If you have any further general enquiries about 1080 please feel free to contact me on 0447 212 652, or for specific program enquiries please contact the local NPWS Area office:

NPWS Sydney North Area (Middle Head) office: 8968 6300
NPWS Sydney North Area (Forestville) office: 9451 3479
NPWS North West Sydney Area (Lane Cove NP) office: 8448 0400
NPWS after-hours Duty officer service: 8579 0537
North Head Sanctuary, Manly (Harbour Trust lands): 8969 2128

Please feel free forward this email notification to others

Regards
Steve Parker

Pest Officer
Greater Sydney Branch
NSW National Parks & Wildlife Service

PO Box 4070 Pitt Town NSW 2756
M 0447 212 652



---
Useful information regarding rainwater tanks - bush fires and ash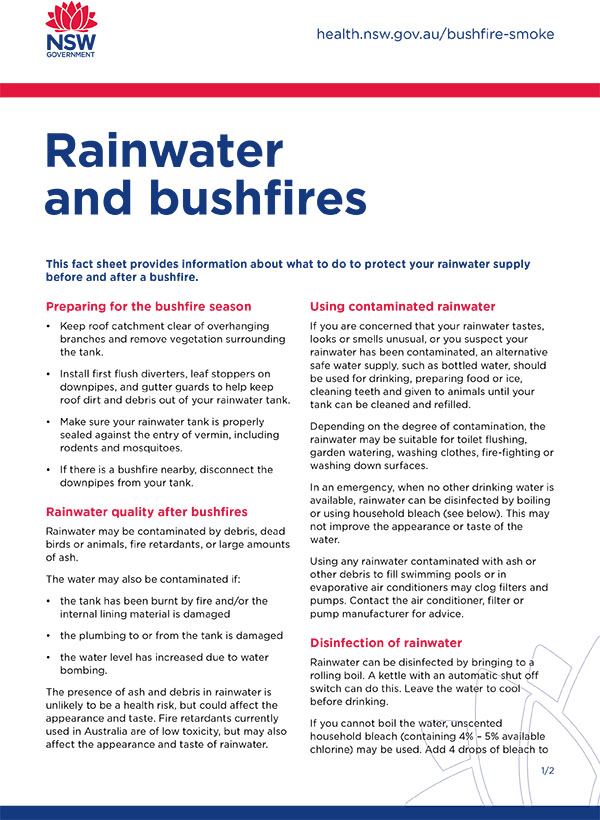 Click image above to download the full PDF file

---
Scotland Island Recreation Club
February Timetable
Click image above to download the full PDF file
---
PROFILE OF QUENTIN WILLMAN
Coordinator of Thursday Afternoon Table Tennis (4.30-6.30pm)

Quentin has lived on the island with his family for nine years and is in Year 9 at Pittwater High School. He loves tinkering with boats, coaching sailing at Avalon Sailing Club and working at The Quays Marina on the weekends.

He will be very happy to welcome new players on Thursday afternoons in the Community Hall.



---
The Co-Op Club Presents
February 2020 Bookings
Church Point Cafe -  Artists play between 3:30 - 6:30pm

Sunday 2nd FEB: JOY YATES & DAVE MACRAE TRIO

The Co-Op Club welcomes the return of our very own internationally acclaimed Jazz legends.  Joy has worked and toured with an incredible Who's Who list of artist's such as Van Morrison, Neil Sedaka, Cat Stevens, Chaka Khan, Randy Crawford, Gladys Knight, Ronnie Scott, Cleo Laine,  Andrew Lloyd Weber to name only a few.  Dave MacRae has had an equally prestigious musical journey having shared the stage with all time Jazz greats Buddy Rich, Chet Baker, Annie Ross and many more.   With virtuoso upright bassist Gary Holgate and distinguished drummer Hamish Stuart you will be treated to the best jazz and blues you will hear anywhere in the Southern Hemisphere. With a lifetime of working at the uppermost echelon's here and internationally, both David and Joy present sublime original works, as well as illuminating and reshaping our favorite classics
Sunday 9nd FEB:

True Bluesman Eugene Hideaway Bridges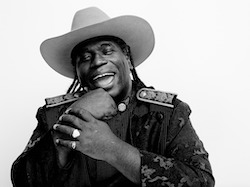 Tickets · $30
Pay at event
It wouldn't be a summer down under without Eugene "Hideaway" Bridges on tour and this year marks a remarkable twenty one years of consecutive touring here – his first visit being way back in 1999. Every year Eugene criss crosses the globe playing numerous gigs in a whole variety of countries from the UK, to Slovenia and Thailand to the US and Mexico.

He is clearly an international bluesman with a burning passion to keep the history and the music of soul and the blues alive. Eugene lists his three biggest influences as his father "Hideaway" Slim, BB King and Sam Cooke.Don't miss out!!! Tickets will sell very quickly for this event.
Sunday 16th FEB:
Moussa Diakite and Wassado
A very special afternoon with WASSADO - Moussa Diakite was part of Mali's generation of pioneering musicians in the 1970s and '80s, composing and performing music heavily influenced by the Wassoulou styles of his homelands in southwestern Mali. Moussa joined the 'Super Rail Band de Bamako' as it's lead guitarist in 1979, also playing with the legendary Toumani Diabate's 'Yanga Orchestre' and eventually joined world music star Salif Keita from 1987-1992. Since moving to Sydney in 1992, Moussa has inspired the Australian African music scene. Most recently he has been in Mali recording an album of his music in collaboration with some of West Africa's finest, due for release later this year. Join us for a special performance of Moussa's 100% dance guitar band WASSADO also featuring: Ben Kidson – drums, Nemo Lynn bass & Len Samperi guitar.
Sunday
23rd FEB
: The fabulous House Band - The NLB

The NLB are back! Fronted by Narelle Lewis. This band puts Narelle in the spotlight with her soulful R&B gospel blues voice covering some of her favourite artist, from Bill Withers to Beth Hart. Narelle is backed by Andrew Snow on guitar and vocals, Jason Smith on bass guitar, Aiden Danser on the Nord/keys, and Chuck Bradley in the engine room. No doubt tables will fill quickly, so grab yours & join us for a fabulous afternoon of great music!
The Waterfront Café's Co-Op Club presents the finest live music North side of the bridge from 3.30pm every Sunday. Come and immerse yourself in some wonderful music by the waters edge with great friends, your favourite beverage, some wonderful music and a huge range of delicious menu specials. 
1860 Pittwater Rd Church Point – bookings 99796633
www.facebook.com/thecoopclubchurchpoint
www.waterfrontstore.com.au

---
(yes Christmas, I know!)
We are looking to rent a house over Christmas 2020 for my family so that they may spend Christmas with us.

We are needing  a house that sleeps minimum 6 adults and 3 children - preferable close to the water from 24th Dec for 5-7 nights.

Please contact me via nadineomara@gmail.com or 0402 752465



---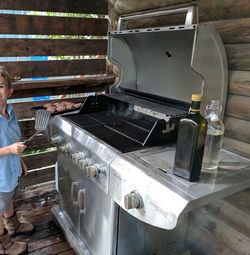 Great condition – everything works although I'm not sure about the rotisserie.

It can be moved as one unit, or dissembled for easy transport.

Currently on the island – vehicle accessible.

Call or text Boyd on 0417 991 499 or boydatt@bigpond.com










---
---
The Local Guide
Community Information
Scotland Island Web Site -
www.scotlandisland.org.au
Scotland Island Residents Facebook Page -
click to go to Page
Scotland Island Rural Fire Brigade

- 9999 4404 - http://www.sirfb.org.au
West Pittwater Rural Fire Brigade


http://www.westpittwater.com.au/rural-fire-brigade/WPRFB-contacts - 9997-3795
Offshore Photo Gallery - offshore gallery
Scotland Island Residents Association (SIRA) Membership details - click here for details
West Pittwater Community Association (WPCA)

-
www.westpittwater.com.au
Scotland Island Emergency Non-potable Water
Agreement for Sale of Non-potable Water
SIRA Membership Application
Emergency Non-potable Water Guidelines
General Information, Map & Contacts
http://www.scotlandisland.org.au/community/emergency-water/
Scotland Island & Offshore Children's Services (SIOCS)
Long Day Care at The Island Kindy in Catherine Park
Days of operation: Monday, Tuesday, Wednesday & Thursday
Times: 8.00am - 6.00pm
Before & After School Care
8.00am until walked to school ferry - collected from school ferry until 6.00pm
Vacation Care, Casual Care and Playgroup on Fridays
Hire the Kindy for Birthday Parties
Please call

02 9979 7856

or email SIOCSdirector@gmail.com
Facebook: https://www.facebook.com/theislandkindy
Website: http://scotlandislandkindy.business.site/
Scotland Island Community Hall Bookings

:  Lucy Gregg M: 0424 233 674  or hall@sira.org.au
Pittwater Online News

-  http://www.pittwateronlinenews.com
Tick Fact Sheet
TUG Waitlist   (Tennis User Group) - Application Form
---
Transport
Palm Beach Cruises  - 02 9997 4815
---
Real Estate
---
Services, Clubs & Accommodation
Justice of the Peace

- Bob Mitchell (Mackerel Beach) - 0419 745 628
Justice o

f the Peace

- Tony Hendel - 0419 242723
Justice of the Peace

- Andy Derijk - Elvina Bay 0418 613 890
 

Justice of the Peace  - 

Lexie Le Blang 0418399674 or 99992574
Justice of the Peace  - 

Graham Stenner - 0407216405
J

ustice of the Peace  - 

Carolyn Milani - 0409914699
Pittwater Community Arts Inc.

 - Enquiries Lorrie Morgan 9997 8079  lorriemay@bigpond.com
Peninsula Music Club

- enquiries Janice Tuynman - 99991937 - jt@swift dsl.com.au
Woody Point Yacht Club

-  http://www.wpyc.com.au   commodore@wpyc.com.au
Royal Prince Alfred Yacht Club

-

02 9997 1022

  http://www.rpayc.com.au/  
Royal Motor Yacht Club

- http://www.royalmotor.com.au/ 02 9997 5511
Scotland Island Lodge

- Bed & Breakfast - 02 9979 3301 or  http://www.scotlandislandlodge.com.au 
Pittwater Youth Hostel

 - (02) 9999 5748 (8-11 am and 5-8 pm)
http://www.yha.com.au/hostels/nsw/sydney-surrounds/pittwater/ 
Handy Service

- "No job too small"  - Call Alan 0447 775 541
Electrician Wayne

on Scotland Island 0418 229 277 - offshore community sparky - www.sparky.com.au
David Walsh

-

Graphic Design

-

Custom Made Sculpture

- 0404 239 212 - ital2@optusnet.com.au
Dog Wash & Grooming

- Call Jenni: 0450 444 100 or Email: jena50@hotmail.com
Free Pump Outs for Boats

- Council with RMS installed a pump out at Careel Bay wharf
Top water purification system installed for offshore homes:

  Call Juliette 0418349448
Solicitor - Rachel Carter - Carter O'Neill Legal - 0406 239 946
Island Based Domestic Cleaner

 - Kath - 0405097424 - kathando@yahoo.com
Building Design and Drafting Services

  - Samuela Madej – Murphy ph. 0450331573
email: samuelamadej@gmail.com
Architect / Drafting / 3D sketches / Council submissions services

- Sabrina Phillips, NSW Architect 0426223407  - sabrinaaphillips@gmail.com
Qualified Deep Tissue & Swedish Massage

- Mona 0490701213
Island Based Cleaner - Uses predominantly Organic & Natural Products

- Mona 0490701213
Broken Bay Barges & Sydney Commercial Diving Services

 - Brent Taylor - 0409 269 404 - taylordmarine@gmail.com

J&M Property Care

- Jamie - 0488665 685, Michelle - 0402 942 063 - Brochure - michellesala00@gmail.com

---
Island Classes (Fitness, Dance, Art etc)
Pilates, Meditation and Group Fitness

with Patrice -  0406 483 036 patrice.corrie@gmail.com
Art Classes

- drawing and painting in oils, acrylics and mixed media - Marion 0431 457 431
Dru Yoga

- Tuesday 9.00 to 10.30 Tuesday morning - Phone Katya on 0414 187 916
Outdoor Circuit Training Classes on Scotland Island

-

Lowri Dwyer

- 0450 201 650 - lowri_89@icloud.com - https://www.facebook.com/lowri.dwyer/
Dynamic Yoga

Saturdays from 8.30am - 10.00am.


Drop-In Easy Hatha Yoga

- Monday Evenings 7:00pm - 8:15pm

---
Groups
Green Group For Catherine Park

- Run by SIOCS - Emmie Collins on 0405 330 781
Parents & Kids Groups Playgroup

- Run by SIOCS - email Emma trysemz@tpg.com.au
Catherine Park Bush Care Group

, 2nd Sunday @ 9.30am, Sharon Kinnison @ 9997 6017
Island Thinking Group

-

Roy Baker, 9999 6891, roybaker99@yahoo.com
---
Government Organisations
---
Airlines, Buses and Railways
---
Weather
Pittwater Weather
Scotland Island Tides, Moon phases, Sunrise & Sunset
Local Weather Forecast
Radar weather for Sydney (128k circle)

---
Emergency Contact Numbers   
ALL EMERGENCIES (Police - Fire - Ambulance)
000
Police Assistance Line & Information
13 1444 or 9281 0000
Broken Bay Water Police
9910 7899 or 0412 162 093
Marine Rescue Broken Bay - Weekend
(02) 9999 3554 - (02) 8411 1121
Marine Rescue Broken Bay - VHF Radio channel
VHF Radio Channel: VHF 16
27MHz Radio Channel: 86 or 88
Scotland Island Rural Fire Service 
9999 4404
Elvina Bay Rural Fire Service
9997 3795
Lovett Bay Rural Fire Service
9979 1612
Mackerel Beach Rural Fire Service
9974 1162
Rural Fire Service Headquarters Terrey Hills
9450 3000
NSW Fire Service General Information 9265 2999
9265 2999
Rural Fire Service General information
9450 3000
State Emergency Service, Warringah/Pittwater SES
13 25 00 9486 3399
National Parks & Wildlife Service: 000, general information
9457 9322
Dept of Community Services: general information
9977 6011
Sydney Water
132 090
Energy Australia
131 388, (ah) 131 909

---
---
A complete set of past electronic newsletters since May 2000 can be found and read at https://ymlp.com/archive_gesgjgm.php  or by clicking here or by visiting the Mona Vale Library.




---
To Contribute
If you would like to contribute to this newsletter it's easy!. Send an e-mail to the editor (editor@scotlandisland.org.au) or by clicking here. Type your contribution (100 words or so would be fine) and assuming it is of general interest to the community, does not include matter of a political nature and is not offensive, it will appear next month.
Subscription Information
To get on and off this newsletter,

click here

or got to:

http://www.scotlandisland.org.au/signup .


To change your address, click the 'modify' link at the bottom of this newsletter or send an email to the

editor@scotlandisland.org.au


---
Follow the PON
---
The Online Local Contacts Guide
Click HERE to load
---
T

he

Editor

and the publisher disclaim responsibility for any injury to persons or property resulting from any ideas, articles or products referred to in this publication. Further, t
he views expressed in this newsletter are not necessarily the views of the Scotland Island Residents Association (SIRA), or the Western Pittwater Community Association (WPCA)
---