Why not bookmark this AMPS Newsletter and read at your leisure!

AMPS Newsletter July 2015
New AMPS website launching soon, property development, MGM Roar, Walter Murch, Northern Film School, a correction, UK Screen Chair, Flare Audio, new AMPS members, Goldsmiths MA in Filmmaking, Raycom sustaining member, the future with Dolby…
Warner Bros. header image courtesy of Daniel Simpson.
Beerd, 157-159 St Michaels Hill, Cotham, Bristol BS2 8DB, 7.00pm on the last Wednesday of each month is the place to meet up with other AMPS members and like-minded people! Apparently, great craft beers and amazing pizzas are available!
London Social
Make sure that you attend the AMPS Social at the De Lane Lea bar in Dean Street on the first Tuesday of every month - be social with your AMPS members! The first Tuesday in every month - 6.30pm.
… not in Bristol or London?
Want a regular Social near you? It's easy to arrange one - contact us to find out how. Email
admin@amps.net
AMPS Website to go Live on Friday 10 July!

After much burning of the midnight oil, we pleased to announce that the redesigned AMPS website will be going live on Friday 10th July.
As mentioned in the last newsletter, this is a major update and includes some significant security upgrades. Part of this process requires that each member's password will need to be reset - details of this will be sent to you a few days in advance, along with some pointers on the new features. Please keep an eye out for the email!

As with any major new website, it's possible that there will be teething problems.  Whilst we've extensively tested the site and have ironed out as many bugs as we can find, some may have slipped though the net and I ask that you bear with us and provide feedback so we can fix them quickly.
Working with Development… or not!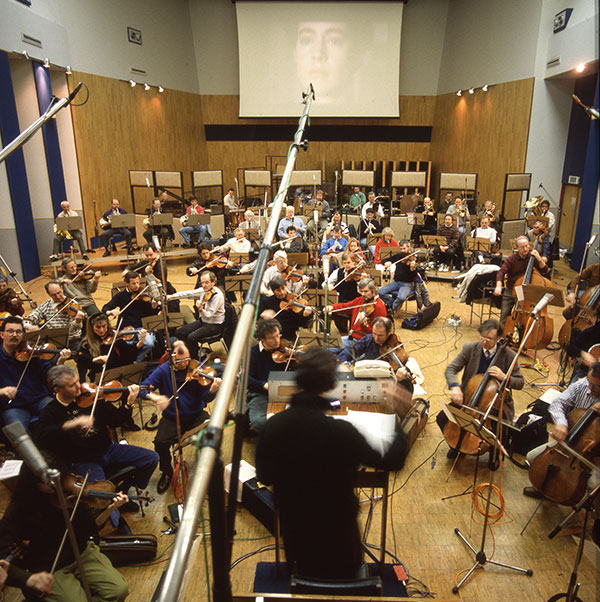 CTS Wembley doing what it did, so well!
AMPS member Adrian Kerridge remembers only too well his 'building development' experiences with Lansdowne and CTS studios.
"When I read about Air Lyndhurst Studio's next door neighbours planning application, to dig a deep basement and other alterations to their house, my reaction was, "Oh no!" This could put Air in immense jeopardy, not to be able to operate because of deep-excavation ground works. From my experience, there is no doubt whatsoever that the works will stop operations at the studios because of transmitted ground noise. It is a well-documented fact that during work of this type, ground-borne noise will be transmitted via the party wall into neighbouring properties.
I experienced this at Lansdowne Studios (basement and sub-basement) some years ago, with underpinning of the house next door - fortunately the neighbours were cooperative and we were able to continue working. Those of you who knew Lansdowne will be aware that the studios were about 200 metres from Holland Park Tube station. In the 80s, Transport for London (TfL) jointed the rails and replaced the rail shoes on the line and employed heavier rolling stock, causing ground-borne noise to be transmitted into the studio with a familiar train-rumble noise. The works were termed track maintenance. The rumble noise was most prevalent during string recordings with wide dynamics. We discovered, by measurement, that the level of propagated noise depended on the water-table level. The area was also in a stiff clay soil, which can concentrate the noise close to the surface, and the noise can also travel some distance. TfL were most co-operative, especially when a much respected High Court judge, who lived close by, also complained to TfL, as well as ourselves and other neighbouring owners. At our suggestion, supported by our acoustic consultant, TfL placed, at immense cost, rubber pads under the rail shoes for some distance on East and West lines. The problem was cured.
What has this got to do with Air Lyndhurst? It is not a simple answer, but huge amounts of pressure and well-founded, non-emotional objections, raised with the local authority's planning officer, may well result in a recommended refusal to the planning committee. I hope that the following cautionary tale may be of some help to Air Lyndhurst in deciding their strategy."
Well, the Risk Assessment Looked OK on Paper!

The MGM Roar
Dublin Zoo was the birthplace of Cairbre (an Irish mythological name), the above king of the jungle. Later re-christened Leo, he was the first MGM lion to roar on the silver screen.
The problem is, there were at least 5 MGM lions, all of whom were re-christened Leo. The most likely candidate though is this one, photographed being filmed in the early 1930s.

Cairbre is recorded in the RDS records as having sired 24 cubs, before being put down in 1944 (some say, for attacking a cameraman).
Dublin Zoo was approached again in 1950 to supply 15 lions to kill Christians in the Easter perennial Quo Vadis (1951), starring Robert Taylor and Deborah Kerr. It refused.
An Evening with Walter Murch

 

 

AMPS held an Evening with Walter Murch at Soho Screening Rooms on Wednesday 1 July. Walter gave a fascinating, thought provoking and inspiring talk to a packed theatre. He then took a question and answer session for about 30 minutes.

 

Undeniably, everyone that attended had a very enjoyable evening. The meeting was recorded and it is hoped to have the video on the website in the very near future.

 
The Northern Film School at Leeds Beckett University take
JAMES First Film Course Accreditation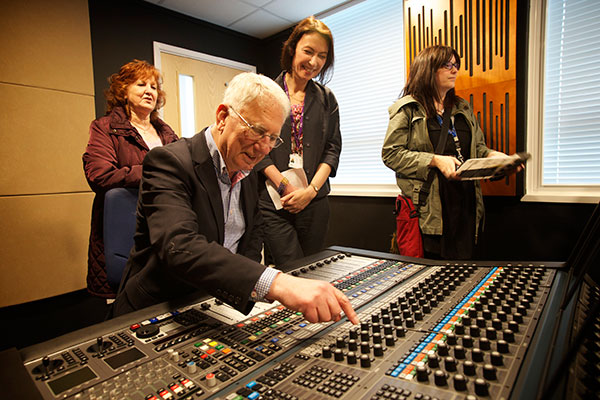 The Northern Film School at Leeds Beckett University has become the first ever film school to be awarded accreditation from JAMES, the professional body which supports audio, music technology and studio training within further and higher education.
 
The Northern Film School has received the JAMES (Joint Audio Media Education Support) accreditation for both of its courses – the BA (Hons) and MA Filmmaking. Leeds Beckett University was also the first university to become a JAMES Integrated Learning Centre in January 2007, when it received accreditation for its Music provision within the School of Film, Music and Performing Arts.
Larra Anderson, Director of the Northern Film School, added: "The JAMES accreditation means a tremendous amount for the Northern Film School because it speaks directly to the strengths of our staff's professional skills and the industry standards of our facilities.  We take great pride in these qualities and being the first film school to gain recognition from JAMES for these is extremely gratifying."
Last month, we reported that AMPS had collected £812 for the Hearing Dogs for Deaf People charity, thanking 'Meg Theakston and her husband Michael' for all their hard work. Meg's husband is apparently called David. Many apologies.
The Board of UK Screen have announced the appointment of David Jeffers as new Chair with immediate effect. David was a founder member of UK Screen and brings an enormous amount of experience and expertise to the role.
Flare Audio Produce Distortion-Free Speakers & I.E.M.

Image courtesy of
BBC Look North
Click on the above image to see (and hear) BBC Look North talk with Flare Audio about their impressive and revolutionary technology that has changed the future of how music is experienced.
New AMPS Member 1 - Marcos Cardós
Hello everyone, I'm very happy to join this group of top sound professionals.

My name is Marcos Cardós and I've been working mainly as a 1ºAS since the ending of 2010.

You are more than invited to check my profile for more details and information and I hope I can work along with some of you soon.
 
New AMPS Member 2 - Simon Richert

 

 

My name is Simon Richert and I'm a BBC Production Sound Trainee at the NFTS Production Sound Course.


I've worked in the film industry for a couple of years, and looking forward to many more!

 

In my free time, I also perform a bit with fire dancing.
Goldsmiths Now Offering MA in Filmmaking

Goldsmiths University of London Department of Media and Communications has recently announced the launch in September 2015 of a newly-expanded MA in Filmmaking offering six pathways: Directing Fiction, Producing, Screen Documentary, Cinematography, Sound Recording and Design, and Editing.
This newly-expanded Masters from the Department of Media and Communications takes the concept of the university-taught media MA to the next level. It offers specialised film, television and multi-platform industry training alongside unique opportunities to to produce films alongside others working in gallery art, theatre and social media.
Goldsmiths say, "The programme takes on board what the industry and independents are telling us every day: that while they seek well-rounded and multi-talented new recruits to the business, they also value and respect specialisms, where they are well-taught, current and to industry standards. MA Filmmaking will supply this via highly qualified, industry-active and award-winning staff and guest lecturers."
AMPS Sustaining Member - Raycom

| | | |
| --- | --- | --- |
| Since 1984 Raycom has used its close working relationship with the UK's premier broadcasters and location sound engineers to secure distribution rights with some of the worlds most innovative manufactures of professional broadcast quality audio solutions. |   | |
The radio microphone and IEM ranges from Wisycom of Italy and US based Lectrosonics are recognised as the top of their field for performance and reliability. Phonak of Switzerland also chose Raycom to launch and develop sales for their unique RF based virtually invisible in ear monitor, the invisity. In addition to these key brands we are continuing to build our range of accessories from a number of well respected suppliers including PSC, Sanken, Audio Ltd and DPA.
Raycom is however not simply a distributor. Our own UK manufactured RTB radio talkback base station has long been recognised as the product of choice by production teams needing flexible communication with engineers and talent in the field or studio.
Through its 30 year history Raycom has always considered a high level of customer support and long term after care service as pivotal. Guidance in product choice and a full repair service is offered by the company either from its own workshop or those of its manufacturer partners. A hands-on, in the field, knowledge of radio frequency technology has over the years enabled Raycom to understand the needs of its customers and select the best solutions.
Raycom has recently upgraded its web presence to a full e-commerce site allowing customers access to the large majority of their products at a time to suit the customer.
Dolby Hopes to Lure Movie Fans back with Theatres
of the Future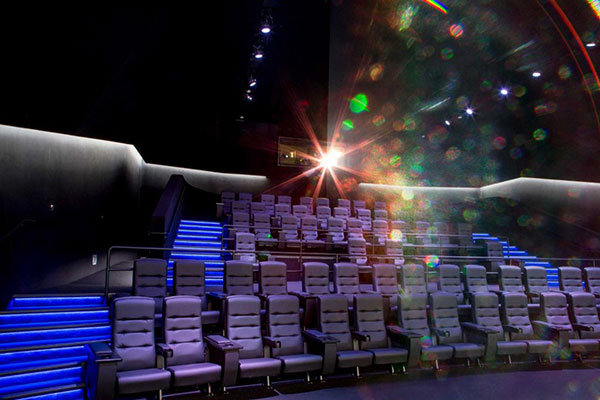 Photo courtesy of David Walter Banks
Los Angeles - Inside an aging Hollywood theater next to a strip club and a tattoo parlor, San Francisco technology stalwart Dolby Laboratories is trying to invent a new future for the movie industry — and for itself.
Dolby Laboratories, which celebrated its 50th birthday in May, turned the Vine Cinema into a top-secret, state-of-the-art prototype for Dolby Cinema, the company's view of the perfect blend of video, audio, industrial design and neuroscience.
Dolby's ambitious remake of the moviegoing experience — complete with a tunnel-like, futuristic entryway, light-absorbing seats and eye-popping image quality on the screen — won't come quickly enough to immediately help the movie business. Last year, attendance at North American theaters dropped for the second straight year to 1.27 billion, a 19-year low.
But while the industry blamed last year's decline on lackluster releases like the "Hunger Games" sequel, Dolby is counting on the willingness of movie houses to try new tactics to keep those seats filled. That means everything from showing 3-D movies to installing giant Imax screens. Some chains are even replacing the seats in underperforming theaters with electronically controlled reclining chairs that replicate the comfort of a home theater.
Still, the movie industry has come to trust the Dolby brand, which has become synonymous with audio quality in the film, TV, record and consumer electrics industries, using technology that evolved from late founder Ray Dolby's noise reduction system for audiotapes.
The company introduced an immersive Dolby Atmos sound system three years ago, and it is now bringing that technology to home theaters, mobile devices and headphones. Dolby also branched into a new field last year with a line of audio teleconferencing equipment, Dolby Voice.
Did you know that the Directory pages on the AMPS website are some of the most frequently visited?

 

Make sure that your profile is up to date - you never know where your next work enquiry will come from!

 

 
Can we help with your Professional Development?
We're keen to hear from you with ideas for seminars and training sessions which would contribute towards Continuing Professional Development.
We're very aware that keeping up with techniques and updates can be a full time job in itself, so if there's any way that AMPS can contribute towards maintaining and developing your industry knowledge and skills, please get in touch.
AMPS Address & Phone Number
Contact details to use are -
27 Old Gloucester Street
London
WC1N 3AX
Tel: +44 (0)1753 669111
AMPS, 27 Old Gloucester Street, London, WC1N 3AX
www.amps.net / +44 (0)1753 669111