History Corner with Leicester Warburton
Governor Phillip believed his life was in danger the morning after he named Pittwater in an angry confrontation with an old aborigine.
This is according to the historian Maybanke Anderson in Jan Roberts' skilfully edited little book "The Story of Pittwater".
The party had spent the first night in Pittwater in the long-boat, "anchored in the shelter of the headland". A number of friendly natives came down to the shore to look at them and in Phillips first letter to Lord Sydney on May 18, he tells of their stature and the absence of a front tooth in the men. He himself had lost a front tooth. He showed them the gap and "there was great clamour and the loss certainly gave me some merit in their eyes". He gave them a piece of pork which had been pickled in strong brine for six months . This was passed from hand to hand and then thrown away in disgust. It contrasted poorly with their diet of fresh fish and sea-birds.
Several aborigine women came down to the beach where Phillip's party had landed. . One he described as "very lively and cheerful". An old man came too and he showed the party a cave where they could take shelter since it was raining heavily. It is believed that this is the cave in the southern corner of the harbour beach, not far from Palm Beach wharf. But they declined to enter the cave ,"suspecting a trap". The old aborigine then helped them gather leaves for their beds. They thought they had found a friend and rewarded him with the gift of a hatchet. Later, while the party slept, the old man returned and took a spade as well. This angered Phillip who apparently thought that even a savage should understand the rights of property and he showed his displeasure to the man. An altercation followed and Phillip records that he knew his life was in danger when menaced by the old man's spear. But he stood his ground and " did not quail" , looking steadily at the old man who slowly lowered his spear.

"I thought it better to risk the spear than order the men to fire," he wrote. It was a decision of forbearance that may well have changed the annals of our settlement.
Soundings of Pittwater" depth were taken on this first visit and Phillip noted that "the bar is narrow and there is only 18 feet of water on it at low tide". He also notes the hills behind and concludes that ":somewhere" among them there must be a large river". He named the hills the Carmarthen, the Lansdowne and the Richmond Hills. He had no time to explore farther on that visit but resolved to again visit Broken Bay and " find the river".
.. Leicester Warburton
Free recycling crates at the Fireshed
Pick up your free (maximum of 2) recycling bins at the fireshed this Sunday at the fair.
Get rid of your asparagus fern - There will be a council sponsored pick up on the weekend of 6-7th November. Look for notices on public jetties.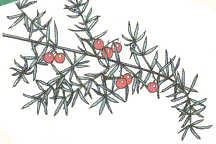 The recent rain was wonderful, but try to keep your street drains clear during and after rain - help keep our precious soil where it should be and not in Pittwater!
The Scotland Island Players superb production of the Donald Macdonald play Caravan directed by Bob Bolton, kept up the usual standard with excellent performances from all the cast especially Netty
Lodge, supported by Mark Morgan, Tracy Smith, Paul Burchall, John Travers, Jessica Thompson and Bob Bolton. These complemented the fantastic set constructed by the cast and crew and the stunning props, sound effects and costumes! A number of the audience members are also to be complimented for their brilliant performances!
All those who have ever been on a caravan holiday (or lived on an island) or had a holiday reunion with old friends (and some new ones) could identify with this play! It was funny and enjoyable.
After a long break its really good to see the Scotland Island Players back again and I look forward to the next production. ...Joy Nielsen
And this from a very happy ticket purchaser:
I attended the play on Sat. night, armed with a bottle of champers and surrounded by friends and had truly, the most wonderful evening of entertainment. In a time when there is so much to think about, it was so lovely to just sit back and relax, enjoy a belly laugh and catch up with friends afterwards. What a truly fantastic community effort and one I will definitely support in the future.

Melbourne Cup Day @ the Fire Station
Don't forget to come on down to the Scotland Island Fire Station on Melbourne Cup Day. Starting at 2pm on Tuesday, 2 November, the $2 entry charge includes snacks and nibbles. Wear a hat and join the "Best Hat" competition! The bar will be open and $2 and $5 sweeps will be available. So join us for a glass of bubbly and the live action of the race that stops the nation!
It's a real treat to have wildlife in your garden. We can preserve this miracle by keeping Moggy and the natives animals apart. Outdoor living is dangerous for cats - ticks, cars, other cats,
unfriendly neighbours and dogs all make their life difficult. Cats, in turn, can make life dangerous for our wildlife - ringtail possums, gliders, birds, skinks and lizards. BUT you can have your cat and wildlife too! Please keep your cat indoors and/or in an outside enclosure - it's easy, cats adapt well and there are a number of runs and enclosures available.
Early de-sexing of kittens at 3-4 months is highly recommended – it also keeps cats kittenish for life! SPAY DAY- subsidised desexing for the cats of pensioners and those with financial difficulties on Wednesday 27 October and 3 November. Enquiries and more cat information: Peggy Brown on 9913 8731.

Pittwater Councillors Visit Scotland Island
A recent Sunday saw a number of Pittwater Councillors visit Scotland Island, many for the first time. They were taken on a conduced tour of the island by SIRA committee members and representatives from the SI Rural Fire Service. The visit culminated in a morning tea and a small concert, featuring local dancers (under the direction of Trudi Engler) and musicians.
It was a truly memorable day and has had a remarkable affect on our relations with council at the highest level. Stay tuned for some great improvements to our part of paradise to be announced by council in the coming days.
Photos of this great day can be seen (while online) by visiting http://scotlandisland2004.tripod.com or clicking here (courtesy Sharon Kinnison)
Many of you will realise that Telstra has been working steadily on implementing the ADSL rollout for Scotland Island and the rest of the offshore community. I have been concerned at the speed of this rollout and have used my high level contact at Telstra to check on progress.
I quote from the email received a week ago: I have checked again with our Technical Manager, and at this stage the news is that the project is in hand, and the expected date of completion is mid to late January. This means that you can expect to receive up to 2mbit ADSL connection to your ISP before the end of January. If you want broadband (ADSL) and are not already connected, you should consider getting in touch with your service provider at that time.
Children's Movies at the Fireshed
The children's movie will be shown as usual on the first Saturday in November. (Nov 6th) in the fireshed all are welcome

WPYC Xmas Party Saturday November 13th 2004
All Welcome - $50.00
All you can eat and drink, plus entertainment!
Karaoke Chrissy Carols, Games, Dancing, and MUCH MUCH more.
Tickets available at the WPYC stall on the fair day this Sunday or from any WYC committee member. In the Scotland Island Community Centre. The fun begins at 7pm
This from a happy reader a couple of days ago. Makes you glad we live in our corner of Paradise!
'Nancy and Ruedi would like to send a hart felt thank you to the very kind person or persons that bailed our dingy out after the big rain'

Pittwater Sustainable Garden Workshop

Pittwater Council will hold a FREE Sustainable Garden Workshop from 9am-3pm on Friday 26 November.

The workshop replaces the Pittwater 2004 Beautiful Garden Competition, which has been cancelled because of the severe drought and inherent water restrictions in Sydney this year.

It will be held at the Angophora Room, Nelson Heather Centre, Jacksons Road, Warriewood.


Participants can:



• Learn how to create and maintain a sustainable garden from industry gurus Peter Rutherford and Mia Dalby-Ball
• View an expo of sustainable gardening products
• Enjoy light refreshments
• Visit three local outstanding sustainable gardens, with talks on site by their knowledgeable creators (own transport required)
Guests can also elect to attend just for the morning session, if desired.
Enquiries/bookings by 22 November (for catering purposes) with Gay McCorby on 9970 1119.

Petition signing - watch for it!
A petition will be available for you to sign on the day of the fair and in many other places in the coming weeks, calling on the state government to withdraw legislation increasing the taxes levied on water access only (wao) homes. You may be visited by a neighbour asking you sign it and we invite you to read it and support the petition that may help to avoid us all being taxed unfairly.
If you live on Scotland Island or the Western shores - that is YOU! Please read and sign the petition which will be presented to the parliament at the end of November.

The Scotland Island Ballet Group

proudly presents it's Annual Christmas Presentation of The Nutcracker Ballet
in the Community Hall on Sunday 5 December 2004 at 5.00pm

Following the performance there will be a party for children, so please bring a plate


Entry is a gold coin

Whether you are new to the Island or an old-timer, come along and share in this enchanting community experience performed by the Island's budding ballerinas and choreographed by our own amazing "living treasure", Trudi Engler

As our newsletter continues to grow (nearly 600 readers) we are including some links to other nearby organisations and events that may be of interest. If you would like to contribute, please send a message to the editor by clicking here.

Local Real Estate Agents:
Government Organisations:
Local Accommodation:
Local Pittwater Studies Website: http://www.pittlink.net/ls/index.html
Emergency Contact Numbers
NSW Police: 000, general information 9281 0000
Broken Bay Water Police 9979 4944 or 0412 162 093
NSW Fire Service: 000, general information 9265 2999
NSW Ambulance Service: 000, general information 9320 7777
Rural Fire Service: 000, general information 9450 3000
State Emergency Service, Warringah/Pittwater SES: 9486 3399
National Parks & Wildlife Service: 000, general information 9457 9322
Dept of Community Services: general information 9977 6011
Sydney Water: 132 090
Energy Australia: 131 388, (ah) 131 909
Emergency Scotland Island Water Contacts: click here for information (while online)
Weather
Join SIRA You can now join the Scotland Island Residents Association by clicking here. Please print the page you see and return the completed form to SIRA at this address: The Treasurer, SIRA, PO Box 70, Church Point 2105. Please NO CASH.

Join WPCA

To join the Western Pittwater Community Association, contact Larry at larrye@aftrs.edu.au or click here or phone 02-9979-5026 for more information.
Archived Newsletters A complete set of past electronic newsletters since 2000 can be found and read at http://www.scotlandisland.org.au/newsletters/archive.html or by clicking here

or by visiting the Mona Vale Library.
The future of this newsletter is in your hands. More than 700 residents and friends read this electronic newsletter monthly. Please tell your friends and neighbours to subscribe. If you are particularly literate in matters computing, you might like to help them follow the very simple path to subscription. It is easy to join. Simply click here to join, leave or change options or go to following address: http://www.scotlandisland.org.au/signup

Finally:
If you would like to contribute to this newsletter it's easy!. Send an e-mail to the editor by clicking here. Type your short contribution (100 words would be fine) and assuming it is of general interest to the community, does not include matter of a political nature and is not offensive to your neighbours, it will appear next month.

To get on and off this newsletter, or to change your options, - click here or got to: http://www.scotlandisland.org.au/signup
The views expressed in this newsletter are not necessarily the views of the Scotland Island Residents Association, or any of the associated Pittwater Offshore Resident's Committees