Why not bookmark this AMPS Newsletter and read at your leisure!

AMPS Newsletter December 2014
This month - the Vitaphone Project, Kingsman, clean up your vinyl, discounts for AMPS members on cold weather clothing, Everest, Hearing Dogs for Deaf People, two new AMPS Sustaining Members, Pro Tools Expert, industry news & comment.
If any Sustaining Members have news that they would like to include in the monthly Newsletter, then please send to Tony Andrews at -
newsletter@amps.net
AMPS member Richard Daniel recently brought George Groves' official website to the attention of the Connect, the AMPS discussion group. Thanks Richard!
George Groves (1901-1976), the Oscar-Winning, Movie Sound Pioneer from St Helens could boast numerous achievements. During the 1920s as a young engineer at Bell Laboratories in New York he assisted in developing the 'Vitaphone' sound-on-disc technology used in the first sound motion pictures. His expertise as a sound recordist, production and music mixer was used on a great many of the early sound films including Don Juan, The Jazz Singer, Mammy, The Singing Fool and The Desert Song.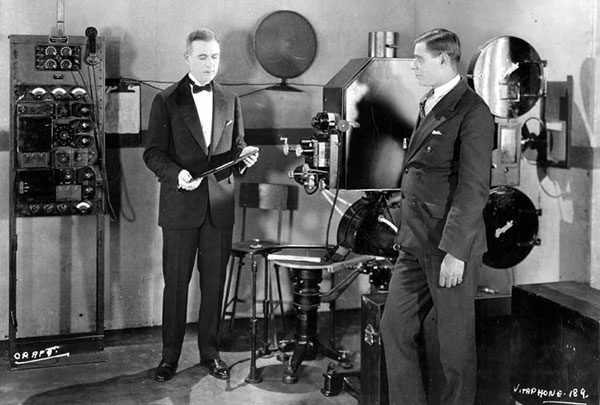 Not George Groves above, but a Vitaphone projection setup at a 1926 demonstration. The engineer is holding a soundtrack disc. The turntable, on a massive tripod base, is at lower center.
Although 'pre-scoring' (the pre-recording of musicians) was just around the corner, the music in musicals was at this time 'standard recorded'. This means that an orchestra played just out of shot as on-set vocalists sang. A live mix was performed by George who recorded the sound onto a single monaural track of a disc, while as many as three cameras rolled (see Singing Fool picture above). They often didn't wrap until each camera had shot 1000 feet of film and a 10 minute Vitaphone disc had been recorded.
Although editing of the picture was a simple cut of the film, editing of the soundtrack became, as George put it, "a terribly, terribly complicated job". The first attempt at dubbing from disc to disc had been crudely attempted in 1927 on the score of Old San Francisco using just two or three records.
 

Over the next three years, as shooting became more complex, 50 or 100 records had to be dubbed in each ten minute reel. In 1927 editing was performed by manually releasing records by hand but automatic machinery was soon designed that would start and stop records on preset cues. The accuracy of sound dubs was rarely perfect, however, so the picture had to be re-cut to match the sound edits. A row of turntables in the dubbing suite worked like a telephone dialling system, triggered by a system of relays and selector switches.

 
"We would operate relays that would release the turntables and they would start to spin. We had a crew of men who would stand there and put the next record in the rack, pull it down, take the old one off and get the next one set ready to go and reset the footage counter so that each turntable took off at the right time. We developed it down to quite a science but it was doing a job the hard way… a very, very complicated, cumbersome, inefficient way of trying to dub a picture."
Read the full article here…
Simon Hayes and Kingsman: The Secret Service

Audio Media magazine recently featured an article with AMPS member Simon Hayes and his work on Kingsman: The Secret Service.
"A dislike of ADR encouraged production and post to work incredibly closely on the new Matthew Vaughn film, writes Jerry Ibbotsen.
 
It speaks volumes about the relationship between a director and his team when you learn that several key members have worked with him on all his feature films. Simon Hayes, production sound mixer, has recorded every single movie from producer and director Matthew Vaughn."
Wood Glue… Vinyl… Perfect Partners!

Many thanks to AMPS member Michael Johns for bringing this Cleaning Vinyl LPs feature to my attention - he wondered if it was worth sharing with all AMPS members. Oh yes indeed!
"If you're into vinyl, you probably have some albums that have been sitting around for a long time. Maybe you obtained some used LPs that are decades old, or maybe you have some that just got cruddy. Either way, this can greatly affect the sound quality."
The article continues with a disclaimer and then some 'run of the mill' methods of cleaning vinyl with alcohol and water and speciality pads and cleaning kits. Then  we get interesting; apply wood glue, let it dry, peel it off!
Substantial Discounts Available for AMPS Members

| | | |
| --- | --- | --- |
| AMPS member Russell Edwards has recently secured considerable discounts with clothing supplier Nordic Life. |   | |
Discounts available for the next six months (hopefully extended) are -

■ 40% discount from Bergans of Norway outdoor clothing
■ 20% discount from other brands on the Nordic Life website
Owner Rhodri Lewis is also able to give impartial advise on suitability of clothing items and is quite happy to offer one-on-one or group meetings with members to discuss individual requirements.
Rohdri suggests that the website only shows a small amount of items available and that the best course of action is to contact him directly.
As the website says "Clothing to meet Mother Nature head on!"
Always Nice to Receive Approval

We recently received a really nice 'thank you' letter and the Council thought it would be very nice to add to the Newsletter.
 
Dear Peter and Amps,

I am not a soundman, rather I am a former cameraman and also a 'friend' of AMPS since its founding days.
Just to say that I thoroughly enjoyed the latest edition of The Journal especially the excellent stories of recording Captain Phillips and Gravity!. I do believe Gravity is a  triumph of British film making expertise seldom seen before. I regret I will probably not be able to attend your 25th celebration (but I am sure everybody at the delightful Cinema Museum will have a great time. Herewith a cheque for your worthy 'Hearing Dogs' charity. It is for my 75th celebration – I landed my first job (rewind boy at my local cinema) in October 1939. Very Best wishes to all at AMPS
 
Sir Sydney Samuelson
TVBEurope magazine recently published an interview with AMPS member Adrian Bell on his work recording the feature film Everest in which a climbing expedition on Mount Everest is devastated by a severe snow storm.
Hearing Dogs for Deaf People - AMPS Supported Charity
What We Do - We train hearing dogs to alert deaf people to select household sounds and danger signals in the home, work place and in public buildings - providing a life-changing level of independence, confidence and companionship.
Technicolor - New AMPS Sustaining Member No. 1

The Association of Motion Picture Sound has been working for 25 years to promote our craft, and encourage technological development, creativity and quality within the sound industry. The sound team at Technicolor London are proud to be involved via our membership, allowing us to keep abreast of the newest innovations in technology and in touch with our respected fellow sound professionals.
Aquarium Studios - New AMPS Sustaining Member No. 2

Established in 1997, Aquarium Studios Limited is a triple BAFTA winning audio post production facility based in Wardour Street, Soho offering voice recording, mixing, Foley, track-laying, and sound design for TV drama and feature films.

 

Aquarium are also cutting edge players in the global Video Game industry and are responsible for the sound on two of the biggest selling Sports Games in the World, FIFA Football and Pro Evolution Soccer.

 
Aquarium have worked on some of the country's most appealing factual television, and were recently nominated for an EMMY for their work on Channel 4's "Bravo's Deadliest Mission"
 
In the 17 years since its incorporation, Aquarium Studios has built up an impressive track record providing post-production services to many of the UK's biggest film and television clients including the broadcasters ITV, The BBC, Sky, C4, HBO and Fox; several of the world's largest film companies including Working Title and NBC Universal; computer games giants Electronic Arts and Konami; and some of the UK's most respected multi-award winning TV production companies including Kudos, Ecosse Films, Shine, Blast Films, Impossible Pictures, Mentorn, Tiger Aspect, Wall to Wall and Talkback Thames in addition to many others.
 
TV Credits include MERLIN (BBC), PRIME SUSPECT (ITV),  ATLANTIS (BBC), WHITECHAPEL (ITV) and Steven Poliakoff's critically acclaimed THE LOST PRINCE. We also provided full Audio Post through our company in Ireland for SINBAD (SKY) and  RIPPER STREET S1 (BBC),
 
Aquarium has been nominated for no fewer than 8 BAFTA's, with company owner Ben Baird winning three for best soundtrack, as well as A Royal Televison Society Award, and a single Conch Award.
Pro Tools Expert - Vote Now!

Pro Tools Expert received nominations for over 50 brands in our People's Choice Award 2014. The nominations came for big and small brands from across the entire audio production industry; we can now reveal the shortlist of those who received the most public nominations and open the voting to see which brands will win.
There are two catagories - Most Innovative Brand and the Brand With Best Customer Service, now the winner is down to you,
so get voting here…
Did you know that the Directory pages on the AMPS website are some of the most frequently visited?

 

Make sure that your profile is up to date - you never know where your next work enquiry will come from!

 

 
Can we help with your Professional Development?
We're keen to hear from you with ideas for seminars and training sessions which would contribute towards Continuing Professional Development.
We're very aware that keeping up with techniques and updates can be a full time job in itself, so if there's any way that AMPS can contribute towards maintaining and developing your industry knowledge and skills, please get in touch.
Change of AMPS Address & Phone Number
Please note that AMPS postal address and telephone number have changed. New contact details to use are -
27 Old Gloucester Street
London
WC1N 3AX
Tel: +44 (0)1753 669111
THE SOUND OF STORY

5 & 6 December 2014
Two days of events that celebrate and explore the role of sound in storytelling.
AMPS AGM

Sunday 15 February 2015, 10.30am
NFTS, Beaconsfield
Your best opportunity to hear reports on AMPS progress over the past year and plans for the future - and meet the AMPS Sustaining Members with their products and services.
THE SHOOL OF SOUND INTERNATIONAL SYMPOSIUM

8 & 11 April 2015
A unique series of masterclasses exploring the art of sound in film, the arts and media.
If you're based in and around Bristol, the last Wednesday of each month should be blocked out in your diary. Get to Beerd, 157-159 St Michaels Hill, Cotham, Bristol BS2 8DB for 7.00pm and meet up with other AMPS members and like-minded people! Apparently there's great craft beers and amazing pizzas!
… and finally, on the first Tuesday of every month

Make sure that you attend the AMPS Social at the De Lane Lea bar in Dean Street - be social with your AMPS members! Next event on Tuesday 2 December.
AMPS, 27 Old Gloucester Street, London, WC1N 3AX
www.amps.net / +44 (0)1753 669111