M

15

Concert Bar and Grill

10/29/15

Corona, CA

Gallo Center for the Arts

10/30/15

Modesto, CA

The Museum Club

10/31/15

Flagstaff, AZ

Livewire - CANCELLED

11/1/15

Scottsdale, AZ

Stampede Houston

11/20/15

Houston, TX

Gaslamp

12/13/15

Long Beach, CA

Country Music Cruise - SOLD OUT

1/16-1/23, 2016

Ft. Lauderdale +
ON THE 'NET

Wade's Official Web Site - includes a merchandise store

T-shirts, CDs, Pictures, Guitar Pics, Tumblers

Personalized video messages

Link Additions to the wadehayes-woww.com web site

Wade Hayes Musician and Cancer Survivor - video

Country Family Reunion Taping - video

Dim Lights, Thick Smoke and Loud, Loud Music - video
Heartaches by the Number - video

Missy Wolf Interviews Wade Hayes - video
Durango Music Spot Stage during CMA Music Fest - Aud

io

National Anthem at the San Francisco Giants game with Miami - Video
Honky Tonkin' with Tracy Lawrence - new WSM show - Audio
Grand Ole Opry Shows You Might Have Missed - Audio

2/25/2015
7/10/2015
8/5/2015
9/5/2015
Find links to all of the above at
Welcome to Fan Page -

Treasa and Al Brookman, Laney and Harley Peerson, Larae Predmore, Kendall and Harley Peerson,Kelly Kane and Jeanene Jones

Updated Tour Page

Updated Links Page
GUIDELINES FOR USE OF WADE'S MATERIAL - pic, name, logo, signature
WADE ON SHOW TAPING FOR COUNTRY FAMILY REUNION
Social Media - Wade's Facebook Fan Page, Friend's Page and Twitter links
---
Wade was part of a Larry's Country Diner show on RFD-TV. Recently seen on Saturday, September 5th and Sunday September 6th, it will re-air on Saturday, January 30th (10 pm CT) and Sunday January 31st (6pm CT).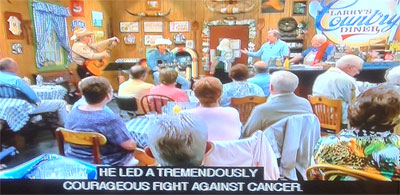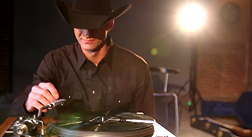 ---
FAN HELP IN PROMOTING WADE
Wade and any other knowledgeable person will testify that Wade has some of the best, most supportive fans in the music industry. Your support of him and his music has lifted his Facebook Fan page to the stratosphere of over 132,000 likes. Way to Go!




As Wade enters a new and exciting phase of his career, his management team wants to thank you for your past and your future support. You've been positive and respectful in your online comments and you've posted many great pictures. It is of immense help to Wade when you post your best pictures - without red-eye and without blurring. As you look at the pictures you plan to post, please eliminate any pictures that could be considered unflattering. They may well remind you of a special time, but think of them from the artist's viewpoint. Wade is at his best now. Show him off, proudly!



GUIDELINES FOR USE OF HIS MATERIAL - pic, name, logo, signature
We need to call this issue to the attention of fans. Any item for sale that

looks like official merchandise

- that is - contains the Wade Hayes name, logo, picture or signature must have written approval from his management. All of those emblems of Wade are owned by him as part of his business. Even if they are being sold to benefit a charity, the design must be submitted to and approved by management in writing.
---
WADE ON SHOW - TAPING FOR COUNTRY FAMILY REUNION
- update
Wade worked with the Country's Family Reunion crew and cast for 2 sessions. One is a Tribute to Ray Price. The other is a Tribute to Honky Tonk music. And Wade says, "Just happens to be my kinda music!!"




Here's the page to shop for videos. Both series are available. Wade's performance on the Ray Price set is at the 30 minute point on the first video in the set. For the Honky Tonkin performance, he's on the 4th disc.



---
---
"A Place to Turn Around" -

SOLD OUT
Wade's Most Recent Videos
Get the word out - use your facebook page, your twitter account, your e-mail to ask your friends to view this video. It's hard to imagine that there's anyone left in these United States who hasn't had a friend or a family member who's faced this situation. You can tell them, too, that from the beginning Wade's odds of making it were poor. Now he stands on the side of good health and is rebuilding his life and his career. Praise God!
What an anthem for for making the most of this short, precious life on earth. Wade nailed it. For each download, Genentech Pharmaceutical will donate $1 to the Colon Cancer Alliance Blue Note Fund, which gives direct monetary help to advanced cancer patients. Your 99 cents is a double value. Go Download!
---
The Links page is your source for finding pics, videos, reviews on other sites.
---
Refer talent buyers to Wade's management
Mike Robertson Management
Phone: 615-329-4199
Fax: 615-329-3923
E-mail: assistant@mrmmusic.com
If you want to see Wade in your local area
, ask your favorite venues to seek booking information.
Supplemental Booking - especially Texas
Mike McCary
mike@markchesnutt.com
If your venue is interested in booking Wade, an offer can be submitted at this site:
www.mccaryentertainment.com/wadehayes
Welcome Colleen from England!
WOWW!, an e-mail newsletter to Wade Hayes fans, began in December, 1997. Subscribers reside in FIFTY (50) states as well as -
Australia, Brazil, Canada, England, Germany, Iraq, Ireland, Italy, Japan, Netherlands, Scotland, South Korea, Spain, Switzerland, New Zealand, Hong Kong.
Messages for Wade can be sent to the same address. Mark ATTN: Wade Hayes
Wade has requested, "No presents, please."
---
Wade Hayes Appearance Details
http://www.wadehayes-woww.com/wadehayestour.html

Check with venues before travelling.