Dear Friends,
We hope you, your family, and friends are safe and sound. Here is this week's Library Minyan Weekly Update for Febrary 19, 2021.
If you have suggestions or would like to include something in a future Weekly Update, please email Jerry Krautman at
JKrautman@sbcglobal.net
or reply to this email.
---
Mazal Tov
We want to wish a hearty Mazal Tov to long time members Yakov and Natalia on the Bar Mitzvah of their son Eytan Bentsvi tomorrow morning at 9:15 a.m.  Eytan is the brother of Goldie.
Zoom Registration Link
In this week's Haftorah Plethora for Shabbat Zachor, Rick and Larry discuss the downfall of two kings, King Saul of Israel and Agag, king of the Amalekites. Larry finds the story perplexing and troubling while Rick is happy to have a pazer to sing and explain.
The Mishnah Study Group will be gathering to learn on February 20th with Zwi Reznik.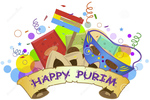 Chag Purim Sameach
"For the Jews there was light and happiness, joy and glory." We wish you a Happy Purim and look forward to seeing you next year at our Megillah reading and Seudah. Be Happy. It's Adar!