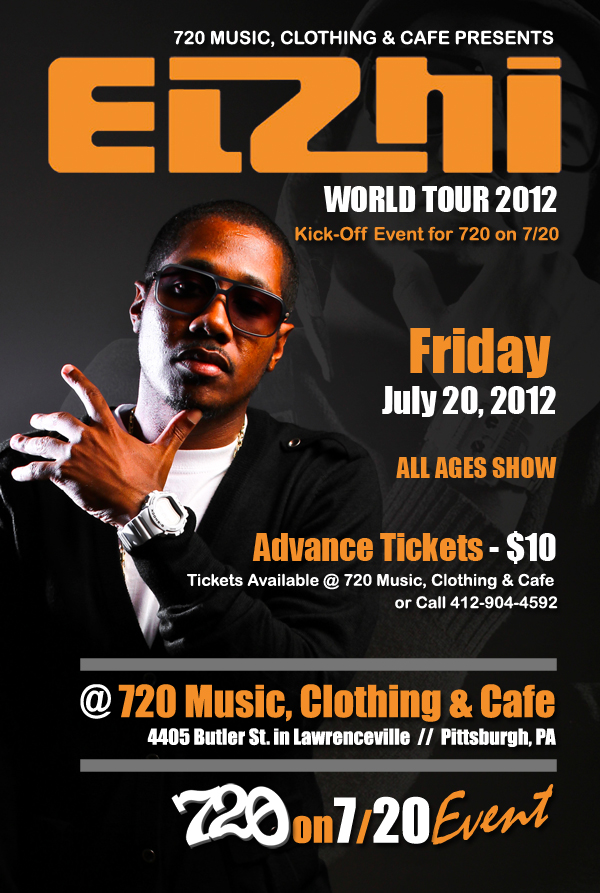 Show #1
ELZHI performs Live!!!
Performing LIVE at 720 Music Cafe is one of Detroit's most prolific and legendary Emcee's:
ELZHI
-Formerly of Slum Village
-Architect of ELMATIC an homage to Nas's illmatic

ADDED to the show, Hip Hop Jazz Emcee and Cleveland's Own "Rep Life"

Friday, July 20, 2012
@ 720 Music Cafe
4405 Butler St
Pittsburgh, PA 15201

Advance Tickets: $12
Showtime 9pm
Call 412-904-4592 for Ticket info

ELZHI Bio:

Before the world ever heard the name ELZHI, the young artist was sitting in the back of classrooms thinking of rhymes, spitting verses while his friend Fes banged out beats on lunchroom tables, or was battling rival emcees on the blacktop after school. He sharpened every blade in his arsenal, developing his style to measure up against the competition in Maurice Malone's Hip Hop Shop, the legendary proving ground for Detroit artists that has produced some of the greatest emcees in the world.

ELZHI spent years paying dues, writing songs, entering battles, and recording demos until he finally made his international debut on "Come and Get It," a standout track from J Dilla's album, Welcome 2 Detroit. The acclaimed song drew massive attention to the mysterious artist, and made his unfinished EP, Out of Focus, a highly sought after recording.

In 2001, Slum Village asked ELZHI to be a part of the group to elevate their reputation, and allowing him to reach new levels of lyricism. He recorded multiple albums with his former group, sold hundreds of thousands of records, and toured the world performing his hit singles "Tainted (featuring Dwele)" and "Selfish (featuring Kanye West and John Legend)" in cities as distant as Tokyo and Amsterdam.

This year, he released ELMATIC, an homage to NAS's classic debut, ILLmatic. A labor of love for ELZHI, the project finds the Detroit emcee creating new songs out of Nas's original titles while rapping over the Will Sessions Band's interpretation of the original beats.

Check the Rhyme... See ya @ 720 Friday, July 20, 2012 @ 8pm...










Show #2
720 Jazz Session (Wednesday Nights)
720 Jazz Session
Every Wednesday
Doors open @ 8pm, Show Starts @ 9pm
$5 cover, $3 cover for musicians
Free before 9pm
B.Y.O.B.
Call 412-904-4592 for info
We are proud to present the 720 Jazz Session, our weekly music event, featuring local jazz heavyweights James Johnson, Paul Thompson & Brett Williams. Join us this and every Wednesday night @ 720 as we cross Blue Note era jazz genres with a little funk & soul. $5 cover. Our cafe will be open for business during shows. Free admission before 9pm. Show Starts at 9pm. BYOB... See ya then...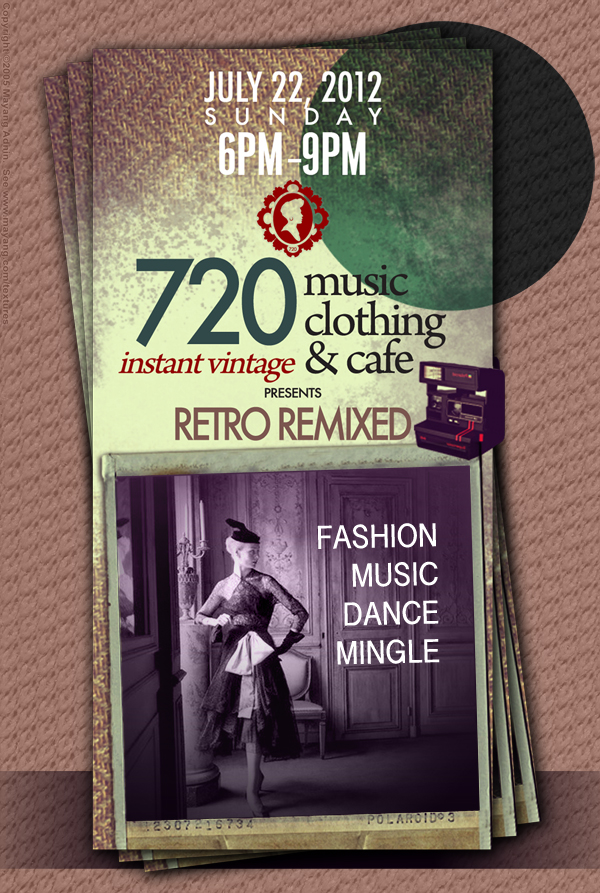 Show #3
RETRO REMIXED
Sunday, July 22, 2012
@ 720 Music Cafe
4405 Butler St
Pittsburgh, PA 15201

Show Admission: $8
Doors open at 6pm
Call 412-904-4592 for info
Retro Remixed is a fashion show that will highlight key items and exclusive pieces from our Instant Vintage collection. Instant Vintage is a collection of men and women contemporary, vintage and second-hand clothing and accessories handpicked especially for you!

A portion of proceeds from the event will benefit the Ronald McDonald House Charities.

Admission: $8

An official 720 on 7/20 Event