Contents
---
---
SIRA

NEWS
The draft strategy sets our direction for sustainably managing the waterway for the next 20 years.
Comment
online
or find out more at a drop-in session:
Saturday, 2nd February
12 - 2pm, Church Point Wharf
Comments close Sunday, 3rd February.

---
Congratulations Greg Roberts OAM

MEDAL (OAM) OF THE ORDER OF AUSTRALIA

Mr Gregory Blaxland ROBERTS
Scotland Island
NSW 2105
For service to the community of Sydney's Northern Beaches.
Long Reef Surf Life Saving Club (SLSC)
Committee member.
Bronze Medallion Instructor.
Member 1955 to late 70's.
Rotary Club of North Sydney
Projects  such  as  development  of  the  Safer  Driver  Course'  for  year  11  and  12  secondary students, working with small committee.
Member, since 1966 to 2009.
Scotland Island Resident's Association (SIRA)
President 2000-2003.•Vice-President, 1996-1999.
Committee member, 1996-2012.
Member, since 1966 and Life Member
Pittwater Community
Member  Representing  SIRA,  Pittwater  User  Group,a  community  group  concerned  with the best and fairest use of the waterway of Pittwater, since 2009.
Pittwater Strategic  Plan  2020,  working  with  the  then  Pittwater  Council  and  the  community, 2010.
Member,   Built   Environment   Group,   3   years,   including   development   Steps  to  a  Sustainable Home' booklet.
Home Access Association
Founder and Member, 2000-2013. (representing home owners who can only get to the mainland by water to achieve a fair basis from Crown Lands, achieved in 2013)
Contributor, Sustainable Ingleside Advocacy Group, since 2014.
Awards and recognition include:
Environment Award, Pittwater Council

Congratulations

Greg

, we are all very proud of you.  This award and recognition of what you have done is truly deserved!



---
Bulky Goods Clean Up
Monday, February 4
PLEASE NOTE
Please read Collection Guidelines before putting your material out!  
The total quantity per household should not to exceed 3 cubic metres (3m x 1m x 1m)
IMPORTANT NOTE:  NO ASBESTOS TO BE PLACED OUT FOR COLLECTION
Asbestos is extremely hazardous to everyone's health.
This includes what is known as "fibro" which is an asbestos based product.
URM is legally bound and reserves the right to close down the collection should any asbestos be found thrown out for the Clear Out
UNACCEPTABLE ITEMS
Computers & TV's
Asbestos, batteries and household chemicals
Building materials – wall linings, gyprock, studs, timber beams, tiles, concrete
Car, motor and boat parts, rubber tyres – rims are accepted
Food, full gas bottles (open valve), glass including windows, panes, mirrors, panels, shower screens, picture frames, liquid paints, oils, fuel, soil, earth, fill, bricks
Recyclable materials – paper and cardboard, soiled wrappings, vegetation, plants

Unacceptable Items will not be collected

It is

your

responsibility to remove unacceptable items from roadside
ACCEPTABLE ITEMS
Appliances such as stoves and fridges – remove doors; frames with glass removed – break glass into newspaper, wrap securely and put in household garbage
Paint tins and fuel containers – with the lid off and no liquid
Manageable quantities of: delivery pallets, wooden stairs, decking, gates, fencing, guttering, down piping, iron sheets and water tanks – cut down to 1.2 metre lengths and able to be lifted by one person; nails must not stick out – please hammer down; hot water systems – emptied
Metals to be kept separate, where possible, to be taken to Kimbriki Recycling & Waste Facility for re-processing and re-use

Place metals in a separate pile to other general clean up materials
The waste collection team will greatly appreciate your co-operation.

---

Mona Vale Road (East) upgrade to Commence
IMPORTANT information for motorists using Mona Vale Rd, between Ingleside & Mona Vale each day. The 3.2km Mona Vale Road (East) upgrade from 2 lanes to 4 lanes starts next Tuesday 29th January.
First Activities:
removing trees, shrubs and other vegetation on both sides of Mona Vale Road between Daydream Street, Mona Vale, and Lane Cove Road, Ingleside
installing traffic controls, such as barriers, signs, line-marking
setting up the site compound for the project team
delivering materials and equipment to site.
Potential Disruptions:
noise and dust from rock cuttings
traffic changes such as contra-flows and detours
traffic delays, including additional heavy vehicles on the roads
night work
driveway realignment for several residents on Mona Vale Road
major utility relocations in and around Ponderosa Parade, Samuel Street and Foley Street.
January 2019 project update(PDF: 11.6Mb)

Visit RMS Webpage: Mona Vale Road East upgrade - Manor Road, Ingleside to Foley Street, Mona Vale

Also available in pittwater Online news issue 391 :Upgrade Of Mona Vale Road East To Commence This Month

- an overview of what to expect





---
Rubber Jellyfish
Wednesday 20 February 2019
6:30 PM
Hoyts Warringah Mall
The film, Rubber Jellyfish, is a delightful and engaging documentary which explores the adverse effect of one of our favourite party products, the helium balloon, on the environment, its potentially deadly effect on human beings, and its heartbreaking impact on sea turtles. The event will include an introductory speech and Q&A by marine animal activist, educator and plastic warrior Malin Frick of Northern Beaches Clean Up Crew.






Details of the screening are as follows:




Date:

Wednesday 20 February 2019


Time:

6:30 PM


Where:

Hoyts Warringah Mall

If you wish to view a trailer or find out more information about the film you can visit: https://rubberjellyfishmovie.com/watch/

If you wish to share the event it may be shared from the Northern Beaches Clean Up Crew Facebook page at this link:
https://www.facebook.com/events/338402106990309/. From this page you can also invite your own Facebook friends to the event.

To reserve tickets please visit: https://tickets.demand.film/event/6708qLvdnQla

Nb: If you are not familiar with Demand Films, unlike a traditional movie showing Demand Film screenings require that a minimum number of tickets be reserved within 5 days of the event in order for the screening to occur, so please encourage interested people to book early.



---
The Co-Op Club Presents
February 2019 Bookings
Church Point Cafe -  Artists play between 3:30 - 6:30pm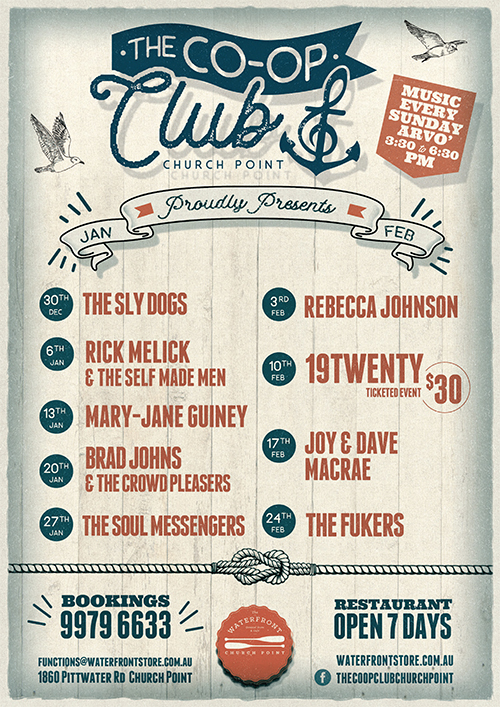 The Waterfront Café's Co-Op Club presents the finest live music North side of the bridge from 3.30pm every Sunday. Come and immerse yourself in some wonderful music by the waters edge with great friends, your favourite beverage, some wonderful music and a huge range of delicious menu specials. 
1860 Pittwater Rd Church Point – bookings 99796633
www.facebook.com/thecoopclubchurchpoint
www.waterfrontstore.com.au

---
Wanted artists and/or horticulturist/plant lovers
I am creating a series of short videos for an American company PLANTPOP

https://plantpop.com

who feature short documentary style videos about the relationships between people and plants.


I'm particularly looking for people who interact creatively with plants or feature plants in their artworks. The company are keen to get an international perspective and I would like to work locally with our community members so I can have the opportunity to show off our diverse skills. There would be no payment, however it would be a good opportunity to get exposure for what you do.

If you are interested or know someone that might be please let me know! :)

Contact: Micah Lihachov
Email: micahlihachov@gmail.com
Phone: 0421 112 994



---
Looking for a commuter boat Feb to Dec 2019
We are a couple experienced living offshore (Lovett Bay) and dealing with boats and commuter wharf.

From end-Feb to beginning Dec 2019 we'll be minding a house with deep front Jetty on Scotland Island.
We sold our polycraft last year and were wondering if someone would be interested to rent or lease us a commuter boat (with canopy) for the period.

We would  service it at the end of the period (on top of the rent) and I can get a ticket for commuter wharf under my name.
Since I work from home, the boat would rarely be kept at the wharf..
.
Open to any proposition around the concept.

Jean Paul and Jen
lettertojeanpaul@gmail.com



---
Lovett Bay Home to Rent
 

Three bedroom waterfront home available for immediate rent.

Very sheltered northerly aspect. Flat lawn and  deepwater jetty / pontoon.

Tel 0420 995 224


---
Boat for Sale
We recently purchased a larger boat so our 4.3M Coxcraft dearly referred to as "Gumleaf"  is for sale.

Fiberglass boat, hull in excellent condition.
Original Engine Yamaha 40 HP 2 stroke, starts every time. Very easy.
All boat covers replaced last year. So, stay dry this winter.
Replaced entire steering 18 months ago.
Equipped with lights, bilge bump, safety gear.
Bottom is clean, but it is due for anti-foul.
Island price $ 3500.00
 
Contact: Mary 0438 632 855 or email mcfrey37@gmail.com




---
Furniture For Sale - Scotland Island

Queen mattress- $100 IKEA Sultan Horninge Spring Mattress


Good Condition



Queen Mattress and bed base - $50


Comfortable/ good condition/ has a few stains( but only from spilt tea or water!)



Ikea Molger coffee table/ bench


Good condition $25



Ikea Frosta stools


2 available $5 each



Ikea Lerhamn dining table


Good condition $50



Ikea Bekvam Stepstool  $10

Ikea Forhoja Kitchen Island Bench/Trolley


Good condition $ 100



Double drawer filing cabinet /bedside table


$10



Queen size sofa bed


Very comfortable/ thick mattress
$100



Caravan $500


Great for kids retreat/cubby/extra bedroom
Has some water damage in one corner
Tows fine but may need to be lifted off site
Have checked and local truck guys can do this.



Please call Sophie on 0432611976
Or email sophie_hay@hotmail.com




---
---
The Local Guide
Community Information
Scotland Island Web Site -
www.scotlandisland.org.au
Scotland Island Residents Facebook Page -
click to go to Page
Scotland Island Rural Fire Brigade

- 9999 4404 - http://www.sirfb.org.au
West Pittwater Rural Fire Brigade


http://www.westpittwater.com.au/rural-fire-brigade/WPRFB-contacts - 9997-3795
Offshore Photo Gallery -offshore gallery
Scotland Island Residents Association (SIRA) Membership details - click here for details
West Pittwater Community Association (WPCA)

-
www.westpittwater.com.au
Scotland Island Emergency Non-potable Water
Agreement for Sale of Non-potable Water
SIRA Membership Application
Emergency Non-potable Water Guidelines
General Information, Map & Contacts
http://www.scotlandisland.org.au/community/emergency-water/
Scotland Island & Offshore Children's Services (SIOCS)
Long Day Care at The Island Kindy in Catherine Park
Days of operation: Monday, Tuesday, Wednesday & Thursday
Times: 8.00am - 6.00pm
Before & After School Care
8.00am until walked to school ferry - collected from school ferry until 6.00pm
Vacation Care, Casual Care and Playgroup on Fridays
Hire the Kindy for Birthday Parties
Please call

02 9979 7856

or email SIOCSdirector@gmail.com
Facebook: https://www.facebook.com/theislandkindy
Website: http://scotlandislandkindy.business.site/
Scotland Island Community Hall Bookings

:  Barbara Labram M: 0473008339  or hall@sira.org.au
Pittwater Online News

-  http://www.pittwateronlinenews.com
Tick Fact Sheet
TUG Waitlist   (Tennis User Group) - Application Form
---
Transport
---
Real Estate
---
Services, Clubs & Accommodation
Justice of the Peace

- Bob Mitchell (Mackerel Beach) - 0419 745 628
Justice o

f the Peace

- Tony Hendel - 0419 242723
Justice of the Peace

- Andy Derijk - Elvina Bay 0418 613 890
 

Justice of the Peace  - 

Lexie Le Blang 0418399674 or 99992574
Justice of the Peace  - 

Graham Stenner - 0407216405
J

ustice of the Peace  - 

Carolyn Milani - 0409914699
Pittwater Community Arts Inc.

 - Enquiries Lorrie Morgan 9997 8079  lorriemay@bigpond.com
Peninsula Music Club

- enquiries Janice Tuynman - 99991937 - jt@swift dsl.com.au
Woody Point Yacht Club

-  http://www.wpyc.com.au   commodore@wpyc.com.au
Royal Prince Alfred Yacht Club

-

02 9997 1022

  http://www.rpayc.com.au/  
Royal Motor Yacht Club

- http://www.royalmotor.com.au/ 02 9997 5511
Scotland Island Lodge

- Bed & Breakfast - 02 9979 3301 or  http://www.scotlandislandlodge.com.au 
Pittwater Youth Hostel

 - (02) 9999 5748 (8-11 am and 5-8 pm)
http://www.yha.com.au/hostels/nsw/sydney-surrounds/pittwater/ 
Handy Service

- "No job too small"  - Call Alan 0447 775 541
Electrician Wayne

on Scotland Island 0418 229 277 - offshore community sparky - www.sparky.com.au
David Walsh

-

Graphic Design

-

Custom Made Sculpture

- 0404 239 212 - ital2@optusnet.com.au
Dog Wash & Grooming

- Call Jenni: 0450 444 100 or Email: jena50@hotmail.com
Free Pump Outs for Boats

- Council with RMS installed a pump out at Careel Bay wharf
Top water purification system installed for offshore homes:

  Call Juliette 0418349448
Solicitor - Rachel Carter - Carter O'Neill Legal - 0406 239 946
Island Based Domestic Cleaner

 - Kath - 0405097424 - kathando@yahoo.com
Building Design and Drafting Services

  - Samuela Madej – Murphy ph. 0450331573
email: samuelamadej@gmail.com
Qualified Deep Tissue & Swedish Massage

- Mona 0490701213
Island Based Cleaner - Uses predominantly Organic & Natural Products

- Mona 0490701213
---
Island Classes (Fitness, Dance, Art etc)
Pilates, Meditation and Group Fitness

with Patrice -  0406 483 036 patrice.corrie@gmail.com
Art Classes

- drawing and painting in oils, acrylics and mixed media- Marion 0431 457 431
Dru Yoga

- Tuesday 9.00 to 10.30 Tuesday morning - Phone Katya on 0414 187 916
Dynamic Yoga

Saturdays from 8.30am - 10.00am.


Drop-In Easy Hatha Yoga

- Monday Evenings 7:00pm - 8:15pm

---
Groups
Green Group For Catherine Park

- Run by SIOCS - Emmie Collins on 0405 330 781
Parents & Kids Groups Playgroup

- Run by SIOCS - email Emma trysemz@tpg.com.au
Catherine Park Bush Care Group

, 2nd Sunday @ 9.30am, Sharon Kinnison @ 9997 6017
Island Thinking Group

-

Roy Baker, 9999 6891, roybaker99@yahoo.com
---
Government Organisations
---
Airlines, Buses and Railways
---
Weather
Pittwater Weather
Scotland Island Tides, Moon phases, Sunrise & Sunset
Local Weather Forecast
Radar weather for Sydney (128k circle)

---
Emergency Contact Numbers   
ALL EMERGENCIES (Police - Fire - Ambulance)
000
Police Assistance Line & Information
13 1444 or 9281 0000
Broken Bay Water Police
9910 7899 or 0412 162 093
Marine Rescue Broken Bay - Weekend
(02) 9999 3554 - (02) 8411 1121
Marine Rescue Broken Bay - VHF Radio channel
VHF Radio Channel: VHF 16
27MHz Radio Channel: 86 or 88
Scotland Island Rural Fire Service 
9999 4404
Elvina Bay Rural Fire Service
9997 3795
Lovett Bay Rural Fire Service
9979 1612
Mackerl Beach Rural Fire Service
9974 1162
Rural Fire Service Headquarters Terrey Hills
9450 3000
NSW Fire Service General Information 9265 2999
9265 2999
Rural Fire Service General information
9450 3000
State Emergency Service, Warringah/Pittwater SES
13 25 00 9486 3399
National Parks & Wildlife Service: 000, general information
9457 9322
Dept of Community Services: general information
9977 6011
Sydney Water
132 090
Energy Australia
131 388, (ah) 131 909

---
---
A complete set of past electronic newsletters since May 2000 can be found and read at https://ymlp.com/archive_gesgjgm.php  or by clicking here or by visiting the Mona Vale Library.

The Island website is at www.scotlandisland.org.au




---
To Contribute
If you would like to contribute to this newsletter it's easy!. Send an e-mail to the editor (editor@scotlandisland.org.au) or by clicking here. Type your contribution (100 words or so would be fine) and assuming it is of general interest to the community, does not include matter of a political nature and is not offensive, it will appear next month.
Subscription Information
To get on and off this newsletter,

click here

or got to:

http://www.scotlandisland.org.au/signup .


To change your address, click the 'modify' link at the bottom of this newsletter or send an email to the

editor@scotlandisland.org.au


---
Follow the PON
---
The Online Local Contacts Guide
Click HERE to load
---
T

he

Editor

and the publisher disclaim responsibility for any injury to persons or property resulting from any ideas, articles or products referred to in this publication. Further, t
he views expressed in this newsletter are not necessarily the views of the Scotland Island Residents Association (SIRA), or the Western Pittwater Community Association (WPCA)
---