---
SIRA

Notices
The SIRA committee is calling for a SPECIAL GENERAL MEETING on
Sunday 30 November, at 10 AM
at the Scotland Island Community Hall
At the meeting, the SIRA committee will propose the following

special resolution

to change a section of the constitution in order to improve the nomination procedure for the election of committee members.



Motion: "That Section 14 from our current SIRA Constitution titled "The Election of Members" be replaced with the wording from the equivalent section from the NSW Fair Trading's 2009 Model Constitution titled "The Election of Committee Members". The details of the proposed change being set out in Attachment A"



Moved: Bill Gye Seconded: Hubert van Mierlo



How can the constitution be changed?



The proposed resolution is classed as a

special resolution

because it pertains to a

constitution

change.

There are two important prerequisites for a change to the constitution to become successful:

A quorum of

20 paid up members

is required to be present at the general meeting
The resolution must be passed by at l

east 75%

of members present voting in favour
Why is the committee proposing to change the constitution?





This change to our current Constitution was discussed at last year's Community Forum, has been discussed for several months by the SIRA Committee and also during a Q&A Session at the last SIRAC Meeting. The current SIRA Committee supports this change.



The reason this change is being proposed is to

better manage the election process

in the situation where there are more nominations for Committee positions than there are positions available on the SIRA Committee 7 days before an AGM. Closing the period for accepting nominations days before will:



A. Allow for the preparation of ballot papers in advance and thus a more efficient and better managed election process




B. Give the community time to review and consider the candidates at least 7 days before the election




Note:




1. Up to 7 days prior to the AGM there is no restriction on the number of nominations that can be made




2. Where there are fewer nominations than positions 7 days prior to the meeting, nominations will be accepted until that number is exceeded.




3. In our current Constitutions there can be up to 16 positions that can be nominated for (6 Office Bearers and 10 General Committee Members)





What is being changed exactly?



Please find attached a document detailing the motion the committee will put forward. The document contains the current text of the relevant section of the constitution, the new proposed text and a merger of the two texts.

Please click here for a copy of the current SIRA constitution

If you have questions, please contact the president (president@sira.org.au) or a member of the Governance Subcommittee (sirac@sira.org.au).

Kind Regards,

The Scotland Island Residents' Association Committee (SIRAC)


---


COMMUNITY HALL TO GET A FRESH LICK OF PAINT and more...
Come and see the proposed colour schemes
on November 22nd at 10 am at the Hall!
Pittwater Council is preparing to repaint the Community Hall, both externally and internally, during December and January. They also intend to carry out general maintenance and refurbishment of the building, including an awning over the verandah.

The proposal is to paint the two lengthways walls and re-stain the two end walls inside the Hall. There is a choice of two colour schemes for the external weather boards.

We invite anyone who is interested to come to the Hall Saturday, November 22 at 10 am to look at the proposed colour scheme selection (see note below).

It is anticipated that the work will take in excess of 4 weeks, and Council staff will work in with Hall usage to carry out internal work. The Hall is available for internal work from December 22 when bookings cease for the Xmas break and resume late January. External work can be carried out without causing disruption to Hall activities.



See you at the Hall on November 22nd at 10 am!



SIRA Hall Committee

Colours being considered for the Hall:

Taubman's: "Cookie Jar" for downstairs brickwork; "Taupe Stone" for upstairs external weather boards; "Burma Buff" for the railings.
Bristol: "Stormy Skies" for downstairs brickwork; "Whippoorwill" for upstairs external weather boards; Taubman's: "Burma Buff" for the railings.
Note: You can view the colours via links above, however please note it depends on your device/monitor how they will be represented – true colours can only be seen from the swatches.



---
Island Café success
We had over 50 people wander down to Catherine Park on the last Sunday in October to enjoy coffee, conversation and an amazing selection of homemade cakes. We raised $400, all of which has been donated to Permafund, an Australian charity that supports community gardens and permaculture projects in developing countries.

The image below is an extract from a project report just in from Cambodia. It shows just how much can be done on so little money.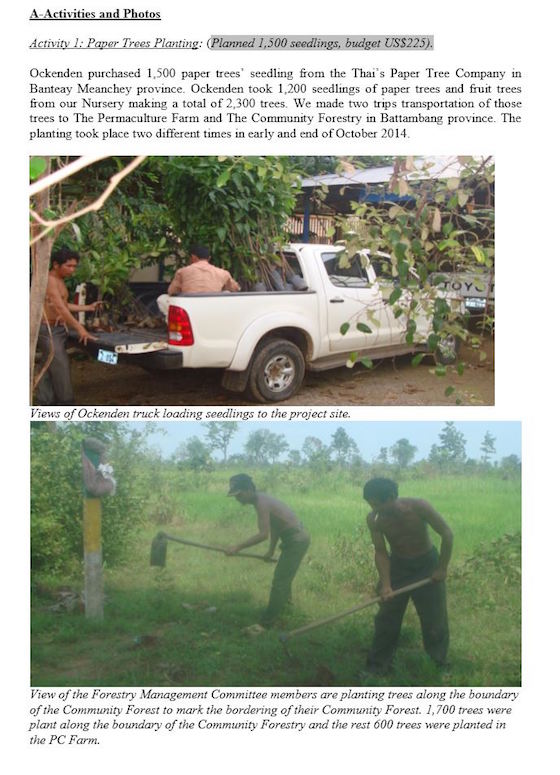 A special thank you to those who brought cakes!

Keep a look out for notice of the next Sunday café on 30 November. All funds raised will support our very own Island Kindy.

Boyd



---
Carols on the Water

---
Scotland Island Rural Fire Brigade
Goodwill Christmas Lunch
Christmas Day 12 noon - 2pm
---
Deck Sale from 9am Saturday 22 November
30 Robertson Road Scotland Island
ITEMS FOR SALE
Solid Kauri wardrobe with copper decorative inlays $900 (paid $1500)
Red 3 seater lounge $200
New clothes dryer $100
Bench top mini oven $40
Double hotplates electric $40
2 solid timber top and antique white bedside tables $150 (new $300)
2 glass top tables/desks 750x110 $50 / 800x160 $20
2 timber bedside tables (3 drawer) $50
1 floor rug/carpet 2850 x 1900 $30
Bamboo clothes basket $15
New 10 cup rice cooker $10
Crofton stoneware oven proof dish with lid $5
Crofton stoneware oven proof casserole pot new $10
Teenager /kid items- books, dvds, softball bat, tennis racquet, music stand, small guitar, small bongos
Assorted glass ware, cutlery, crockery,plastics, home wares and give aways
Contact Mandy 0411 645 389



---
House for Rent

Our 3 bedroom home with water views conveniently located above Bell wharf is available for rent in the coming Christmas holidays, from December 27 to January 16.

Would suit two couples or family of 4-5. Rent is negotiable. Caring for our pets comes with the house.
Please email lisa.ratcliff@bigpond.com if interested.



---
Wanted
Tinnie
I've just moved to Pittwater and need a tinnie for commuter wharf.
About 4m, front wheel steer, screen and biminy. Reliable motor.

Max $5000. Contact Martin -

email martin.bayliss@me.com





---
---
Missed out on a previous Newsletters - HERE
A complete set of past electronic newsletters since May 2000 can be found and read at https://ymlp.com/archive_gesgjgm.php


---
To Contribute
If you would like to contribute to this newsletter it's easy!. Send an e-mail to the editor (editor@scotlandisland.org.au) or by clicking here. Type your contribution (100 words or so would be fine) and assuming it is of general interest to the community, does not include matter of a political nature and is not offensive, it will appear next month.


Subscription Information
To get on and off this newsletter, click here

or got to:

http://www.scotlandisland.org.au/signup .


To change your address, click the 'modify' link at the bottom of this newsletter or send an email to the

editor@scotlandisland.org.au


---
Follow the PON
---
The Online Local Contacts Guide
Click HERE to load
---
---
The views expressed in this newsletter are not necessarily the views of the Scotland Island Residents Association (SIRA), or the Western Pittwater Community Association (WPCA)
---