SHOP HOURS
Monday: CLOSED
Tuesday: 11 - 5
Wednesday: 11 - 5
Thursday: 11 - 5
Friday: 11 - 5
Saturday: 10 - 4
Sunday: 12 - 4

 

We will be CLOSED

Christmas Eve

Christmas Day

New Year's Day

 

We will be OPEN

Monday, Dec. 20

 

It's holiday go time!!! That means NOW is the time to pick up any last minute holiday projects you want to take on. There is still plenty of time for those last minute projects- t

hink: Chunky Malabrigo Seed Stitch Cowls, fabulous stockings made out of Knit Collage, cozy Blue Skys alpaca mitts, and maybe a Woolly Wormhead hat made out Dos Tierras. Now is the time for quick, fun projects that can be knit or crocheted while watching your favorite holidays movies and sipping on cocoa. 




We didn't quite have room for all the new stuff in this newsletter so we are including the highlights and we encourage you to visit our

class page

,

our Facebook

, or

our Instagram

 to see everything as it comes.

 
First up, we have a bunch of new of Super Silky colors from Emma's Yarn including their holiday colorway- Christmas Sprinkles!!
You loved them so we ordered more of them. Purlsmith's freshwater pearl stitch markers have been popular since we introduced them a couple months ago. We have added her gorgeous stitch marker necklaces- beautiful and functional, these stitch markers will take your knitting to the next level!
Speaking of functional, we received another shipment of Purl Strings. If you haven't seen these yet, they are long silicone tubes that fit snuggly on the tips of your knitting needles so you can try on sweaters and shawls without taking them off your needles or you can slide the whole project on if you need to use the needles elsewhere or use in place of a stitch holder. Trust us, you need these.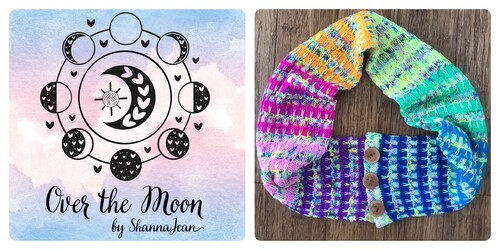 Now, let's talk Advent kits!! First up is the Over the Moon kit from Knitted Wit. The second year of the ShannaJean end-of-year countdown kit is going to be another amazing community-building and reflection-focused kit of goodies and fun! This year, we are diving into the phases of the moon, utilizing the energies of each phase to give us daily words to reflect on (much like our Gratitude words). These cards will be super usable beyond the month as well, as they have been designed to be used again, much like our Gratitude cards, for reflection and journaling.
Each day in December 2021, participants will open an envelope, and get a professionally-printed Gratitude Card. Most days, another little something will be included: either get a mini skein (10g/45 yds of rainbow'y loveliness) OR something extra like a bag of soothing herbal tea, a tapestry needle perfect for Russian Joins, or a notion you'll soon not be able to live without. Every day, participants can reflect on how, what, and why they are grateful for what they have while they work on Shannon Squire's meditative Amazing Technicolor Dream Cowl. At the end of the month, participants will hopefully feel more connected and calm will have a gorgeous cowl to wear or gift!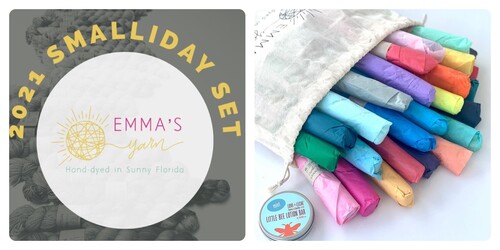 Our next Advent-ish kit comes from Emma's Yarn- introducing the Smalliday Set. 
Each Smalliday Set (previously known as the Advent Set) comes in an adorable Emma's Yarn project bag, include 25 individually wrapped Smalls – perfect for treating yourself or a loved one to a small-a-day for 25 days in December, a Love + Leche Little Bee lotion bar, and an insert with suggested knit and crochet patterns. We have a few different Smalliday options: 
Practically Perfect Small Set: 
Fingering weight, 80% Superwash Merino / 20% Nylon – 2,025 yards $192
Super Silky Small Set: 
Fingering weight, 80% Superwash Merino / 20% Silk – 2,025 yards $252
Simply Spectacular DK Small Set: 
DK weight, 75% Superwash Merino / 25% Nylon – 1,250 yards $192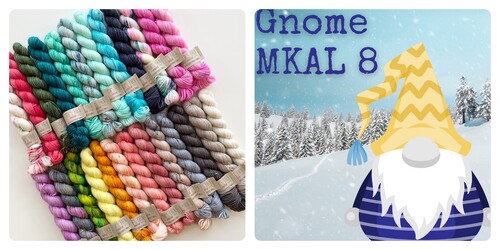 There's a whole lotta Gnome knitting happening lately. These adorable little figures are just irresistably cute, pick any pattern by Sarah Schira or participate in her advent-themed 
Mystery KAL
for a surprise Gnome-ing adventure. Most gnomes can be made with 3 or 4 mini skeins of Emma's Practically Perfect Sock, which we just happen to have in a wide variety of colors (and as a Smalliday Set). We've even put some trios and quartets of colors together for you. And if I'm being honest, it would probably be worth it just to stop in and have a look at all the Gnome-based names Robyn gave them. 
Featured Upcoming Classes
 

Holiday Project Help Sessions

 

Whether you are stuck in the middle of a pattern and want some guidance, need some finishing help, or just need a bit of motivation, join Susan for her Holiday Help Sessions and get those holiday projects done. No matter which fiber art you enjoy- knitting, crochet, weaving, felting, Susan can get you and your project back on track. Each group session is $15 for two hours and space is limited so register early.




Teacher: Susan Winkler

Thursday, December 9. 6:30-8:30pm

Tuesday, December 14. 6:30-8:30pm

$15/session

 

 

 
Cross Stitch Holiday Ornament

 

Counted cross stitch has made a pretty big comeback, come see why it is all the rage. We will be covering the basics while making adorable ornaments for gifts or for your tree. In this class you will learn to match your materials to your pattern, reading your pattern, the basic stitches, and how to finish your work. This is a beginning class so you need no previous experience to join us and the class price includes the kit with everything you need to get you started just bring yourself. This is a beginning class, but all levels are welcome.

 

Teacher:  Robyn Wade

1 class, $20

Saturday, December 11. 2-4pm

 

 
 

 

Do socks intimidate you? When you hear the phrase: "turn a heel" does your blood run cold? Well, Susan is here to take the scariness out of your first pair of socks. In this class, you will be using Rye, a Tin Can Knits beginning sock pattern (free on Ravelry), with worsted weight yarn that is knit at a tight gauge (22st/4 inches). OR, if you want to knit your socks on fingering weight yarn, Susan will help you knit Rye light. We love this pattern because it has great diagrams and tutorials that really help a first time sock knitter move from newby to expert in no time! With Susan's help, you're gonna have the snazziest looking feet in Lexington. Never fear socks again! 




Teacher: Susan Winkler

3 classes, $40

Tuesdays, January 11, 13, & 25. 6:30-8:30pm

 

 

 

 
 

Ready to knit your first sweater or found a great sweater pattern but feel a little unsure about going at it alone? Then this class is for you. This class will be a workshop -- you pick the pattern and yarn you want (with our help if you need it) and bring it to class.  While we knit, we'll learn from each other's patterns by discussing techniques found in your individual patterns.

 

Teacher:  Susan Winkler

5 classes, $60

Wednesdays, 

1/5, 1/19, 2/2, 2/16, 3/9. 6:30-8:30pm